Note from the editor: This article was originally published on CareyMartell.com
Recently, The Newberg Graphic has reported on two different lawsuits that involve the ongoing feud between the conservative majority of the Newberg public schools board and the sinister mafia-esque group called Newberg Equity in Education, which as I have previously reported, is a splinter cell of Progressive Yamhill AKA Save Yamhill County PAC AKA Yamhill County Democrats, led by Lynette Shaw and Megan Corvus, with the involvement of over 2,000 other individuals.
The first lawsuit is the one filed by Newberg public school board directors Dave Brown, Renee Powell, Brian Shannon and Trevor DeHart against Debbie Tofte, Katherine Barnett, AJ Schwanz and Tamara Brookfield, who are members of Newberg Equity in Education.
The second lawsuit is filed by Newberg Equity in Education members Beth and Greg Woolsey, Jeff and Kathleen McNeal, Stefan Czarnecki and Meghan Rogers-Czarnecki, and Elizabeth Gemeroy against the Newberg public school board directors for hiring attorney Tyler Smith, which they claim was done in violation of public meeting laws.
Before we dive into this further, I just want to remind people that I am an independent reporter. I am not part of any other media organization except my own small company. These articles are exposing around 2,000 people as part of what I believe to be a criminal conspiracy and I anticipate they will try to sue me for libel despite all the evidence I show here. In reading this article, you will see they have already discussed suing me for libel over my past articles criticizing their activities, as they want to censure me. If you'd like to contribute to my legal defense fund so I may continue reporting on their activities, this is a link to my donation page. (Gofundme deplatformed me so I switched to GiveSendGo). Thank you and I hope this article informs you in a way that The Newberg Graphic has not.
All the same legal disclaimers apply from previous articles, which you can read here. To eliminate redundancy I am not repeating them here, but it is intended for readers to first read these legal disclaimers before proceeding.
What The Newberg Graphic Isn't Mentioning About These Lawsuits
As previously explained in my prior article, The Newberg Graphic has a clear bias that colors all of their reporting, and which goes undisclosed by their reporters. This has even extended to how they have presented the two lawsuits to their readership. For example, in the article discussing the lawsuit filed by the conservative Newberg school board directors against the primary orchestrators of the harassment, writer Ryan Clarke titles the article, School board majority files legal complaint, which is technically true in that a lawsuit is a form of legal complaint, but Ryan Clarke completely avoids using the word 'lawsuit' throughout the entire article. He also frames it as 'Four conservative board members seek relief from constituents under new doxxing law', which is intended to imply the lawsuit is a morally negative thing for elected officials to do, to file a lawsuit against "constituents".
By contrast, in Lawsuit Filed Against Newberg School Board, in his reporting of the claim filed by the NEEd members, Ryan Clarke labels it a "significant lawsuit". Yet, the word 'significant' does not appear anywhere in his reporting of the doxxing complaint against the NEEd members, even though their lawsuit is far more significant from a legal perspective, as the penalties are more severe.
Looking at School board majority files legal complaint, Ryan Clarke writes, "Whether the sharing of such information falls under the relatively new doxxing law remains to be seen", which is intended to question the validity of the lawsuit itself. I find this to be hilarious given the weak grounds upon which the supposedly "significant lawsuit" filed by NEEd members have used to warrant their filing, given that the decision to hire new legal counsel was actually made during a public session and not a private one. Ryan Clarke's own prior reporting about these issues contradicts the complaint as well.
This, too, is something Ryan Clarke is aware of, since he previously wrote the August 24th article that is deceptively titled, School board may have defied state law in hiring outside counsel, which acknowledges that the decision to hire an attorney was voted on by the board during a public session. In fact, Ryan Clarke quotes School board director Brian Shannon, who explains why this is legal,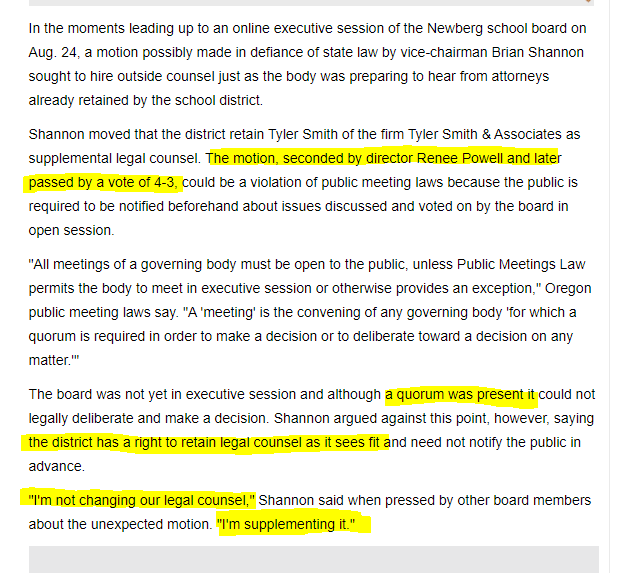 I've highlighted the facts of the situation that undermine the claims Ryan Clarke is seeking to make. The claim that there must be a solicitation of public comments about the hiring of an attorney by the school board is a ridiculous one. Such a thing didn't occur for the attorney previously retained by the school district and which NEEd favors because they align with their pro-Critical Race Theory agenda. This is a frivolous filing.
More importantly, in his article about the "doxxing" lawsuit, Ryan Clarke neglects to inform the public that the individuals being sued, Debbie Tofte, Katherine Barnett, AJ Schwanz and Tamara Brookfield, are all members of the Newberg Equity in Education mafia that engaged in organized harassment and intimidation of the plaintiffs in an effort to pressure them into resigning or changing their votes, as detailed in my previous article, Meet the Newberg, Oregon Mafia Led by Elected Officials and Other Community Leaders; in particular, the sub-sections of the report titled, Evidence of Coordinated Efforts by the Mafia to Intimidate School Board Members To Change Their Voters or Resign, Evidence of Stalking Newberg School Board Members, and especially, Why the Newberg Mafia is an Actual Mafia Per RICO. These sections of my article all detail the activities of the NEEd mafia members being sued, as well as others who are part of the conspiracy that have yet to be sued for their involvement. The public can read the Facebook posts mentioned by the lawsuit for themselves in my article at those sections linked above, and decide for themselves if the way Ryan Clarke has framed his reporting is accurate. He is aware of all of this information, as I have sent it to him numerous times, and he is not reporting it to you.
I think that the residents of Newberg reading the incriminating Facebook posts made by the defendants of the lawsuit and those who filed the lawsuit against the conservative majority of the school board is something The Newberg Graphic and especially Ryan Clarke seem to not want residents of Newberg to do, which I think is why they have refused to report on it. I encourage everyone to read the Facebook posts for themselves and form your own conclusions.
By contrast, in his reporting of the complaint filed against the Newberg school board directors by the NEEd mafia conspirators, The Newberg Graphic titles the article as, Lawsuit Filed Against Newberg School Board. Here writer Ryan Clarke clearly uses the word 'lawsuit', which he completely avoids in his reporting against the members of the NEEd conspiracy who engaged in an organized harassment of Dave Brown, Renee Powell, Brian Shannon and Trevor DeHart, which went as far as people trying to break up Brian Shannon's marriage with his wife as a means of isolating him.
Ryan Clarke mentions that the filers of the lawsuit against the school board members are Beth and Greg Woolsey, Jeff and Kathleen McNeal, Stefan Czarnecki and Meghan Rogers-Czarnecki, and Elizabeth Gemeroy. As detailed in my downloadable spreadsheet of NEEd mafia members, some of these individuals are employed by the Newberg school district and all of them are members of the NEEd mafia.
How the Newberg Equity in Education Mafia Plotted Their Lawsuit
Furthermore, I actually possess the secret communications from their private Facebook group where they discussed their plan to sue the school board members and they explain their reasonings.
This, again, is what The Newberg Graphic will not show you!
Here are some of the least boring discussions related to this, organized somewhat chronologically.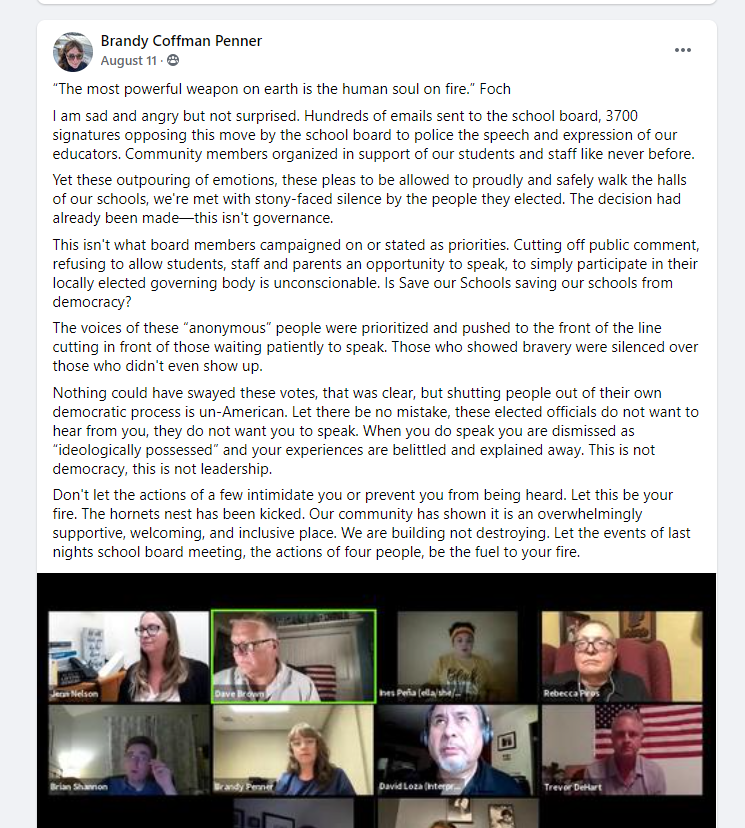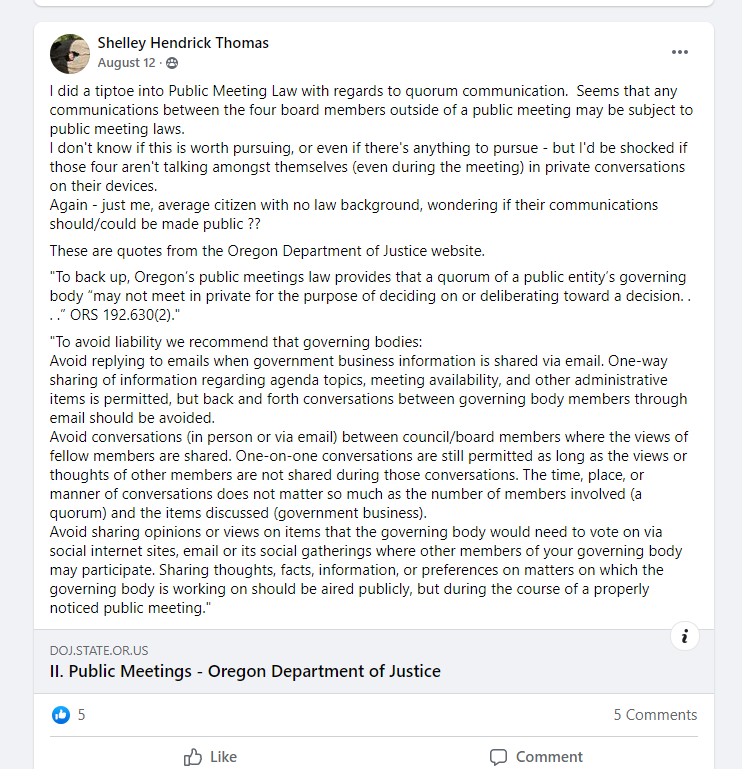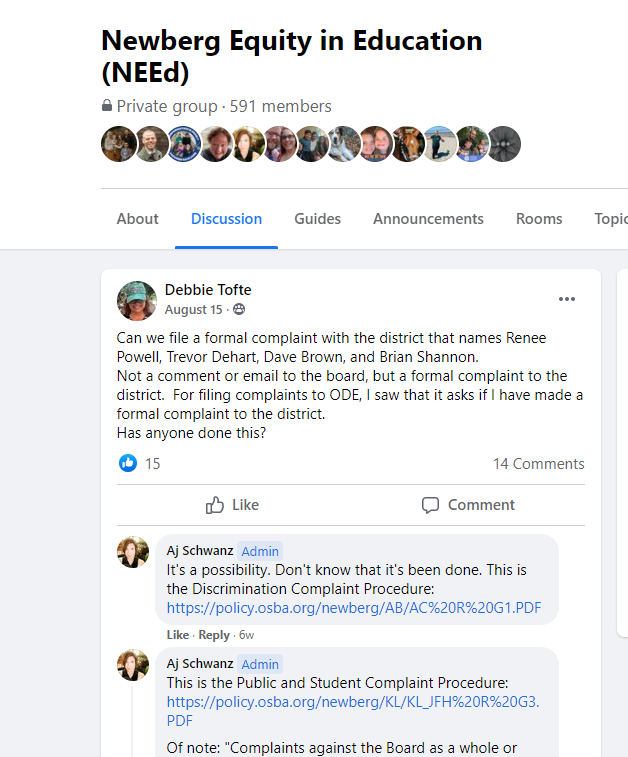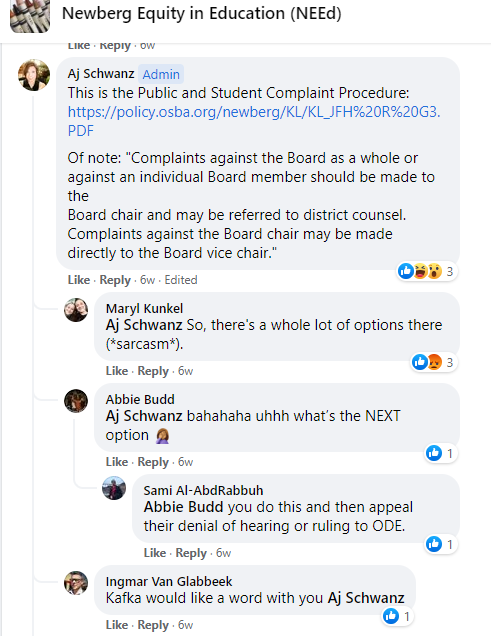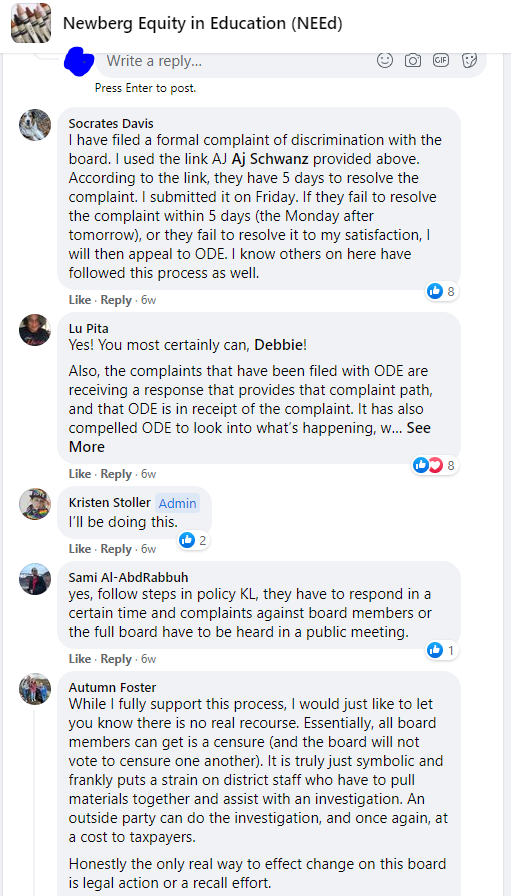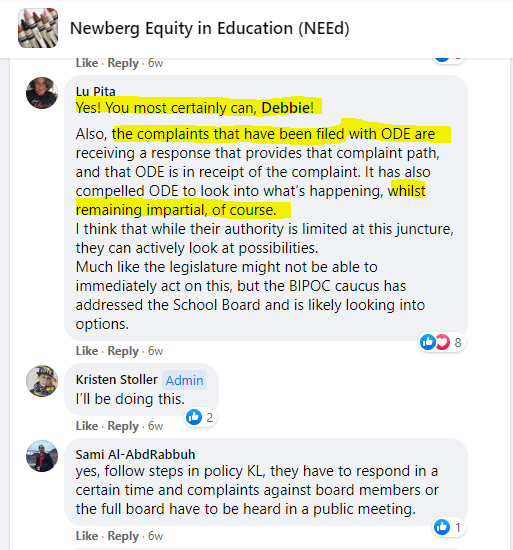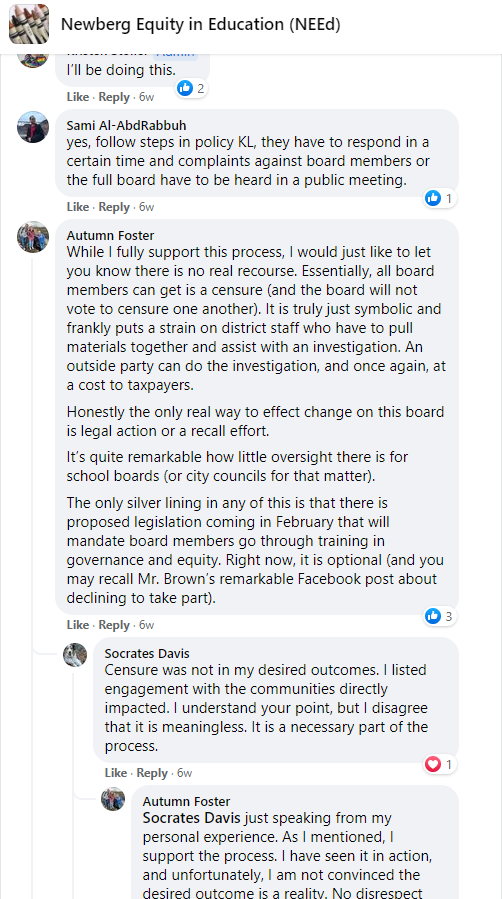 "Lu Pita", by the way, is Guadalupe Martinez Zapata, Vice-Chair of the Oregon Department of Education, as I've previously explained in a prior article.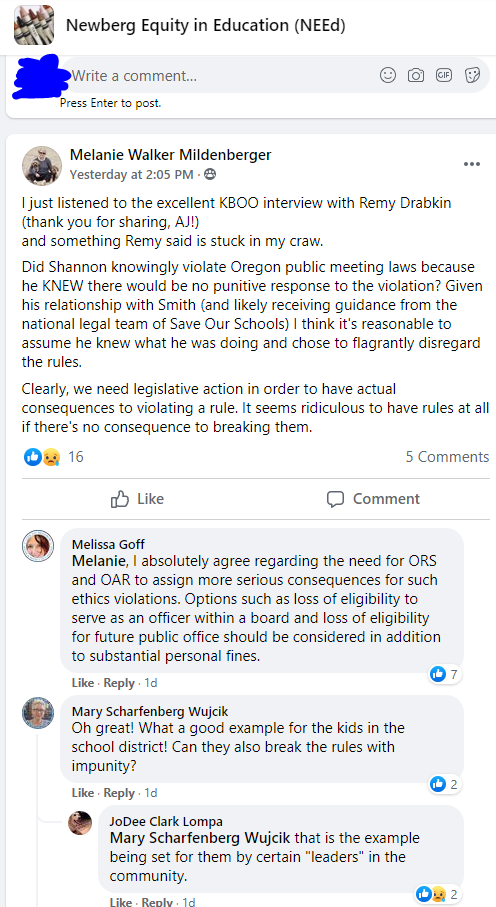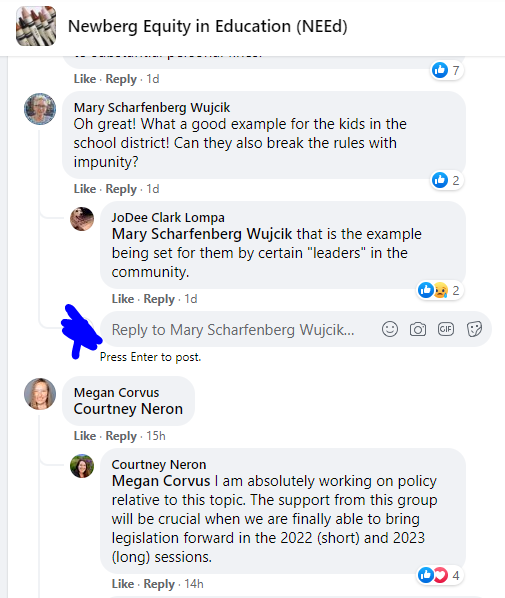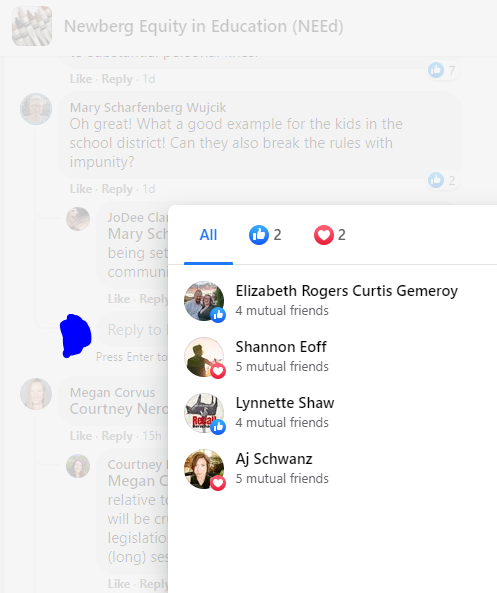 This thread from within the NEEd group is, by the way, evidence that they are aware their demand in the complaint for the school board members to have to repay any money is a frivolous claim.
As mentioned by Melanie Mildenberger but not elaborated on, there is no punitive damages that can be enforced. They know it. Elizaebeth Gemeroy, one of the plaintiffs in the suit, participated in this thread.
That was State Representative Courtney Neron in the thread there, by the way.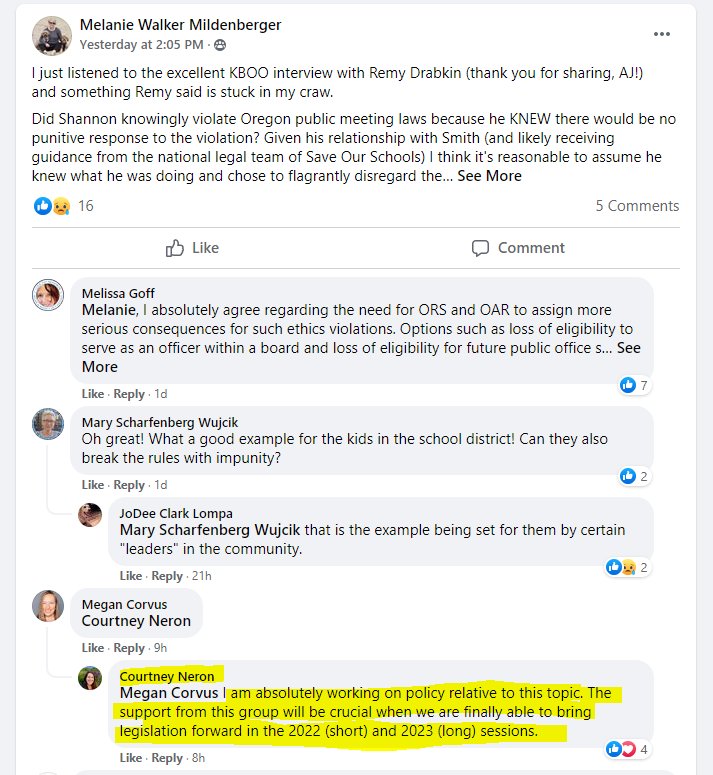 Anyway, here are some additional threads,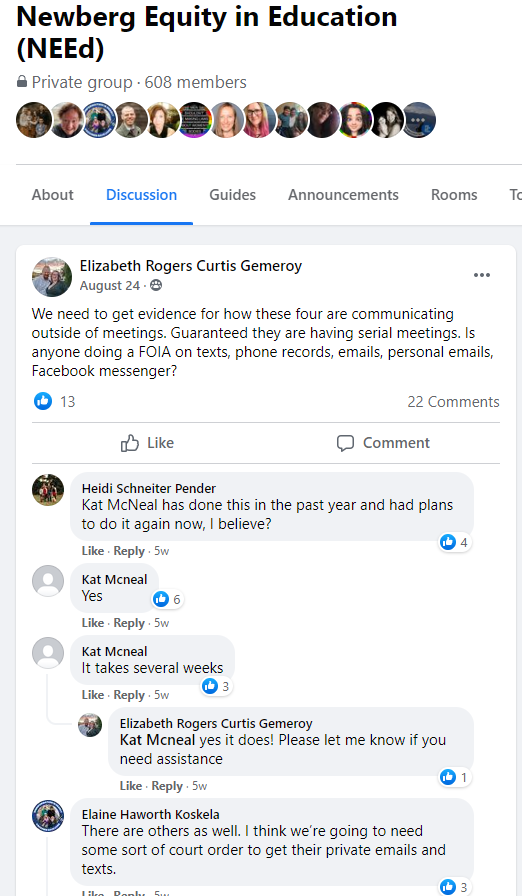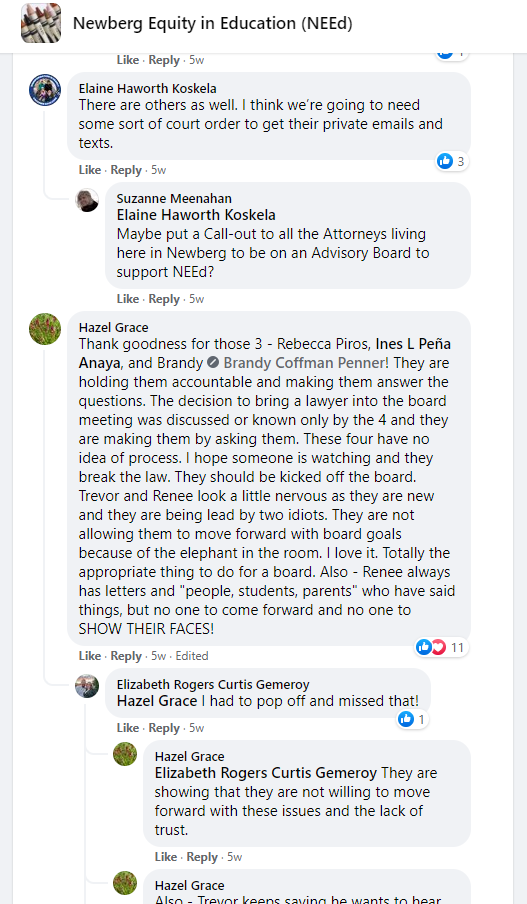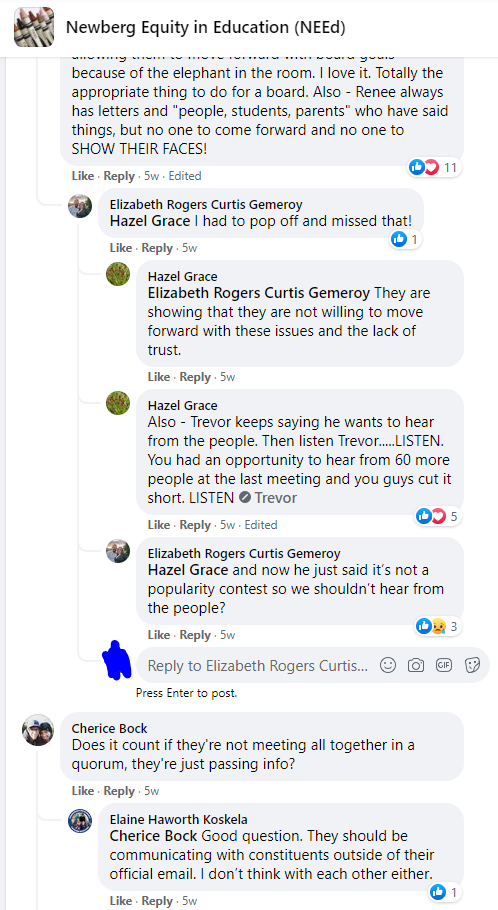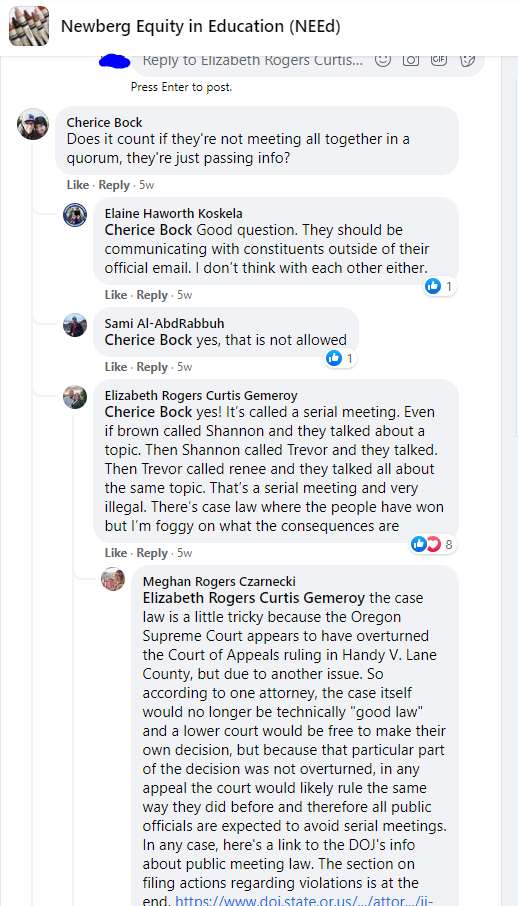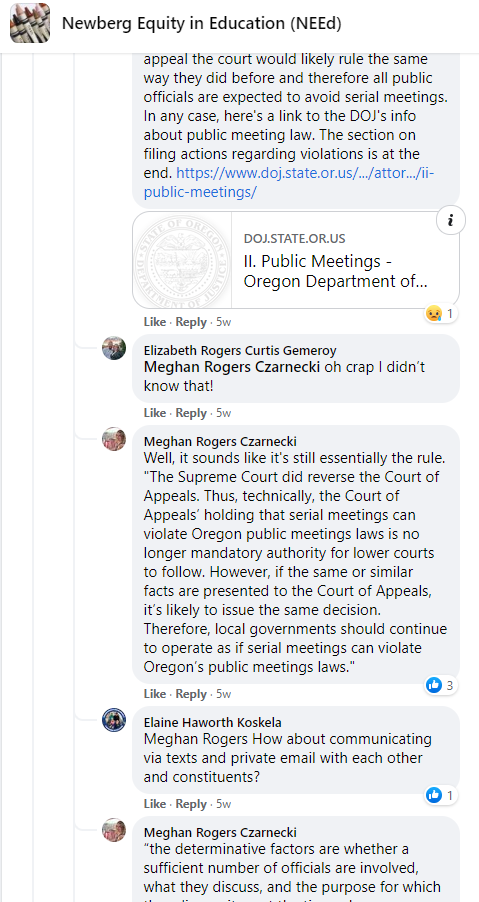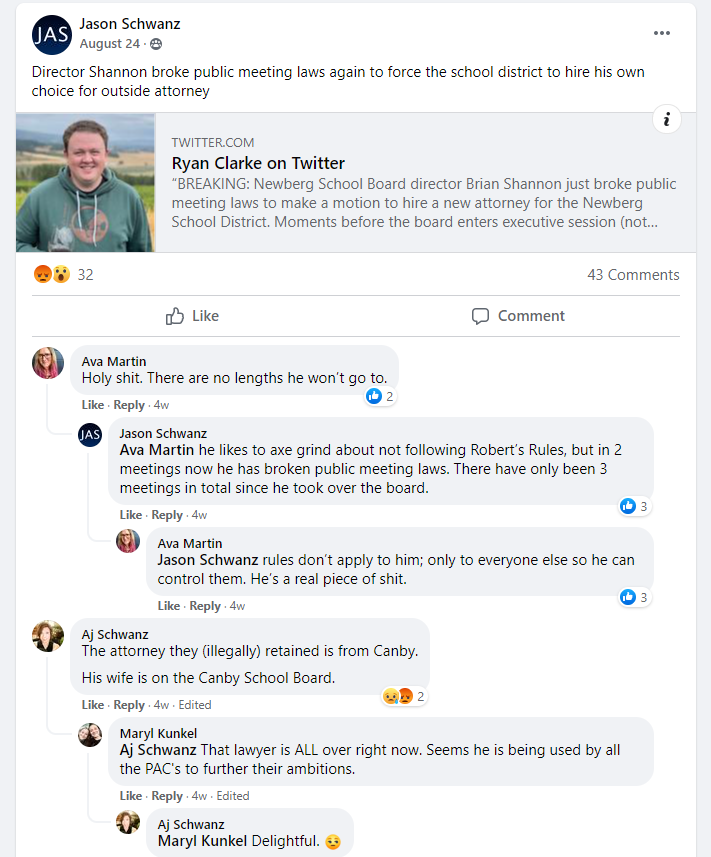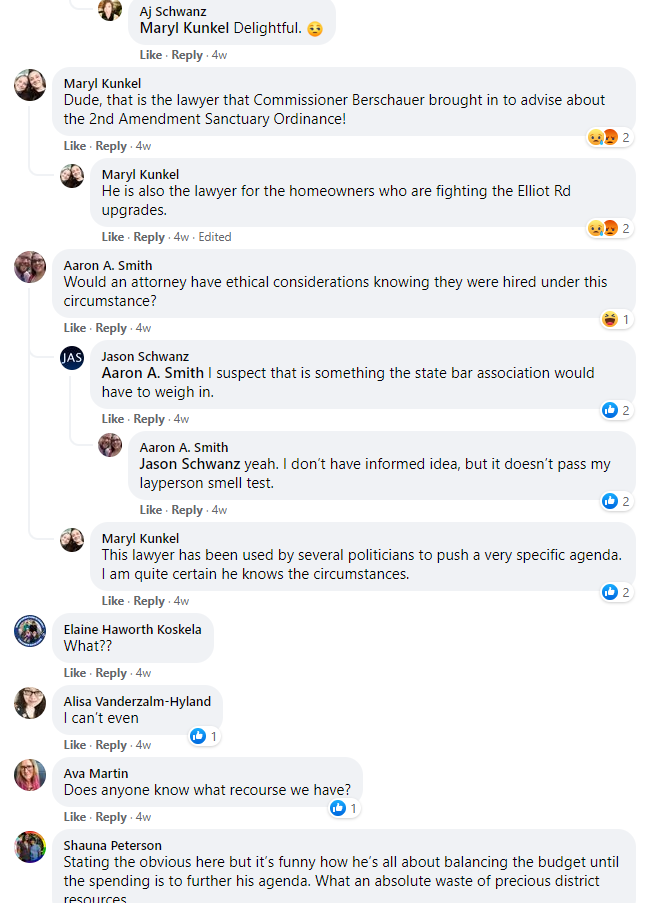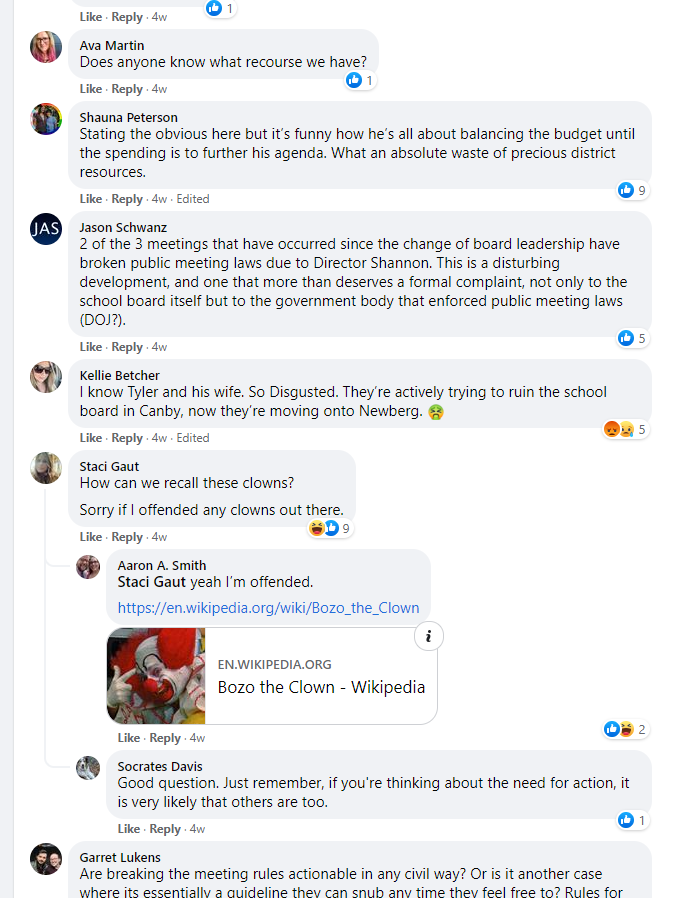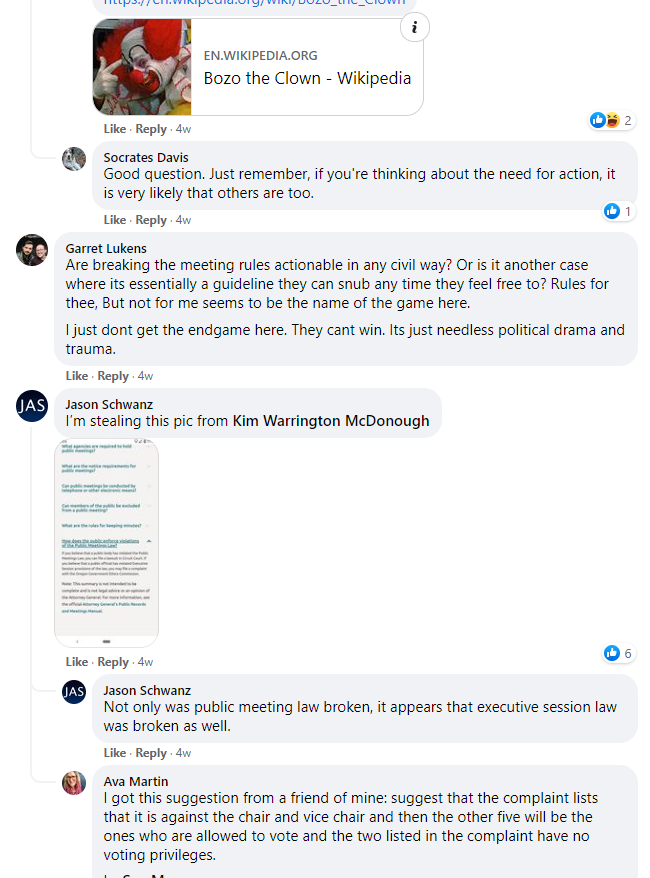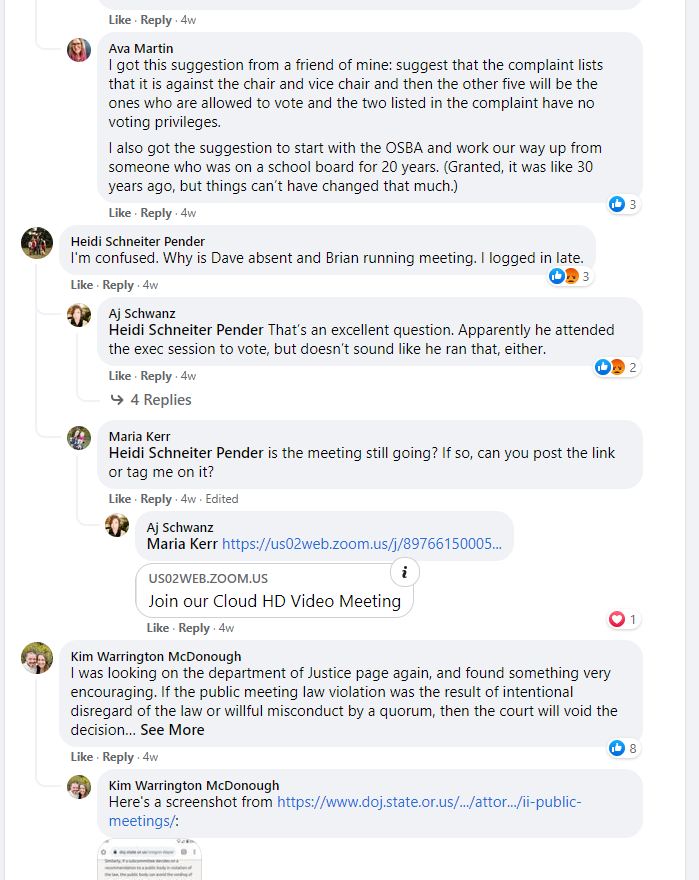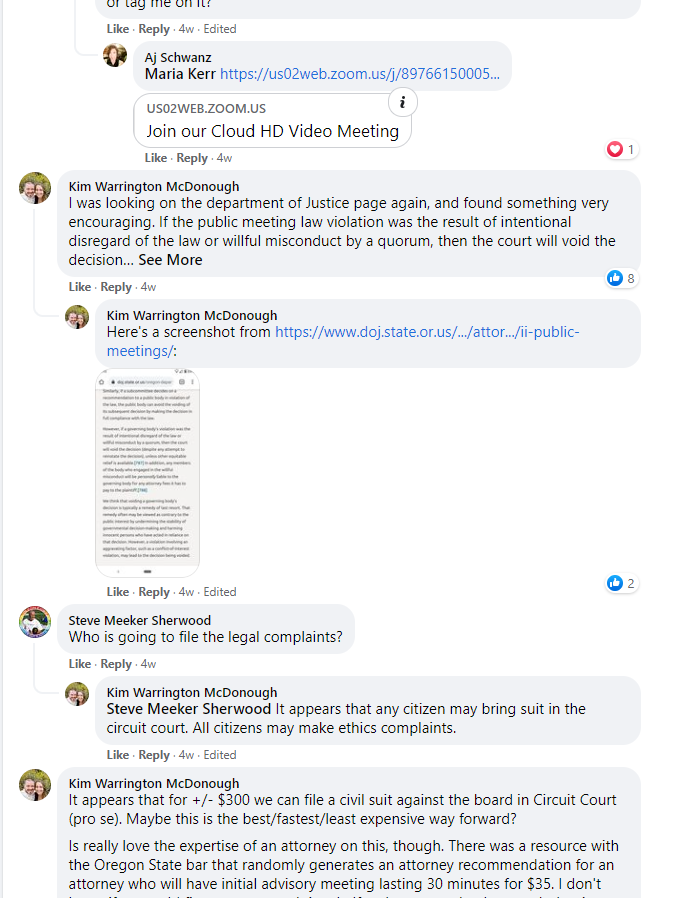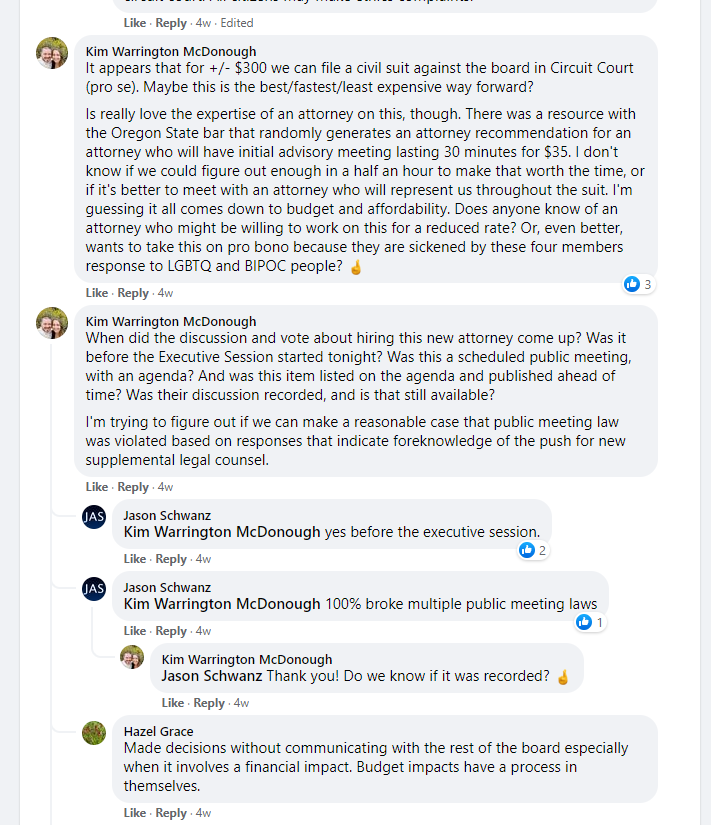 As you can see, these people's minds are in another universe. Hazel Grace erroneously even claims the school board didn't vote on the topic at all, which they actually did.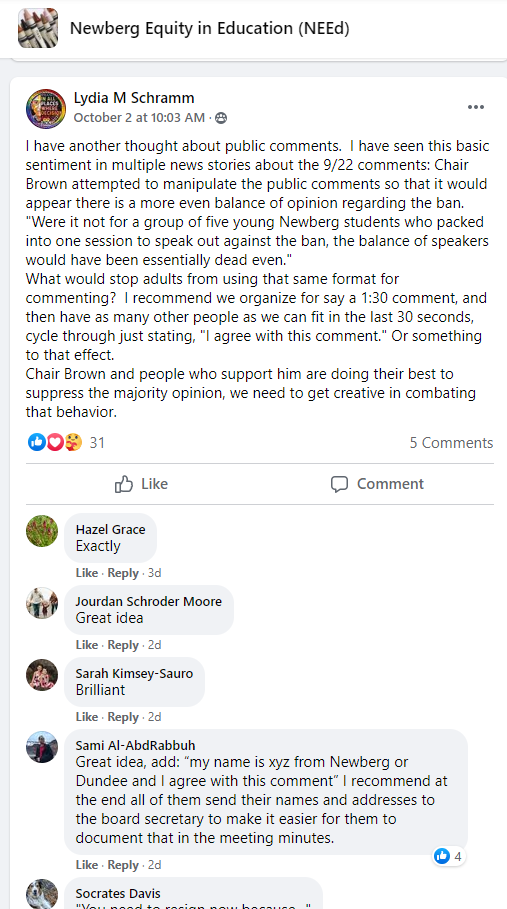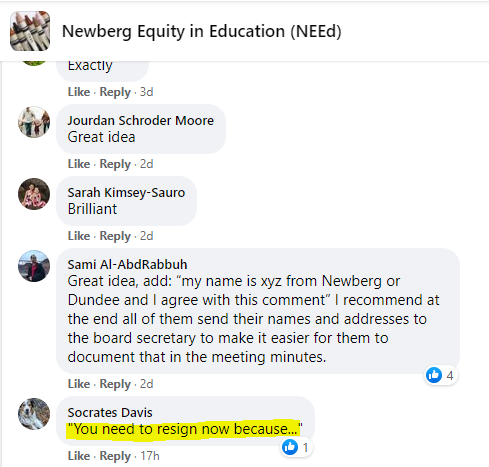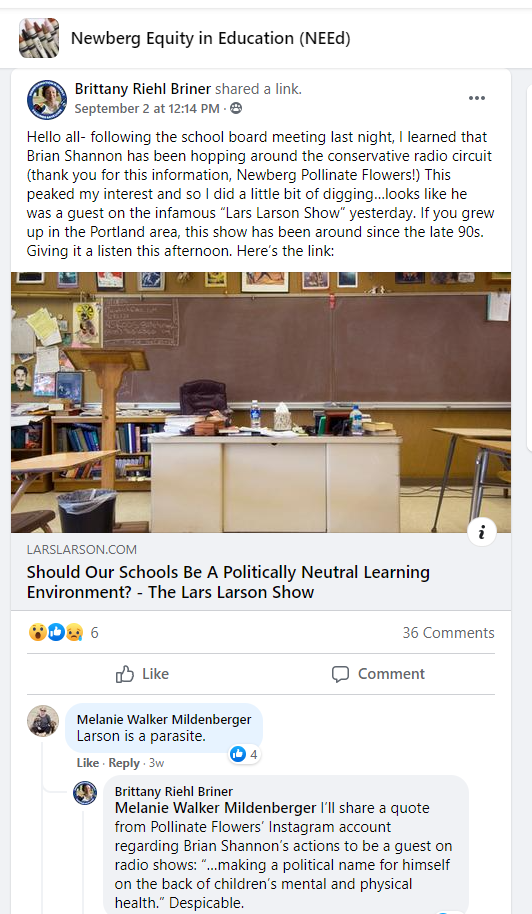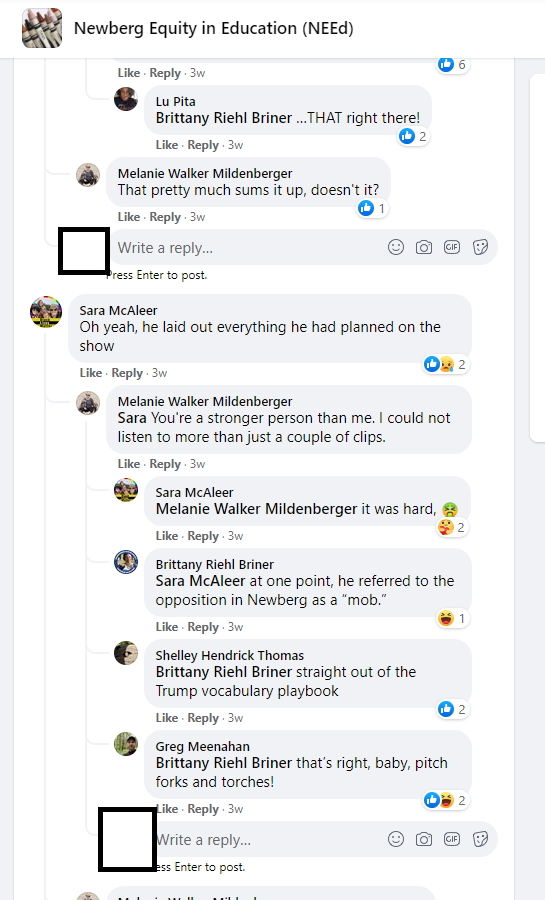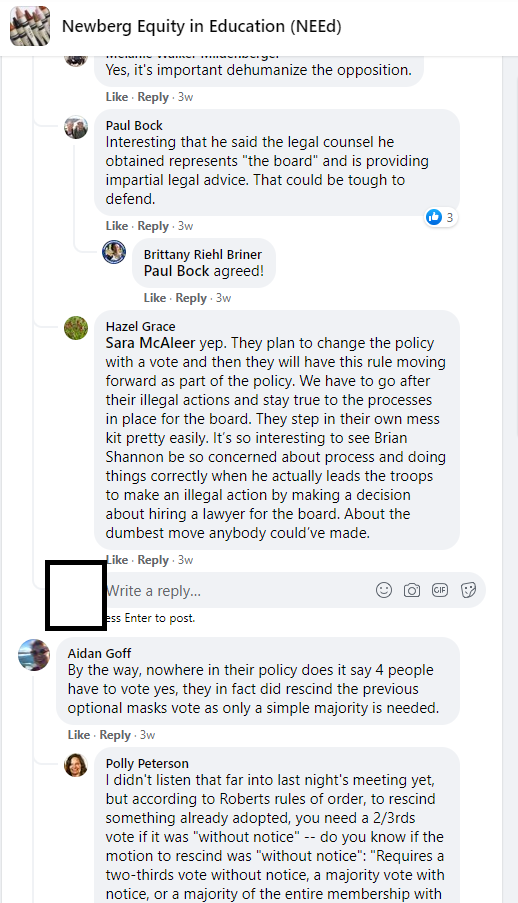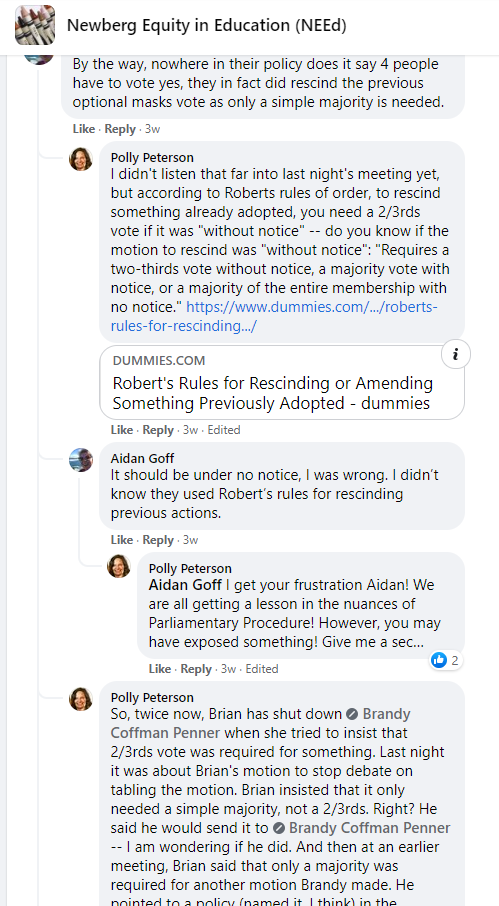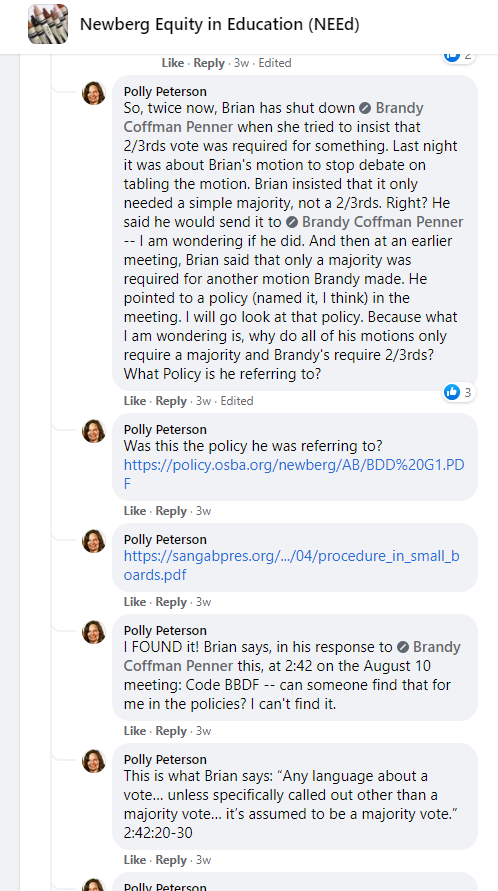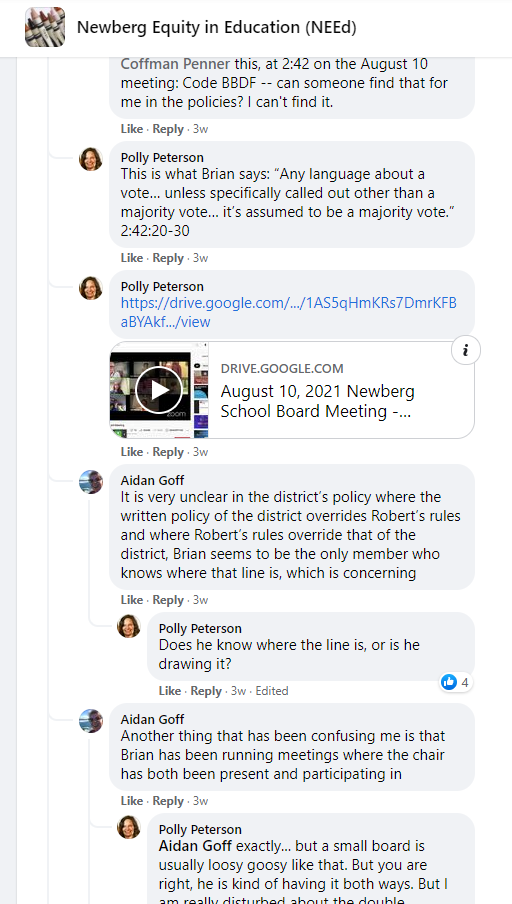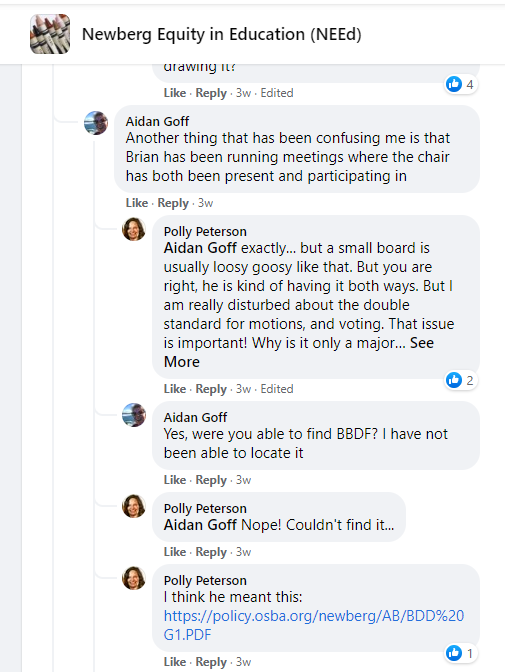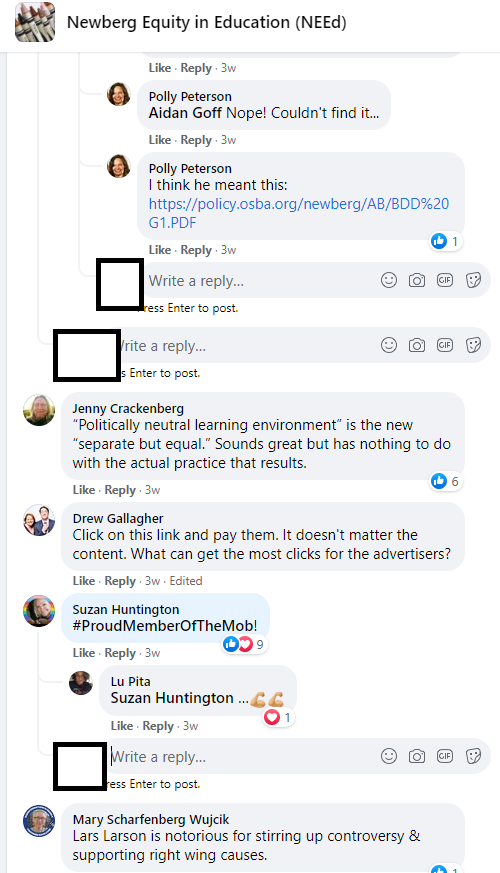 Ah, yes. #ProudMemberOfTheMob. At least she admits it.
As you can see, they have flailed around with a lot of different ideas on how to file a complaint against the board members for many months.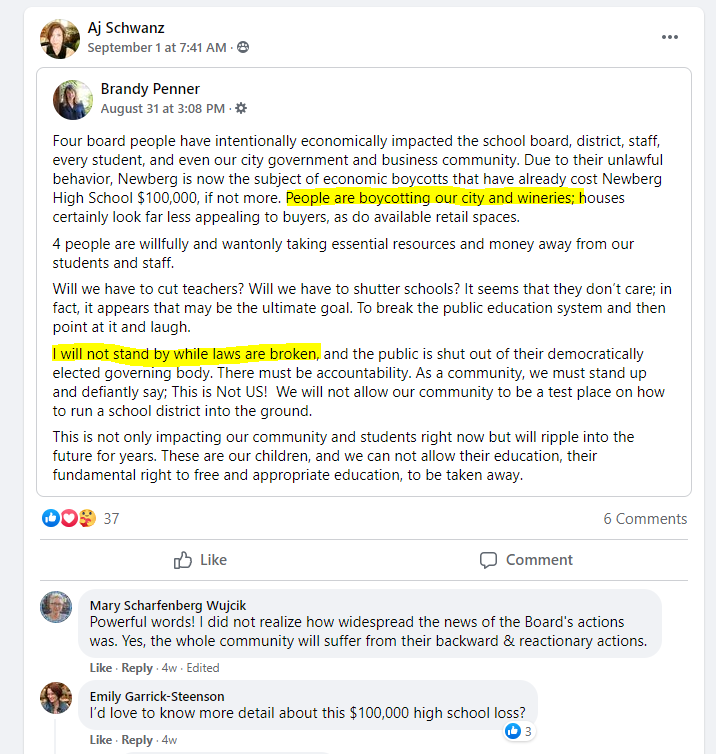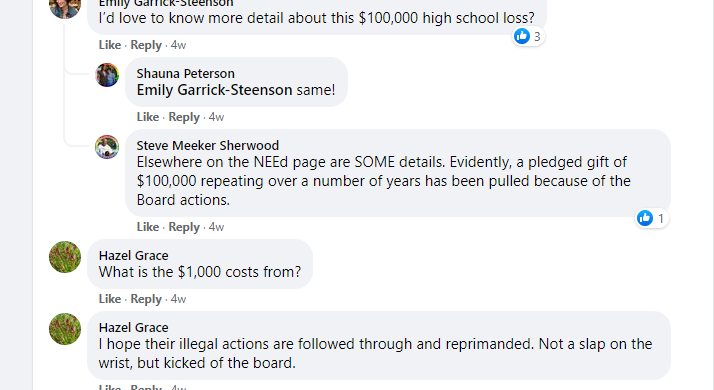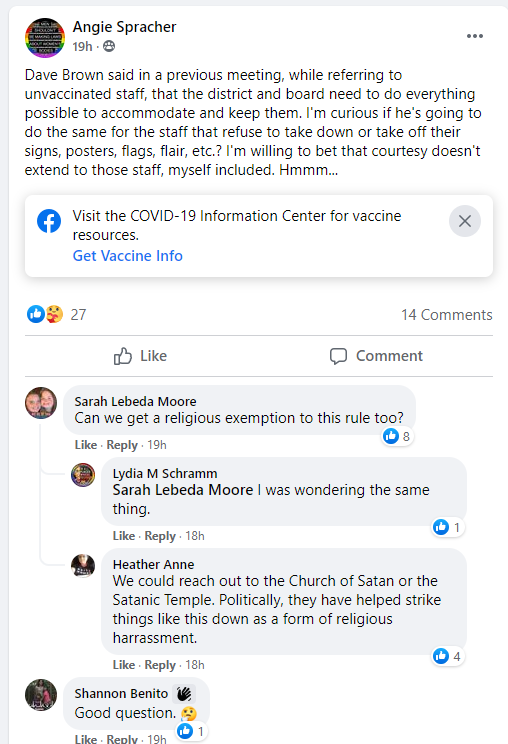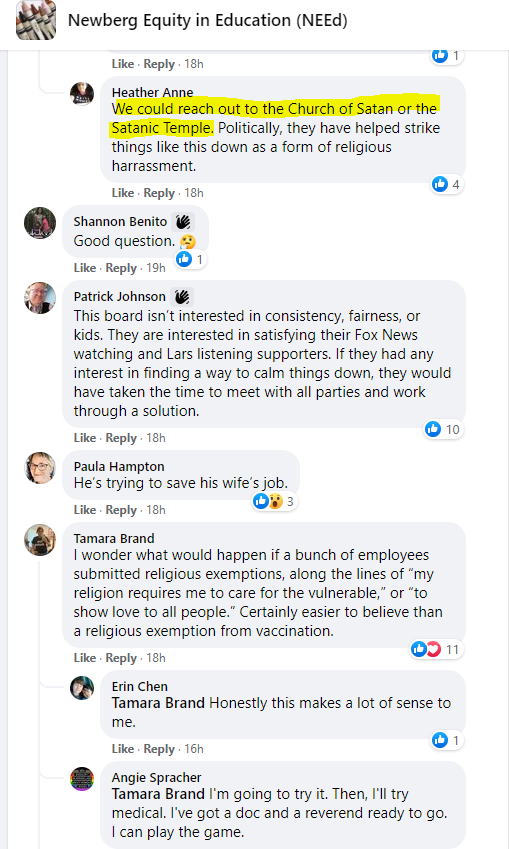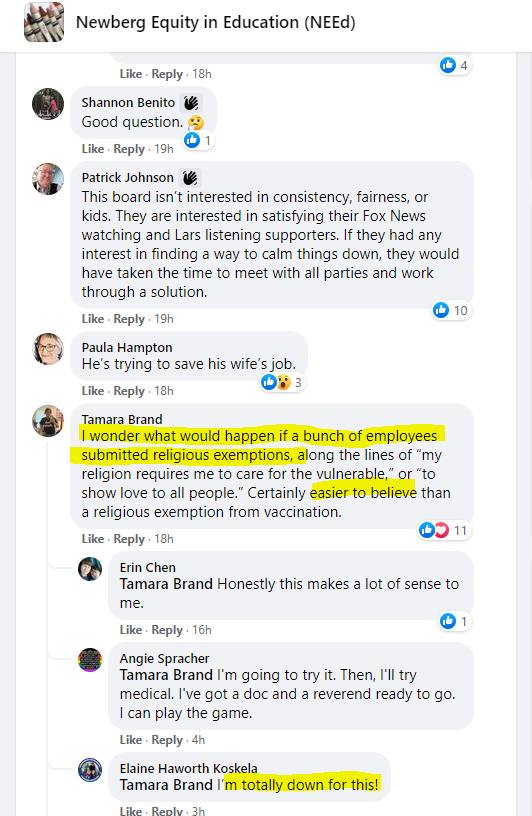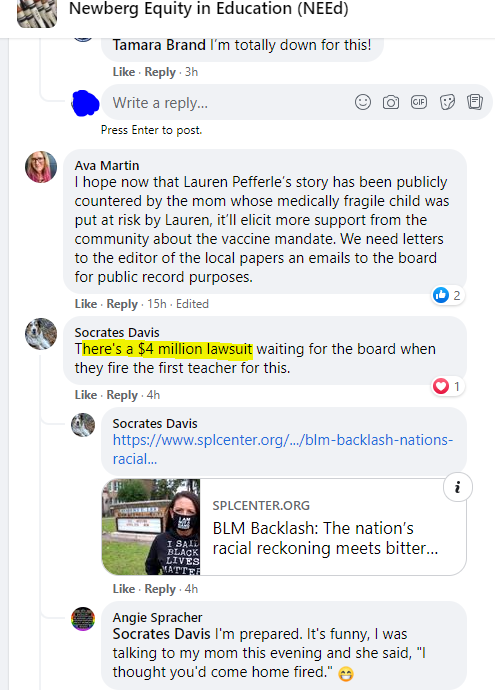 That's probably enough of their secretive communications for you to really understand what is going on here, right?
I believe these people are motivated in trying to harass the conservative majority on the school board any way they can, because that is all they are focused on doing. They don't want to make things better for the school distract and they don't care about the students. They only care about their own cult and its agenda, even if it means trying to get themselves fired so they can sue the school district for what they think will give them millions of dollars. They want to indoctrinate the school kids into Critical Race Theory and teach them to self-segregate, and they will use any means necessary to eliminate anyone who stands in the way of that.
Violations of Public Meeting Laws Committed by Brandy Penner and Rebecca Piros
The irony is that the Newberg Equity in Education group has frequently violated public meeting laws themselves, as detailed in my past reporting of their activities. It would not surprise me if other citizens of Newberg were to file lawsuits against Newberg School board directors Rebecca Piros and Brandy Penner for their own numerous violations of public meeting laws as they conspired with members of NEEd. Specifically, in these two section of my article titled, I show this behavior,
In those two sections I believe are violations of some of the same rules they are attempting to sue the conservative majority of the school board for, especially given how when NEEd had control of the school board they used the NEEd Facebook group to strategize and plan the agenda for future school board meetings, in violation of public meeting laws they clearly are aware of. However, I believe their actions could potentially also be regarded as violations of ORS 244.040 Prohibited use of official position or office as well given the benefits they provided and gained as part of their conspiracy, as well as the encouragement of Newberg school district teachers to violate the Hatch Act, which their leadership roles in NEEd had the effect of encouraging the teachers to do.
I believe violations of ORS 192.630 Meetings of governing body to be open to public were also committed by them as well.
These are the same laws that I believe the other public officials in their parent group, Progressive Yamhill, frequently violates, as I mention in the sub-section of Part 2 of the expose, Government Ethics Laws Violated by Progressive Yamhill Members. I suggest residents of Newberg, Oregon who are interested in holding Brandy Penner and Rebecca Piros responsible for their own violations of law should look at these sections and and then, with the help of an attorney, compare them to the evidence I show in Part 1, and consider their legal options for remedies of this egregious violation of the public trust that have been committed by Brandy Penner and Rebecca Piros.
You can file a complaint against Brandy Penner and Rebecca Piros via this form submission page at the Oregon Government Ethics Commission.
The sheer fact that they were active participants and leaders within NEEd, whose members used the group to organize numerous unethical and I think illegal activities as a criminal conspiracy should at the very least mean that Rebecca Piros and Brandy Penner ought to resign their offices, and if they refuse, be recalled from office. Ines L Peña Anaya is also a member of the group as well, and that should not be overlooked, either.
On that note, Hatch Act violations can be reported to the US Office of Special Counsel via this web form for submitting complaints.
I also want to mention that, since the communications made by Brandy Penner and Rebecca Piros were done in their capacity as public servants, their communications in the NEEd group are subject to public records requests. The relevant laws are
You will, of course, need to file records requests demanding a copy of these communications and if they refuse, file lawsuits against them. The evidence these communications exist are, of course, the very same screenshots I have shown in my articles.
It's Not The First Time Violations Have Occurred
As discussed within the group, their allies have violated public meeting laws in the past, and in these cases, they rush to defend them.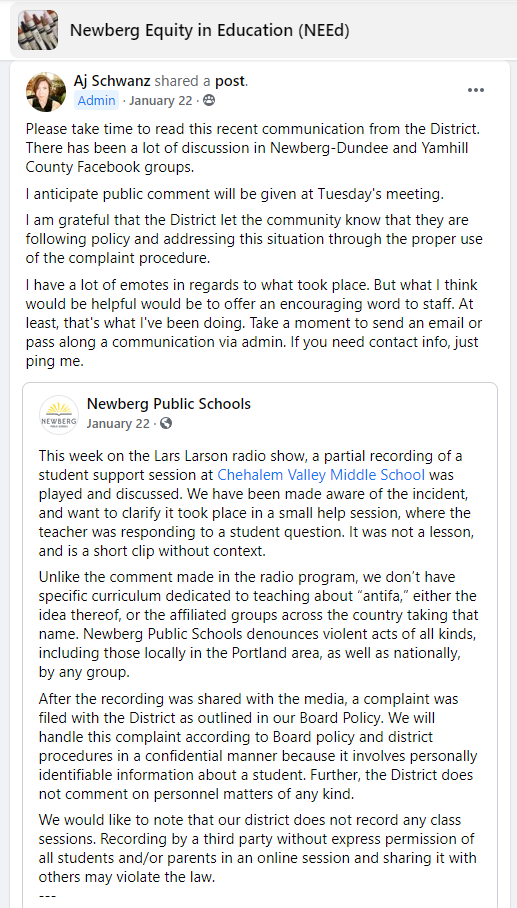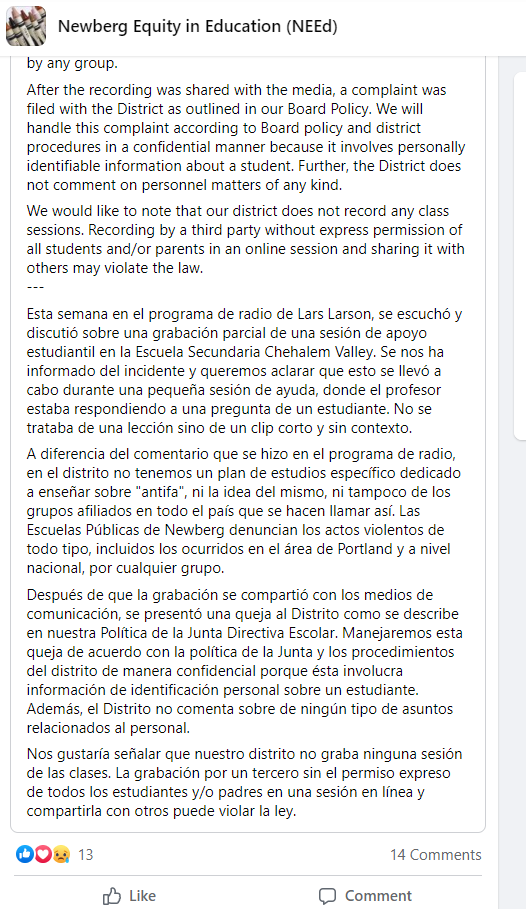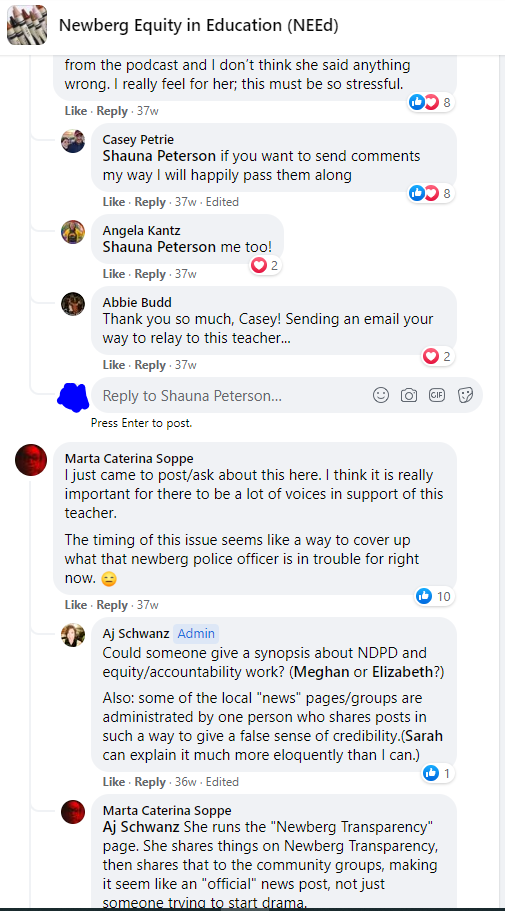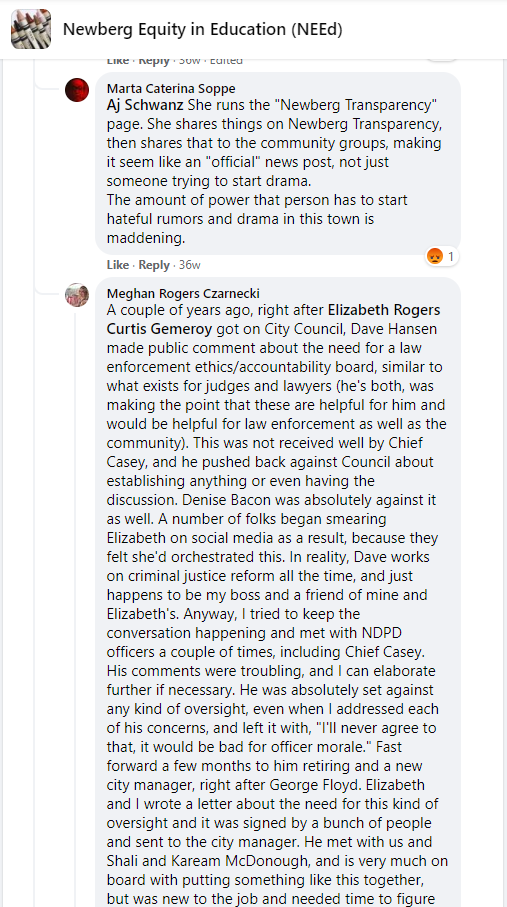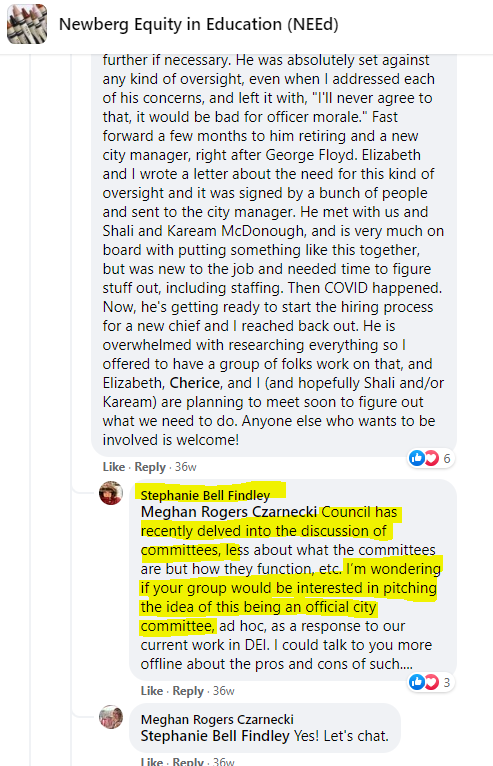 You'll also note here that Newberg City Council member Stephania Bell Findley acting in her official capacity to solicit the members of the group she is part of to engage in further conspiracy with her.
These abuses are a pattern of behavior that has been ongoing for years now, beneath the general public's notice as they go unreported by other news outlets.
Family Educational Rights and Privacy Act (FERPA) Violations Update
I also want to provide the residents of Newberg an update about the Family Educational Rights and Privacy Act (FERPA) violations claims I made against teachers such as Joshua Reid and the Newberg High school president Tami Erion. Yesterday, I had a long conversation with a Special Agent for the US Department of Education. I explained the incidents and my reasoning for them being FERPA violations. The Special Agent agreed with my assessment, but informed me that only the students themselves, their parents or their attorney can file the complaints against the Newberg school district for what appears to be a widespread habit of violating FERPA. These complaints can be submitted via the website, https://studentprivacy.ed.gov/
For some of the evidence I provided of FERPA violations, you can find this in Part 1 of my article in these two sections,
Again, the families of the students who whose privacy rights were violation by the communications of the teachers and faculty must file the reports themselves.
A Question For My Readers; Should I Create a Newspaper?
NEEd has worked as a collective to specifically try to undermine the ability for the conservatives to get their voices heard by ingraining themselves with other local media publications,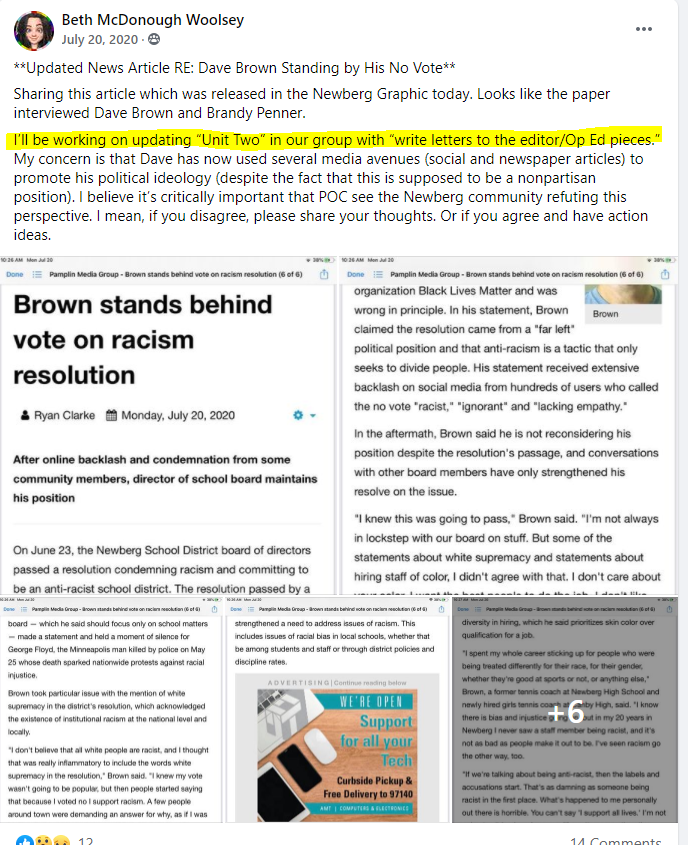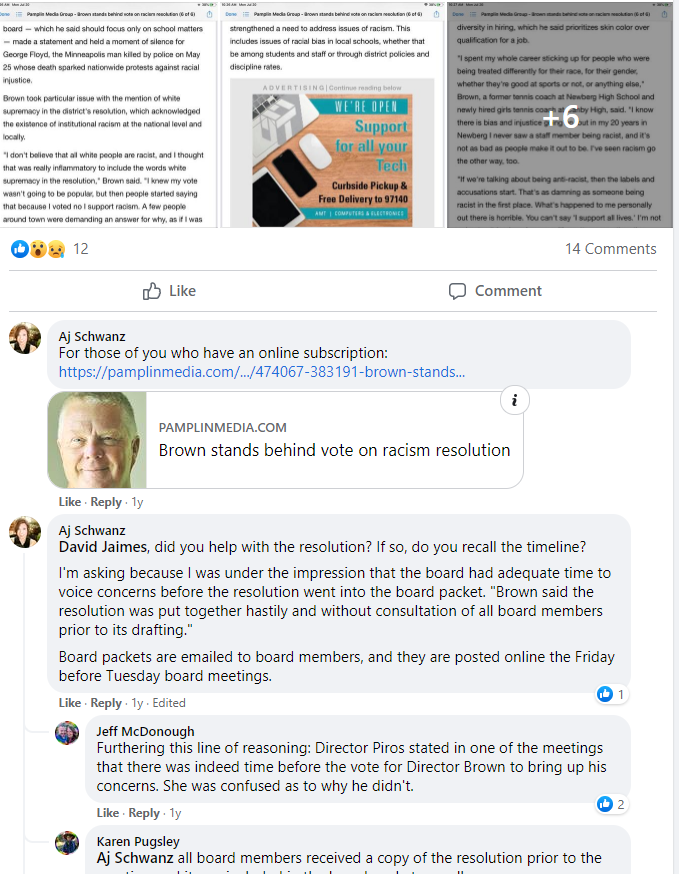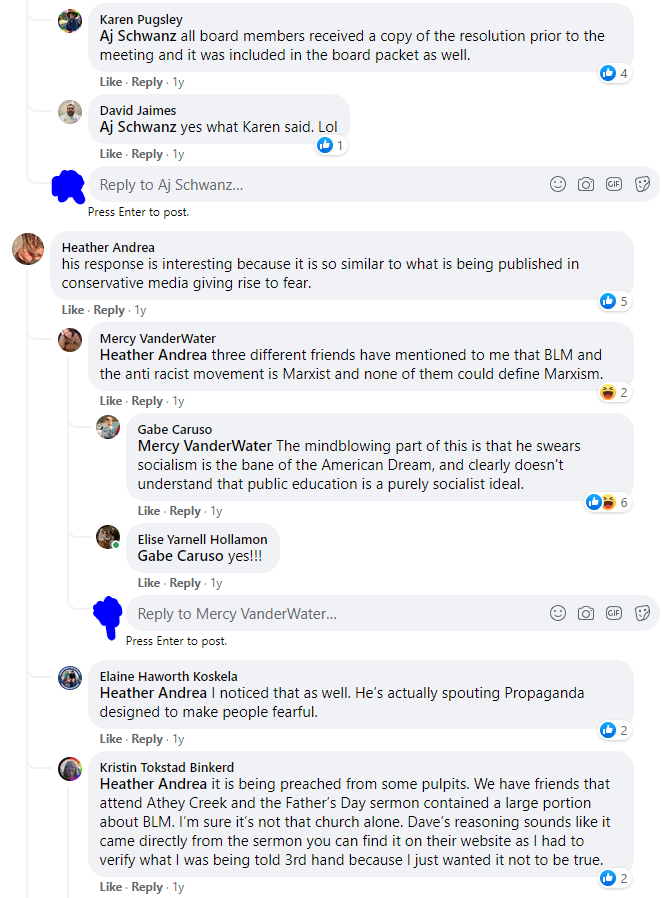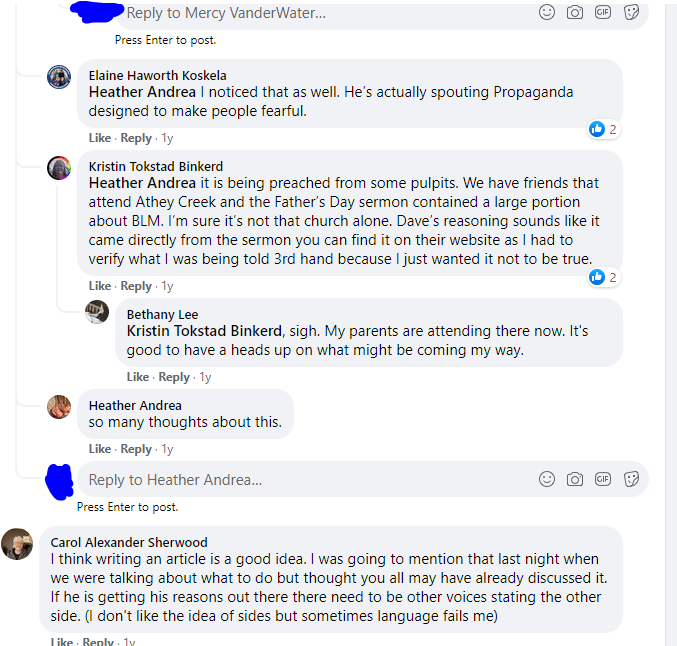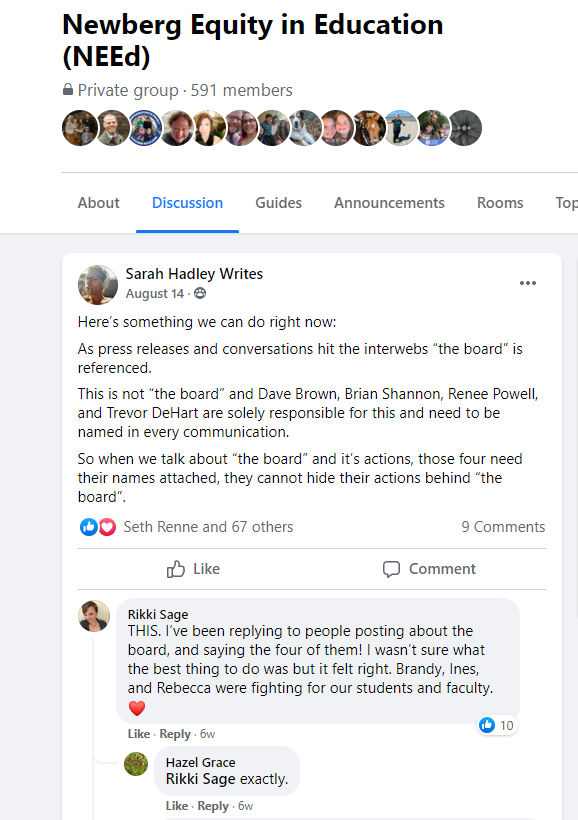 Given the efforts of the Progressive Yamhill group, it seems clear to me that The Newberg Graphic has become a partisan paper that is focused on pushing the agenda of Progressive Yamhill and other similar groups that support Critical Race Theory. Likewise, many other publications in Oregon seem to have become partisan to this radical faction as well.
I think there really needs to be some new newspapers created that can provide more clarity to the public and report more fairly, presenting the full story of an issue. Even if I have a bias (which I make obvious so there can be no confusion about it) I am at least providing the facts of the situation in a way that anyone can make up their own mind. I'm not censoring their communications about what they are doing.
So, the thought occurs to me, maybe if I'm going to spend so much time writing these exposes about what is really going on, maybe I should take the next logical step?
I am considering the founding of a new newspaper for the Yamhill County region. I can very easily setup a nice, slick looking digital newspaper on a website that is mobile compliant and will read easily on phones and tablets. I can also obtain a license with a news aggregator to gain republishing rights to a steady volume of national stories. I know how to hire writers and I know how to edit their work. I know how to do these things and do them affordably.
The question is, do the residents of Yamhill County want a new, alternative newspaper that will provide the kind of stories I have been reporting on my personal blog? Pamplin Media charges $45 per year for digital access to The Newberg Graphic or $79 a year for access to all their publications. Perhaps a subscription for this new publication would be somewhere within that range, to cover its operating costs? A print edition is unlikely at the beginning without significant investment capital, but a digital only service is something I can quickly setup at minimum upfront investment cost.
I'm thinking of making a publication that will cover all news in the County, in addition to some national and international stories. What do you think of that? Let me know by sending me a message via my contact form. Tell me if you'd be willing to subscribe to something as I just described, or if you're even interested in investing. I could perhaps launch a Reg CF for this, and allow people to make micro-investments into the development of such a publication. There are many possibilities but I need to know, what do YOU want in your news?