Using the TikTok account crazybulldogs33 (which names itself 'Middle School Counselor Life') school employees of the Newberg, Oregon public school district at Mountain View Middle School, Annie Bynum and Erin Dobias, made a video of themselves performing a profane gesture with a pride flag hanging in a classroom as the background. Both Bynum and Dobias work as school counselors.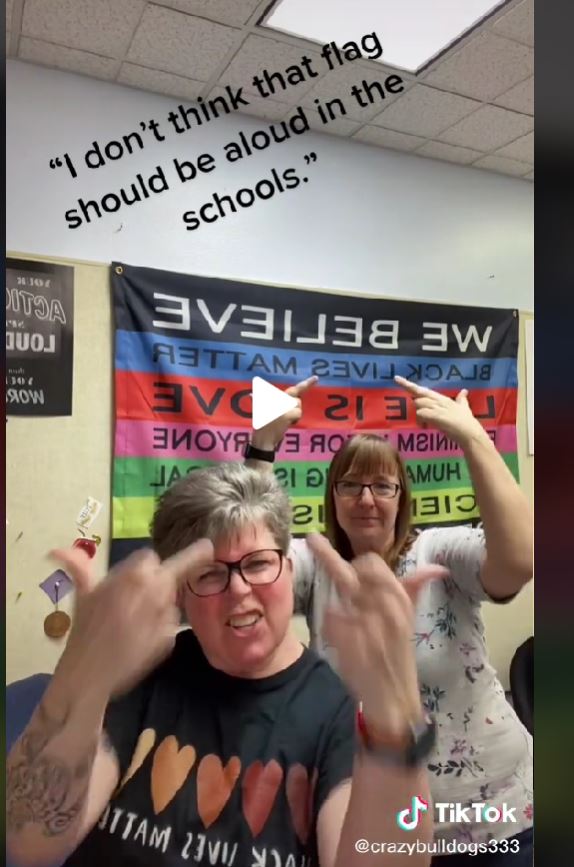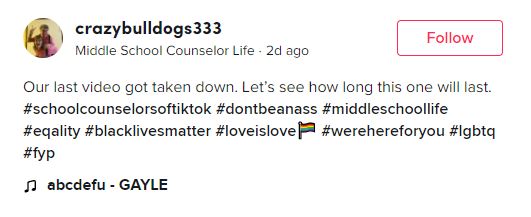 Here is a screen capture of the popularity of the channel,
As readers of the Advocate following our coverage of the Newberg Schools Saga know, concerned parents have protested the display of these political flags in the classrooms. Last year the Newberg school board passed a policy prohibiting the display of politically divisible symbols such as pride flags and wearing things like Black Lives Matter t-shirts at the request of these parents, which the teachers have refused to comply with. Teachers and the teacher union itself filed a lawsuit against the school district for passing the policy, claiming they should be allowed to use the classrooms to express their political ideologies to children using the public school resources. As previously reported by the Advocate, many of the teachers are part of a social activist group called Newberg Equity in Education (NEEd), which is a subgroup to Progressive Yamhill, a registered chapter of the Indivisible movement.
So the message of this video is clear; the people who these school counselors are flipping the bird at are not only the school board directors who passed the policy, but also the parents of the children in the district who are against the flags in the classrooms. These are public employees defying the ban on politically divisive symbols and mocking the directors, parents and voters who want these flags to be removed.
And in so doing, they demonstrated exactly why these symbols are disruptive to the learning environment, and that the teachers' motivations are ulterior. The flags are for them to express their political beliefs in the classrooms so they can indoctrinate the children in these ideas as a form of political protest. This video is proof of that.
Furthermore, I believe there is enormous irony in teachers standing in front of a flag that claims that everyone should be respected and loved, and then telling anyone that disagrees that they should "F*ck off" — which is what the hand gesture means.
This video is an excellent piece of evidence that illustrates how the teachers displaying these flags in classrooms are not sincere about their claims that their goal is to teach children to be respectful of differences. As demonstrated by this video, they are actually using these propaganda symbols to indoctrinate children into ideas like Critical race theory that encourage hatred and anger against other groups (predominantly "whites" and heterosexuals'). They use fake "sex education" classes to indoctrinate students, as well as by displaying propaganda like posters and t-shirts designed to pressure students into identifying as "LGBTQ" to gain the approval of their teachers and other peers.
These people employed by the Newberg public schools are not authentic teachers, but instead nothing more than social activists for radical and extremist ideologies who are abusing their positions to indoctrinate children.
The Tik Tok account also has videos that are aimed at students, so it seems clear to me the intention of this account is to share the videos to students they counsel, as well as elsewhere in the district.
Proof That These Are Newberg School Counselors
Proof that Annie Bynum and Erin Dobias work in these positions for the Newberg public school district can be seen from their LinkedIn profiles, as well as the Newberg public school employee directory. Annie Bynum is also a member of the Newberg Equity in Education (NEEd) Facebook group.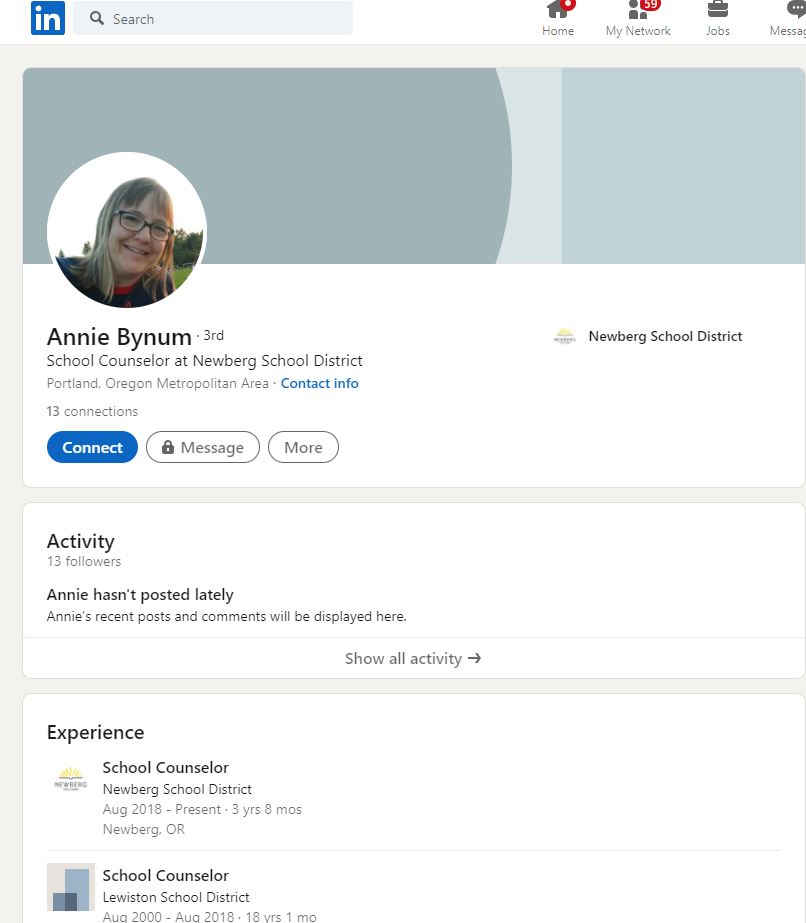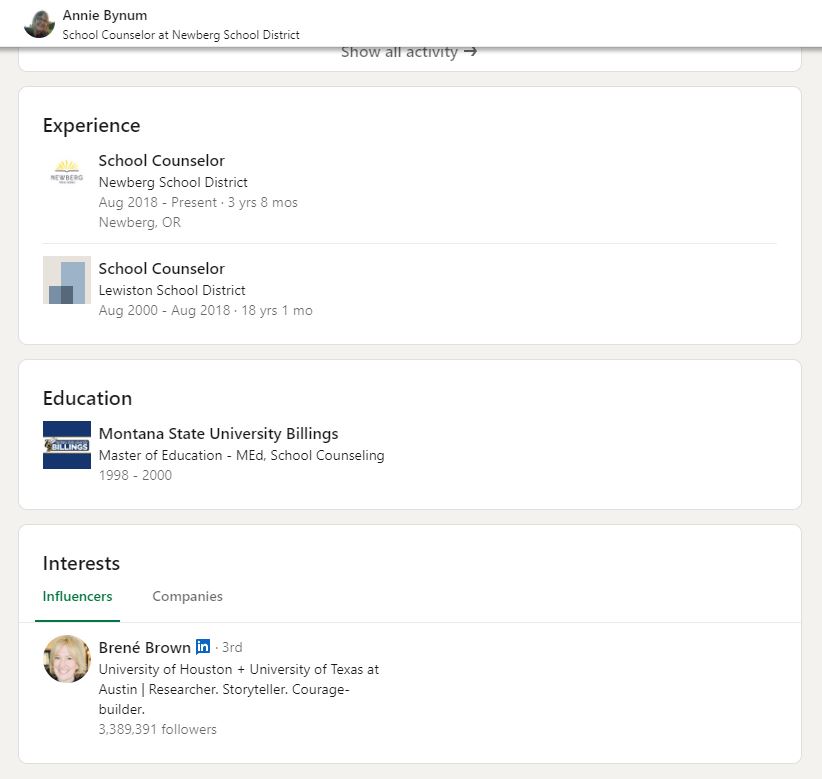 This is proof of Annie Bynum's membership in NEEd, taken from the master screenshot of everyone who was in the group with an 'A' in their first or last name (open the file in MS Paint and zoom in to read the list).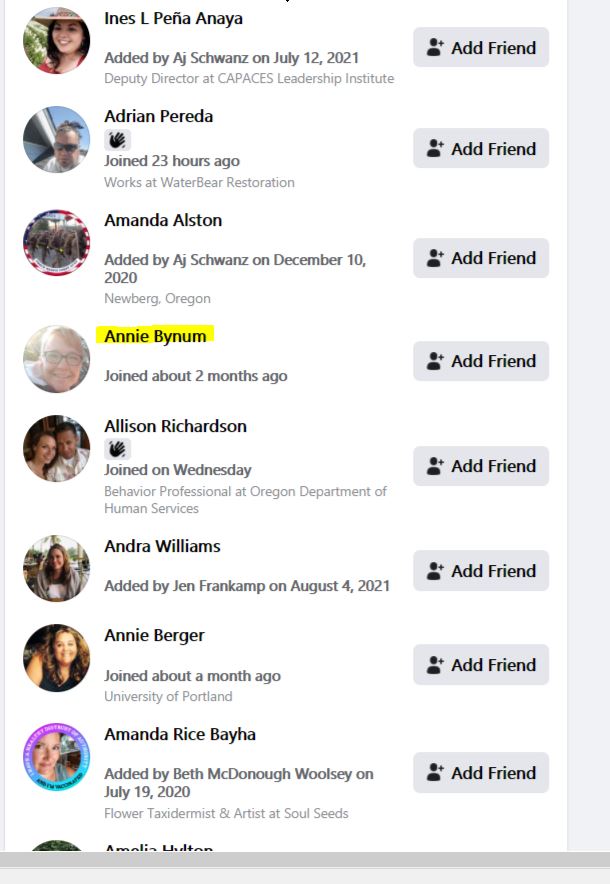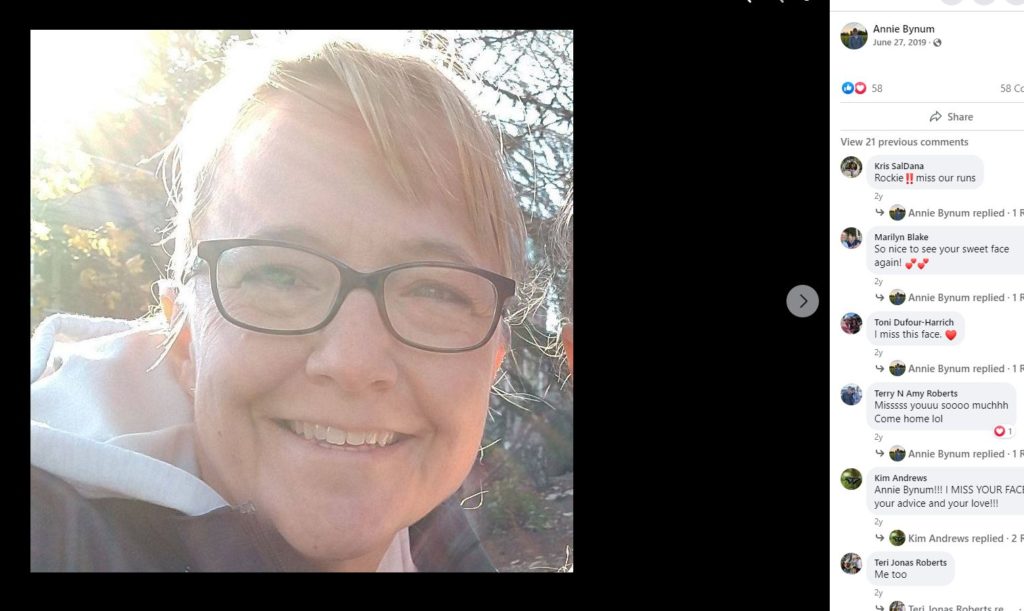 And here is the proof about Erin Dobias' employment status.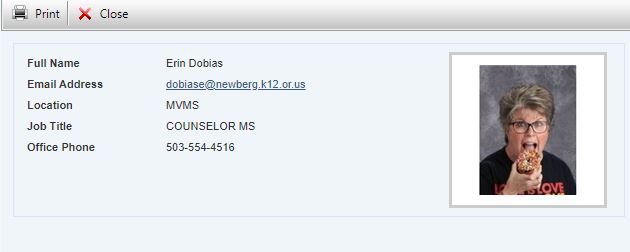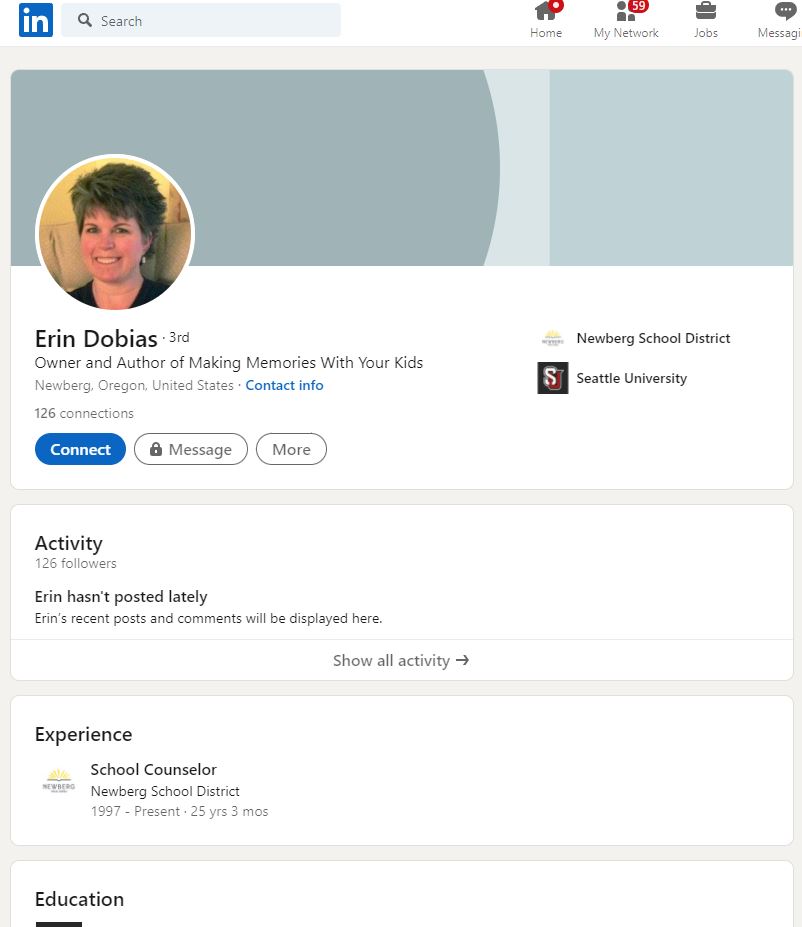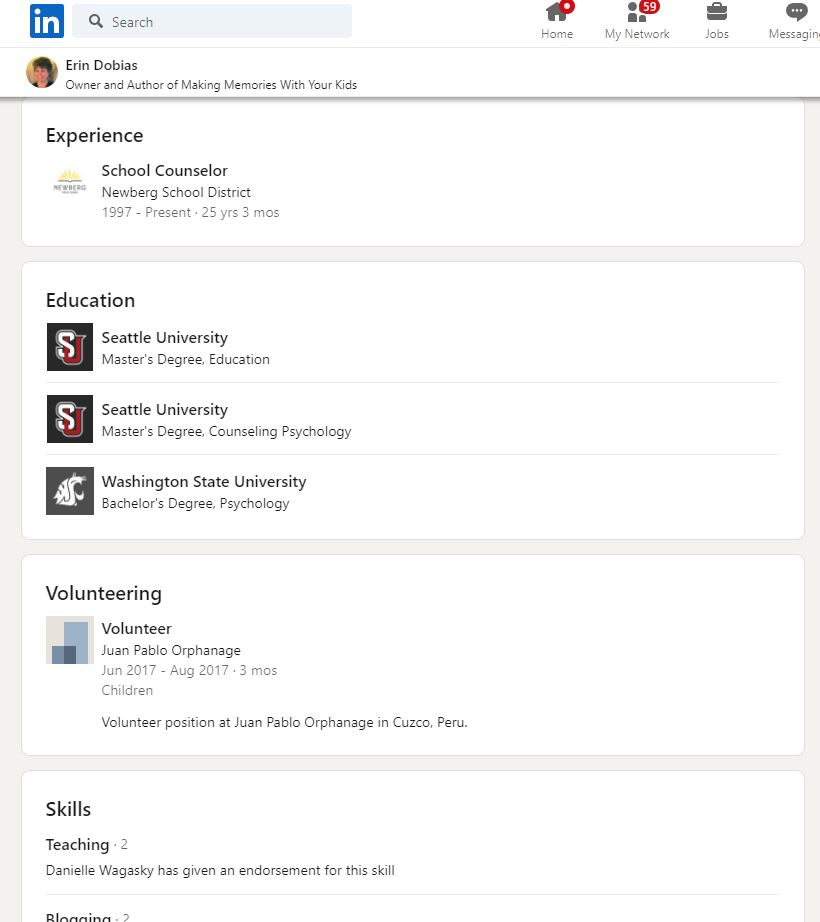 I also want to just highlight that her official employee photo for the school depicts her eating a donut.

It appears that Erin Dobias views herself not as a school counselor, but instead a comedian. That is clearly what she spends her work time doing, engaging in comedy to entertain her coworkers and random people on the internet via her TikTok account.
Additional Videos on the Tik Tok Account
Based on the content of the account, it seems these counselors are attempting to carve out a niche of comedy videos about being a school employee, and mining their access to resources and information to create comedy videos. For example, in this video she uses a student's disciplinary meeting as fodder to make jokes to entertain her audience,
In another video on the Tik Tok channel, Erin Dobias performs a sketch comedy skit where, according to the video description, "size matters". The video features Dobias hands an over-sized pencil to Mountain View Middle School secretary and book keeper Vicki Klein, who then curses.
Proof that this is Vicki Klein, who is also a member of Newberg Equity in Education (NEEd),

(Strangely, Klein's official employee photo also shows her eating a donut)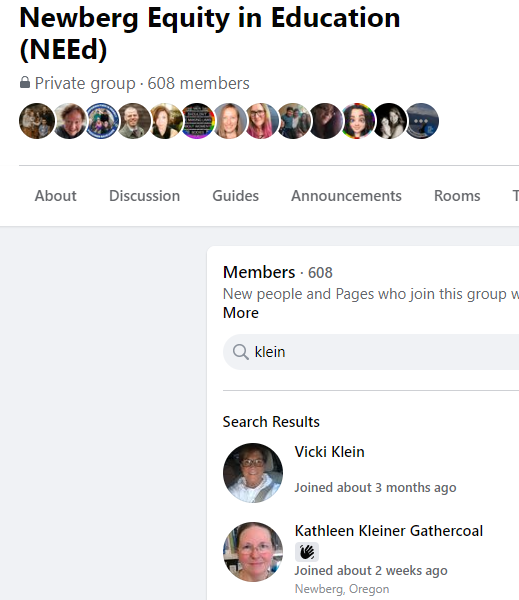 In the comment section of a Save our Schools Newberg Facebook post about these videos, Vicki Klein decided to speak up and talk about how the "people" making the channel had good intentions, never mentioning she is one of the people who helped produce videos on the channel. The above video was clearly staged to get views on TikTok. That is why there is a camera from the phone setup in advance.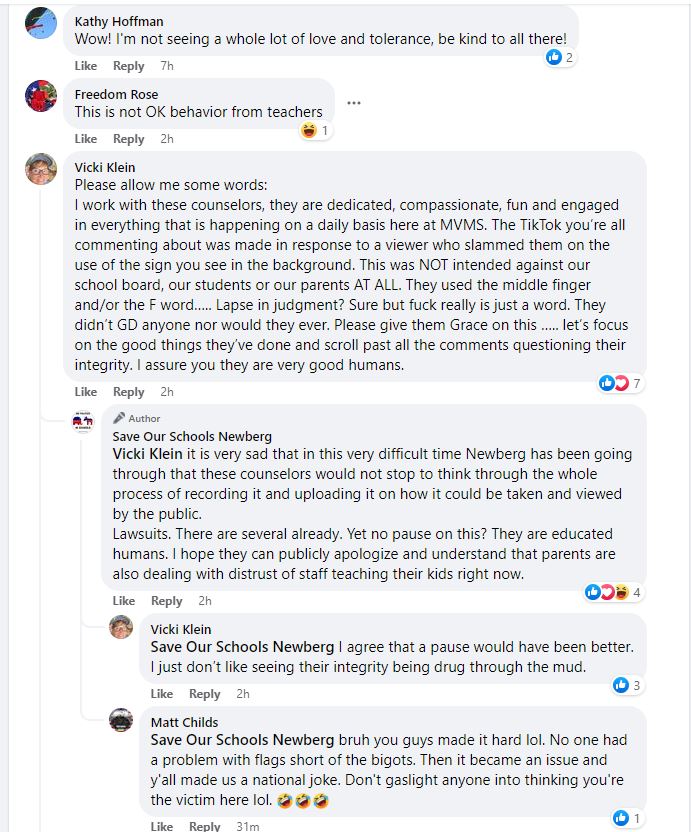 Given that Vicki Klein has attempted to pretend to be a neutral party and not someone who has been part of the videos uploaded to the channel, I am skeptical about her claims.
I have archived all of the videos from the TikTok channel, which demonstrates they spend a great deal of their time at work making these TikTok videos.
These are not the actions of responsible and mature adults who are genuinely interested in counseling children. Instead, these are the actions of immature narcissists more interested in getting attention for themselves through childish pranks and other skits they make to entertain their peers at work while leveraging the privilege of their employment to advance their personal aspirations. They view the schools as a stage for themselves to garner attention, and clearly do not view it as a serious place for the education of the next generation of Americans.
This is how they spend their time as employees of the school district; virtue signaling, creating Tik Tok videos and fooling around, while also using their positions to indoctrinate children so they can grow up to be equally ridiculous people as adults.
It's no wonder that parents are upset about bullying problems within the Newberg public school district, when this is how the school counselors are behaving. These women clearly lack the maturity or intelligence to behave responsibly and professionally, to set examples for how the children should behave at school. When the teachers and school counselors behave like immature jerks, you cannot expect the students to do any better, as the adults who are supposed to be setting the example and maintaining standards cannot hold the students to a higher standard than they hold themselves to.
These social activists should be fired. They have nothing of value to teach children. If anything, they are the ones in need of psychological counseling to help them overcome their own negative behavior problems.
Update: 1st Statement from Newberg Public Schools
The Newberg Public Schools Facebook page has issued the following statement concerning this matter,
Update: 2nd Statement from Newberg Public Schools Communication Coordinator Gregg Koskela
Newberg Public Schools Communication Coordinator Gregg Koskela (who I should note, is also a member of Newberg Equity in Education) has sent the following email notice to parents concerning this matter,