During last night's meeting of the Newberg, Oregon public school district board of directors, Director Ines Peña announced her resignation, which was made effective during the meeting. As reported in a previous Advocate article, Peña has been an active member of Newberg Equity in Education (NEEd), the Indivisible aligned social activist group responsible for the recalls against school board directors Brian Shannon and Dave Brown as part of a plot to re-take control over the Newberg school district so that the social activist group may continue to indoctrinate children in fringe political beliefs such as Critical Race Theory, with the stated goal of changing the voting culture of Newberg, Oregon.
Peña's resignation caps off a round of recent resignations by Newberg school district employees, notably administrators, that started once it became clear that there are not enough votes to recall school board directors Dave Brown and Brian Shannon.
Here is a list of several notable resignations mentioned during last night's school board meeting,
Tim Graham, Principal at Catalyst Alternative High School and Newberg Equity in Education member.
John McAndrews, Principal at Antonia Crater Elementary School
Wendy Garland – Teacher, Chehalem Valley Middle School
Dan VanWinkle – Teacher, Chehalem Valley Middle School
Luke Neff – Director of Instructional Technology and Strategic Partnerships
There is also one retirement,
Tim Burke – Athletic Director / Assistant Principal at Newberg High School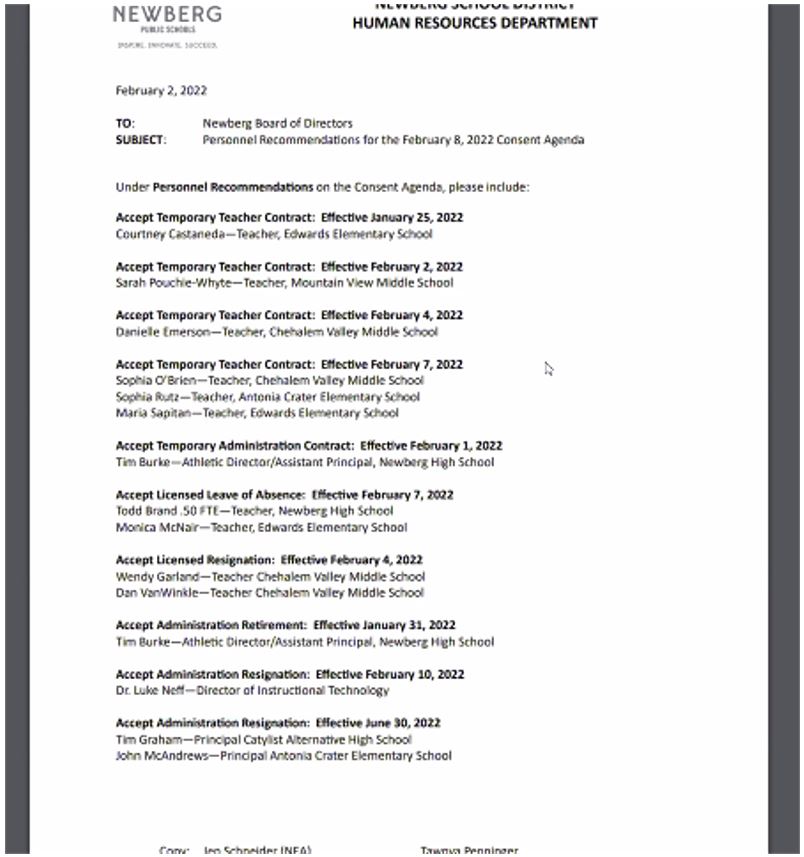 The resignations were also announced on the Facebook page for the Newberg Public Schools district, no doubt posted by Gregg Koskela, the Communications Coordinator, who is also an active member of the NEEd group as well.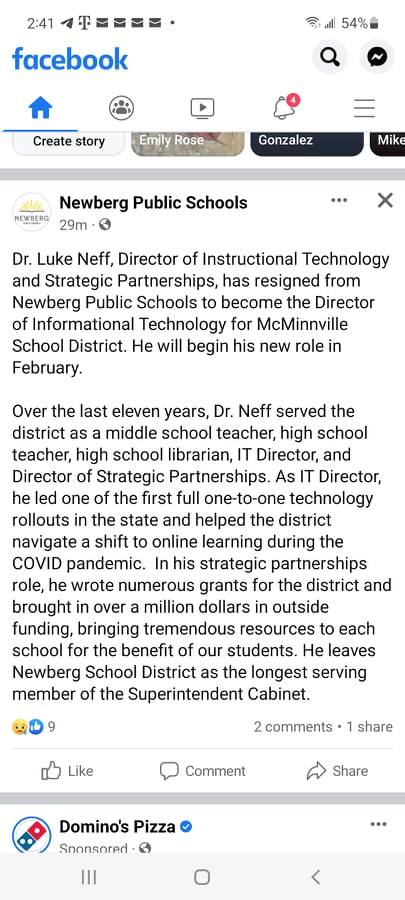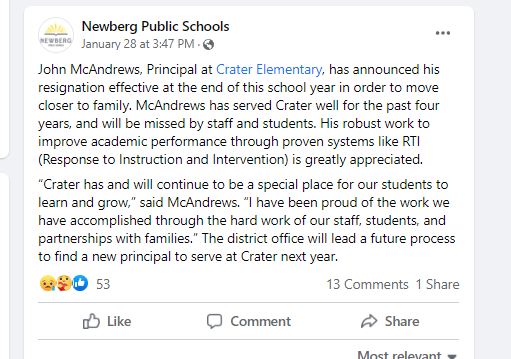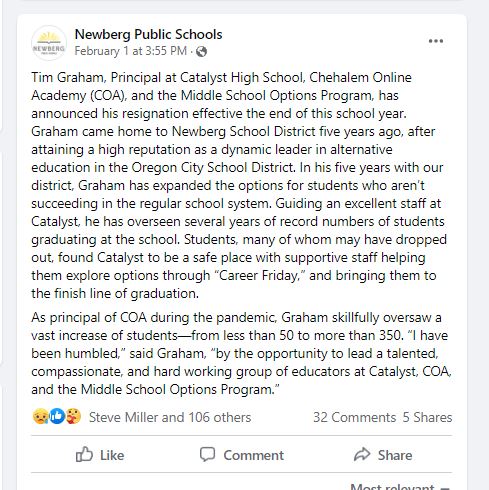 I think it is worth mentioning that Tim Graham was particularly outspoken about his participation in the recall campaign against Brian Shannon and Dave Brown, going as far as to spread misinformation about a non-existent plan to have Marc Thielman brought in as superintendent, which as explained in a previous Yamhill Advocate article, was never in the works because Thielman had no intentions to be hired in the first place. The false story was spread by ex-Newberg Graphic and current Oregonian writer Ryan Clarke.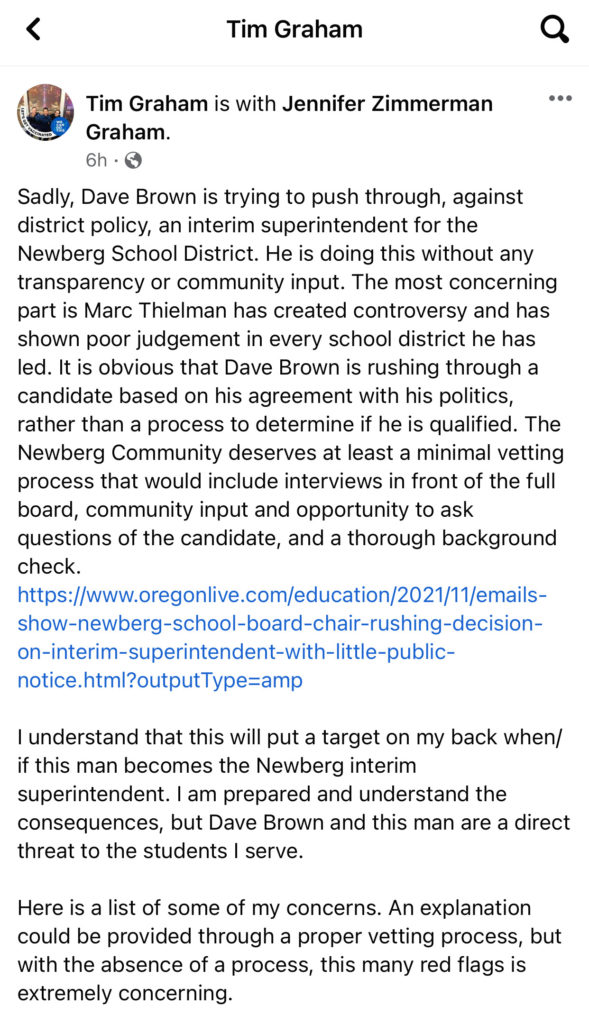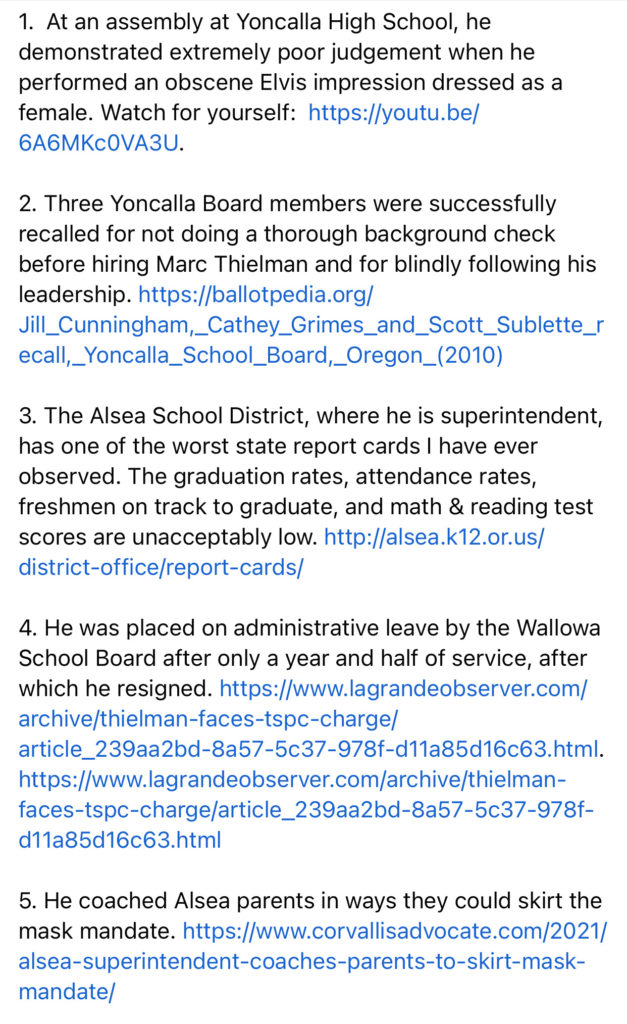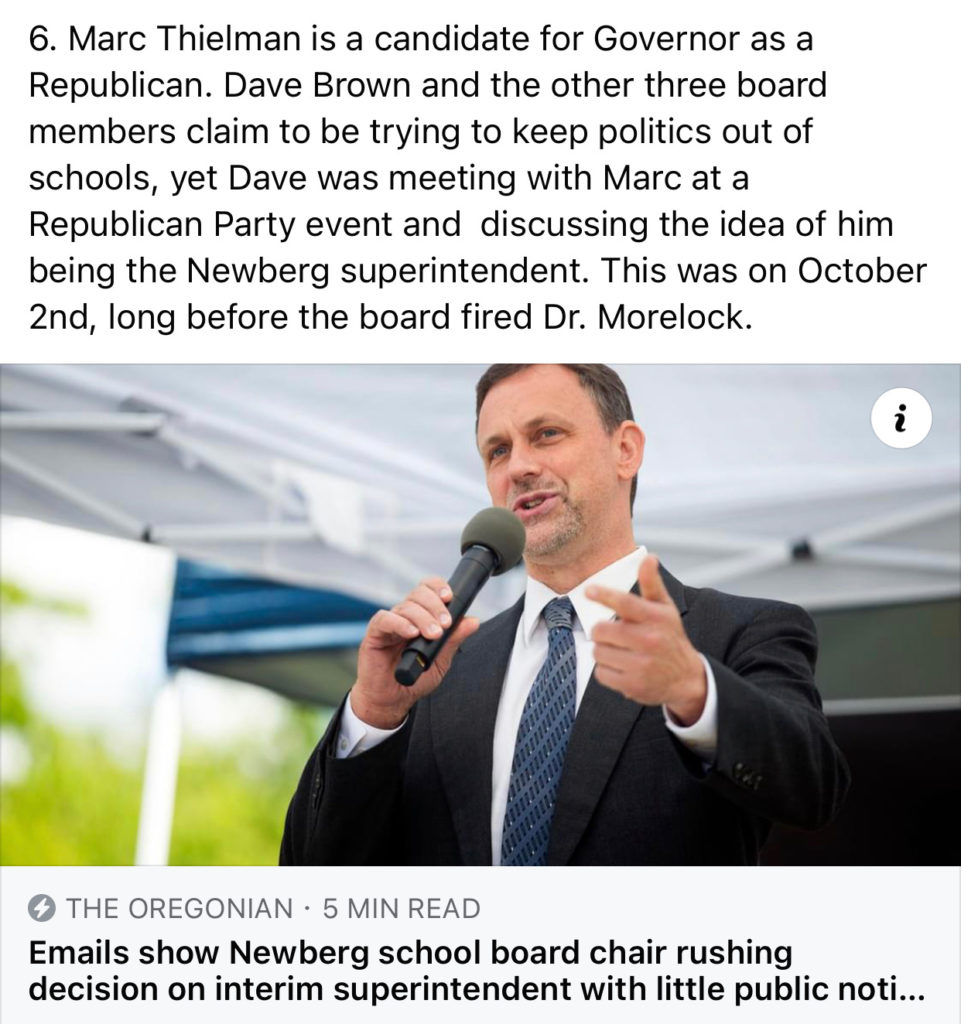 This wave of resignations could be an indication that the Newberg Equity in Education (NEEd) group is fracturing as a consequence of the fallout from their failed recall campaign, which has cost the Newberg school district taxpayers an estimated $60,000 from the school's budget.
The Newberg school district has also reportedly faced a staffing shortage due to a difficulty to hire teachers as a consequence of the covid-19 epidemic, and the usage of emergency powers by Governor Kate Brown last year to require all K-12 teachers to be vaccinated.
Update: 2/10/22
You can watch a recording of the school board meeting via the embedded YouTube video below,
Additionally, per conversations taking place in a public Facebook group thread in Yamhill County News and Discussion, there is a possibility that the resignation of Ines Peña was known to Brandy Penner and Rebecca Piros ahead of the announcement, per the response provided by Megan Corvus (one of the founders of Progressive Yamhill and the Recording Secretary of the Yamhill County Democrats) to public discussion about the topic,