By now, residents in Newberg and Dundee, Oregon have most likely viewed the numerous political commercials which have played repeatedly on local television stations such as KATU ABC 2 and KGW, as well as on local served cable stations.
Many of these television ads are produced by "Voices of Newberg PAC", which is yet another political action committee (PAC) where Democrat strategist Jef Green serves as treasurer (as previously reported he is also treasurer for numerous other recall PACs against Newberg, Oregon School Board Directors Dave Brown and Brian Shannon) and a Newberg Equity in Education (NEEd) member serves as director; in this case Sean Devine.
From the state filings of the Voices of Newberg PAC,

Proof that Sean Devine is a member of Newberg Equity in Education (NEEd) can be seen in this list of all members who have an S in their name. As the screenshot is very large (you'll need to open it in a photo editing software to be able to read it) I have highlighted the section he appears in.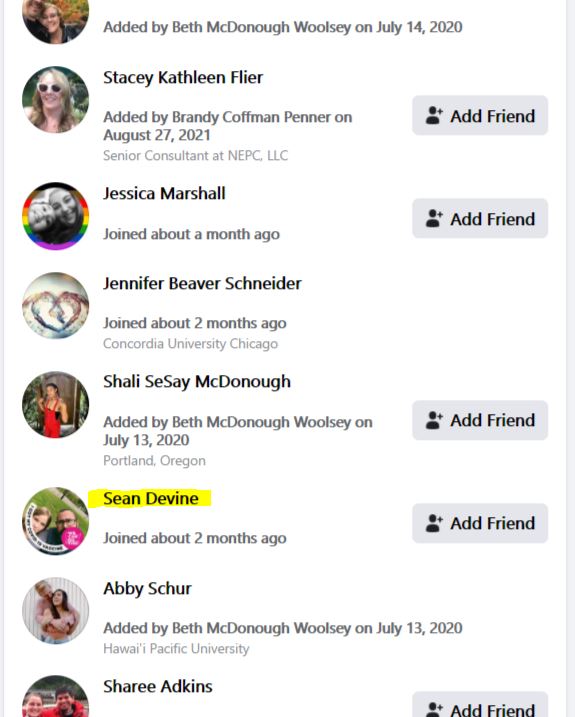 Sean Devine has hidden his Facebook profile since the publication of my list of NEEd members, but I can tell you that he is, much like Matthew Moriarty, yet another Hollywood professional who has purchased a house in Newberg and then decided to try to shift its politics toward a fringe ideological movement through participation in the schemes of the Newberg Equity in Education (NEEd) cult.
In the filings for Voices of Newberg PAC, Sean Devine lists his employer as the Burbank, California based Entertainment Partners, and he also lists himself as a film-maker; I have located his IMDb page, which lists him as a grip on numerous Hollywood films and TV shows. His credits have many cross-overs with Matthew Moriarty; for example, they both worked on Netflix's upcoming film Metal Lords, as well as Moxie, The Water Man, A Quiet Place Part II, Aquaman, and so on.
As a grip, Sean Devine has worked closely with Matthew Moriarty on these productions, as grips are part of a camera and lighting production unit.
While Sean Devine seems to have scrubbed the internet of his social media presence, I was able to locate a photo of Sean Devine from an interview he did on YouTube, with a teddy bear.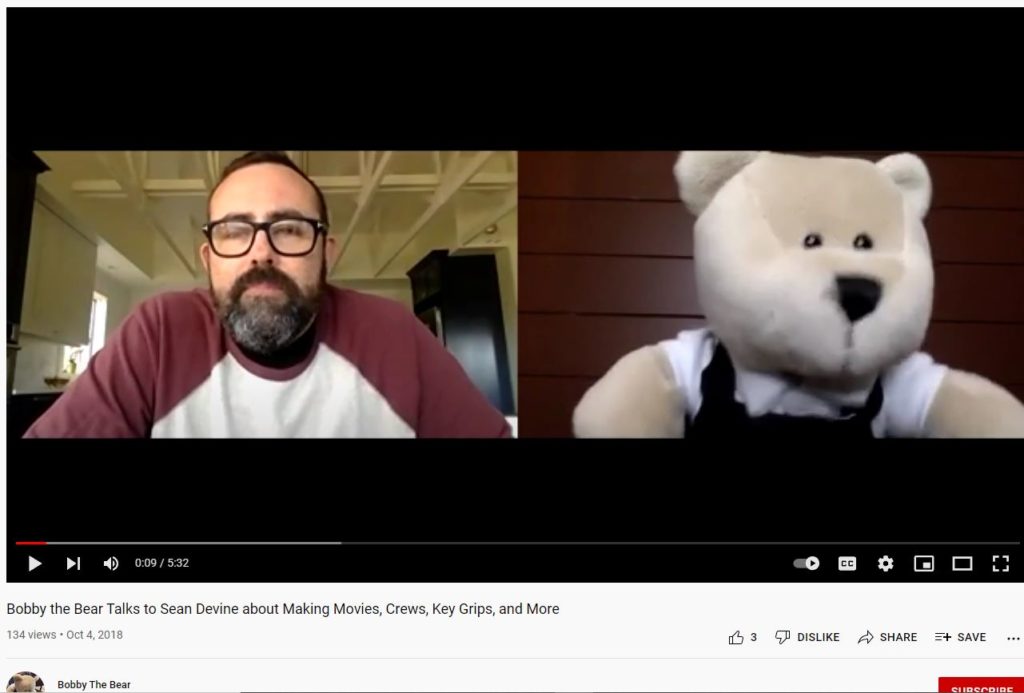 One of the television ads which Sean Devine produced for Voices of Newberg PAC is the following, which features footage of Alsea, Oregon School District Superintendent Marc Thielman, who is also campaigning to run for Governor of Oregon on the Republican ticket. The footage used in the political ad was taken from his interview with KGW from about a month ago.
This is the ad produced by Voices of Newberg PAC,
However, the television ad dubs over Thielman's voice from the original interview and replaces it with narration designed to trick the viewer into believing Thielman is supporting the recall against Dave Brown and Brian Shannon.
I took the time to interview Thielman about this political ad produced by Voices of Newberg PAC, and confirmed that contrary to his depiction in the ads, Thielman is opposed to the recall of School board directors Dave Brown and Brian Shannon. We also talked about numerous other things relevant to the Newberg Schools Saga, to address many of the fabricated claims which have been spread by other media outlets such as The Oregonian, KATU ABC 2 News, and KGW about Marc Thielman.
In the interview with the Advocate, Thielman says he made it clear in his past interviews with these other publications that he was not offered the job of Newberg superintendent by Dave Brown, and that he was also not interested in the position. However, that is not what they chose to report.
The interview with Marc Thielman is about an hour long, but these are a few of the highlights,
The ads produced by Voices of Newberg (Sean Devine) are dubbing over his actual statements and replacing it with narration that is the opposite of what Marc Thielman believes.
Contrary to claims in other publications, Newberg School Board Chair Dave Brown did not offer Marc Thielman the job of superintendent of Newberg. This is because Thielman is running in the Republican Primary with the intention to become the Governor of Oregon in the November 2022 election.
Contrary to the claims made by Newberg School Board Director and NEEd member Brandy Penner, Marc Thielman was not conspiring with Robert Hess to become superintendent of the Newberg school district, as claimed by Penner during the last school board meeting.
I encourage every voter in Newberg and Dundee, as well as other residents in Oregon, to watch this interview. I think it will be very educational for many residents who are interested not only in what is taking place in the Newberg school district, but other districts around Oregon.
The following is the Yamhill Advocate interview with Marc Thielman,