Note: Some parts of this article will be lengthy, but informative. While I am not a medical professional, through decades of study out of a hobby interest, I consider myself knowledgeable about the fields of psychology, philosophy, and biology. I have long held a deep fascination with cults in particular, and how they form and recruit new members. In the writing of this article I am providing opinions and analysis based on my experience with studying these subjects. The purpose of providing this commentary is to help the average person understand what is going on inside our public schools and the purpose of this 'My Future, My Choice' program.
This article is headlined as "Newberg Teachers" but in actuality, the curriculum I am exposing in this article is currently being taught in schools across Oregon, as well as in other states such as California. It is frequently taught to 7th and 8th grade students, but I have not seen any specific age limits on who is and isn't allowed to be taught this material.
This article will be a lengthy read, but it has been written to educate parents who may have no background in the kind of social activism this curriculum has been designed to indoctrinate children into. I would strongly recommend parents reshare this to others throughout Oregon and other states, because this is information schools are not going to provide parents about the program and who has created it.
I have taken the time to write a lengthy and detailed explanation that I hope most anyone can follow, so that parents can make an informed choice about whether their children should be subject to what I consider to be a cleverly designed vehicle to indoctrinate children into far left ideologies. You will also discover the curriculum was created by a non-profit founded by pro-abortion activists, with at least one of them having a publicly identifiable connection to an Indivisible chapter (at least in that she has shared their propaganda on her social media).
In two previous articles, Newberg Schools Indoctrinate Children Into Pseudoscience Designed to Change Children's Sexual Identity and its follow-up article, Report: Parents Say Newberg, Oregon School Counselor Encouraging Children To Become Gay With Propaganda, I provided evidence for how the My Future, My Choice Program offered by State of Oregon Health Department to public schools is designed to indoctrinate children into the discredited pseudo-scientific gender identities theories of ex-John Hopkins researcher John Money. I also provided evidence for school faculty members spreading propaganda inside the school, such as the display of posters and wearing of t-shirts with propaganda messaging, designed to encourage children to identify as gay and/or transgender.
Several days ago I published the article, Newberg Public Library Offers Gay Pornographic Books To Children, which provides evidence for pornographic books such as Gender Queer; a memoir offered to children in the same shelf-space as other manga and comic books, along with other books shelves nearby that encourage children to explore sexual fetishes.
Make no mistake; these things are not coincidental. As I have reported for the past seven months, there is an organized effort in our community by teachers, publicly elected officials, private business owners and other parties to encourage children to identify as gay and/or transgender under the belief that it will make the children easier to recruit into the same political movement as this group of people belong to, the Indivisible movement.
Indivisible is a national organization, and the local chapter in Yamhill County, Progressive Yamhill, is registered as a chapter on its own website directory. By my count there is over 3,407 chapters of Indivisible throughout the United States.
Every major city has at least one Indivisible chapter, and some very large cities often have several chapters to focus on specific areas of their group's agenda. I know this because I have scrapped their national website's database using a bot, and collected the data about their chapters into a searchable spreadsheet, which you can download by clicking here if you want proof of how vast their network of operatives actually is (Note that this list has not been organized by state and city yet, and is the raw dump feed. You may need to search several times for large cities to see all of the chapters in those cities).
Here is proof that Progressive Yamhill is a registered chapter,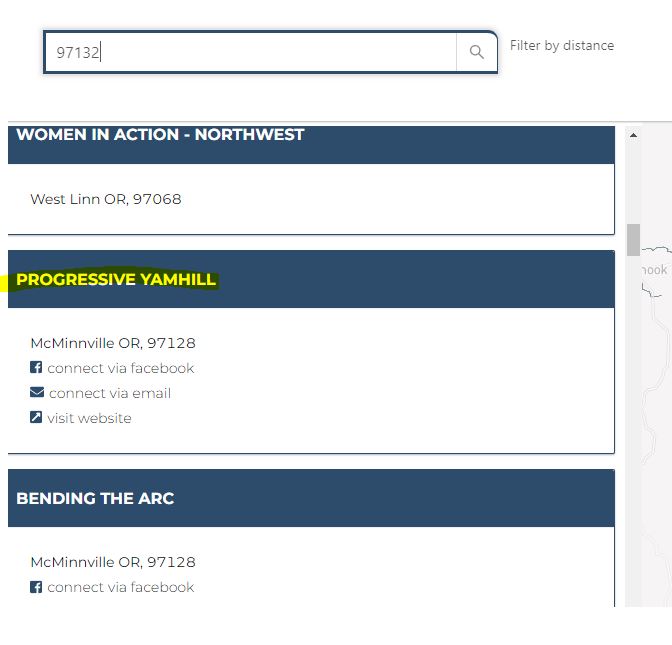 Proof that Progressive Yamhill is a registered chapter of the Indivisible movement.
Underneath the umbrella of Progressive Yamhill sit several different organizations, most notably Newberg Equity in Education (NEEd) which was used to strategize, plan and execute a vast propaganda campaign against Newberg school board directors Dave Brown and Brian Shannon, as well as the harassment of fellow directors Renee Powell and Trevor DeHart, and their families, solely because Progressive Yamhill members lost control over the school board in the 2021 election.
I have extensively documented their group's activities on the Advocate, such as by publishing years of their secret Facebook group communications that prove beyond doubt they have done what I accuse them of doing. You can find my large collection of prior articles by searching for articles marked as the 'Newberg Schools Saga'. You can also read my extensive timeline of the events which have surrounded the Newberg Schools Saga.
This article is yet another update in the efforts to, in my opinion, groom children to serve the political agenda of the Indivisible movement via the organization of Progressive Yamhill members that have infiltrated the school and are using it to indoctrinate children, often without their parents having any idea this is taking place.
Why 'My Future, My Choice' Is a Behavior Modification Class
In prior articles I have criticized the "health class" curriculum developed by the Oregon Department of Human Services, My Future, My Choice. I posted links to two pages on the state's website where some of the material in the curriculum can be downloaded and read.
Previously, I showed emails from Newberg school employees discussing this program and its material. Now I have evidence that teachers are in fact teaching the curriculum. I mentioned the curriculum was created by a non-profit Amaze.org, which my further research has revealed is a project by Advocates for Youth, which is a social activist group that promotes everything from teenage abortions to gender identity "rights". They produced both the written curriculum as well as the cartoon videos designed to normalize this stuff to children. I'll talk more about that later in this investigative report.
According to an anonymous source, a concerned parent, this letter was sent to a Newberg High School student in an effort to recruit that student to become the "Teen Leader" for these roleplaying sessions. The letter was sent to the student, not the student's parents.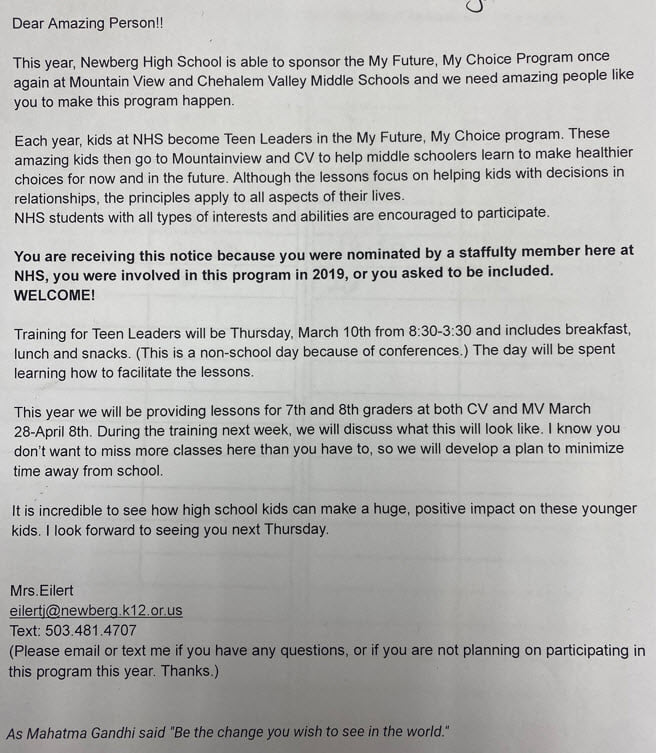 The letter was sent by Jane Eilert, who is listed on the Newberg school directory website as the family and consumer studies teacher.
As I previously pointed out in my prior analysis of the "curriculum material", the material uses the kind of "brainwashing" techniques used by cults to indoctrinate followers. In this case, the teacher selects a student as a 'Teen Leader', who is privately tutored in the curriculum before any other students in the class learn it.
This is normally a student who is deemed popular with his or her peers. This 'Teen Leader' is then asked to roleplay with other students, performing a number of 'roleplaying lessons' that guide students in how to ask another student to have sex or how to use "correct" gender pronouns and accept a child who has decided to become "transgender". Using these roleplaying exercises the lesson brainwashes children through the aid of an authority figure (the teacher) and peers who pressure them (the popular students).
Here are several pages from Teen Leader Classroom Guide, that show the script which students are expected to recite during class to their peers as part of the role as 'Teen Leader'.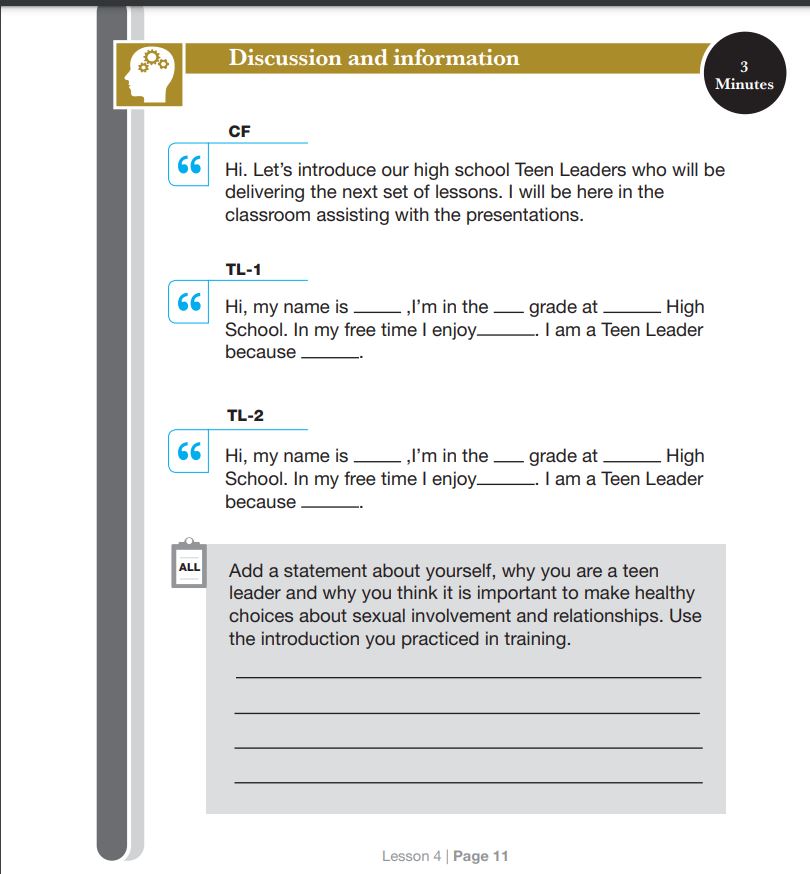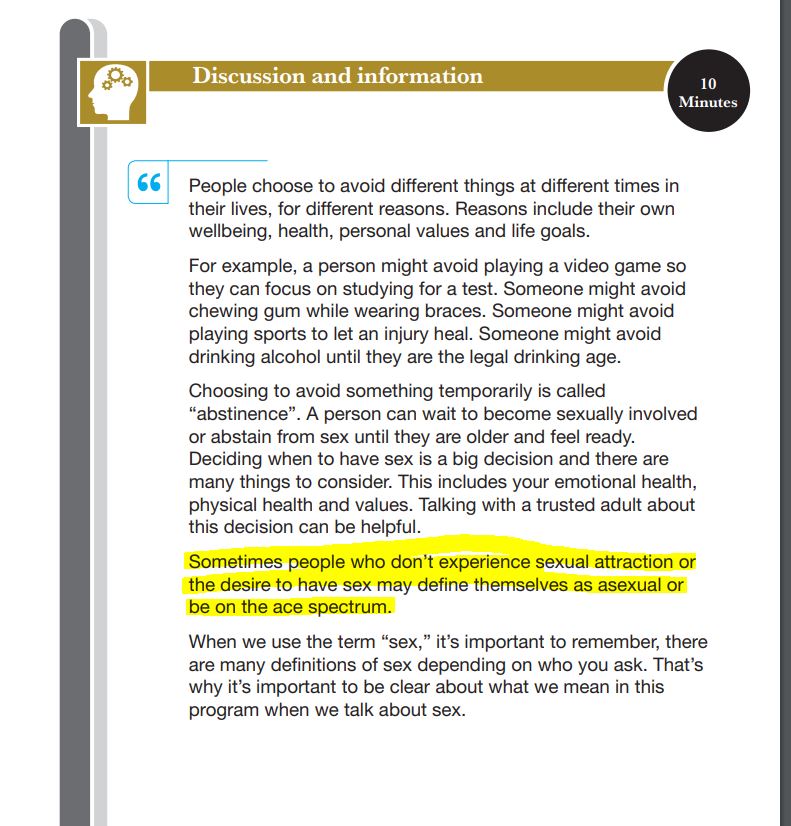 In the following page, the 'Teen Leader; is asked to tell their peers that some students may identify as 'asexual', which is intended to grant legitimacy to the idea of the 'asexual' sexual orientation as an identification which students in the class can adopt. For many of the students it may be the first time they have even heard the term 'asexual'. Keep that in mind, as I will circle around to why the introduction of constructed identities like 'asexuality' is problematic, and what the intention behind teaching this to students is.
On the next page, the Teen Leader is provided a script to teach other students about how to have sex in numerous ways,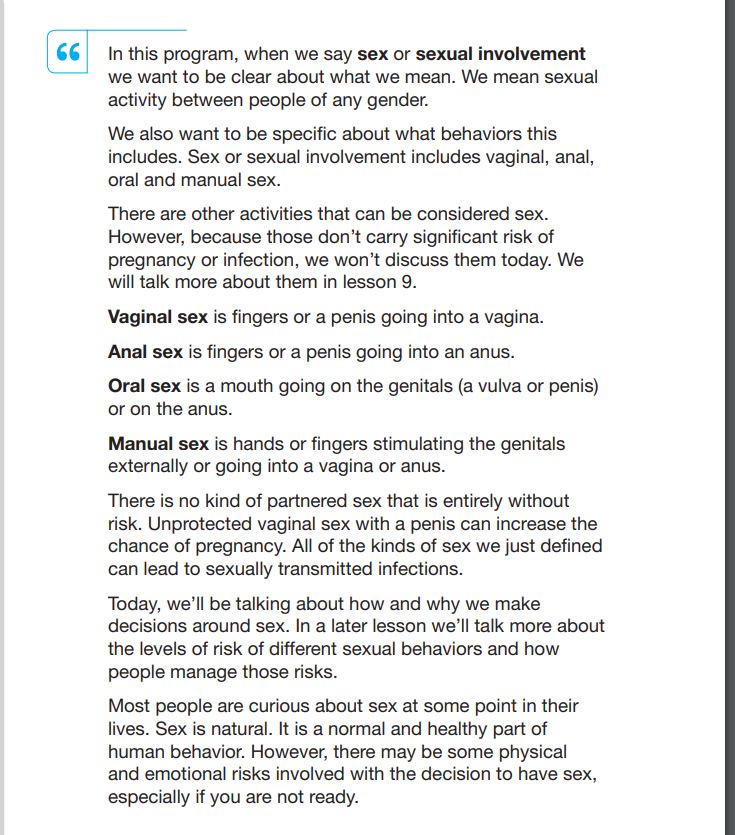 Again, this is what the 'Teen Leader' is expected to read to other students in the classroom.
If you take the time to read the downloadable PDF I linked to previously, you'll find the students are asked to form groups of students and create a list of reasons why kids might want to have sex, and why they might not want to have sex. While the material purports to be designed to encourage abstinence, the reality is that much of the curriculum is designed to introduce kids to gender identity frameworks and educate them about other kinds of sexual fetishes. The groups where kids pair off into "brainstorming groups" to come up with their own ideas about why they should have sex may be designed to encourage kids who already know about some sexual fetishes to share that information with other students. While that may happen organically, it is distressing to see classes designed to promote that kind of story telling as part of an official sex education class and then use both an authority figure (the teacher) and peers (the Teen Leader) normalize this stuff.
The reason I believe the course is designed to encourage kids to learn about sexual fetishes to encourage children to adopt them, instead of abstaining from them, is because of the inclusions of "lessons" like this one featured on the following page; this 'special instruction' requires the teacher to bring to the classroom music that has sexually explicit lyrics for the students to listen to,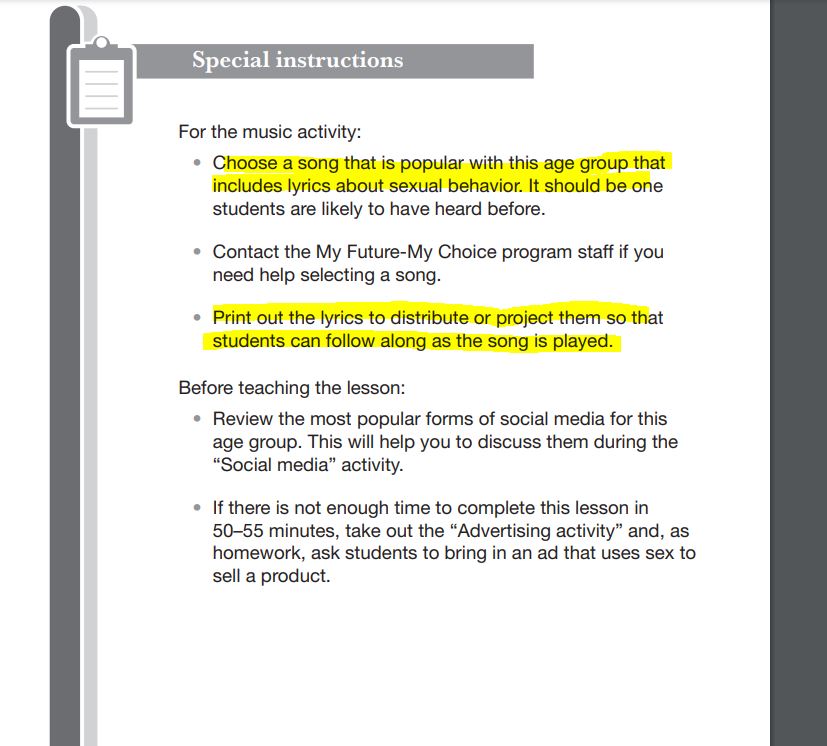 You have read correctly; the teacher is instructed to intentionally find music that has sexually explicit lyrics and not only let kids hear the songs during class, but to print out the lyrics for the students, so they are sure to know exactly what the singer says.
As you read through the book, you will see it teaches kids about many things; sexting, transgenderism, masturbation, pornography, and so on. It even has roleplaying exercises for kids to practice asking other kids to have sex.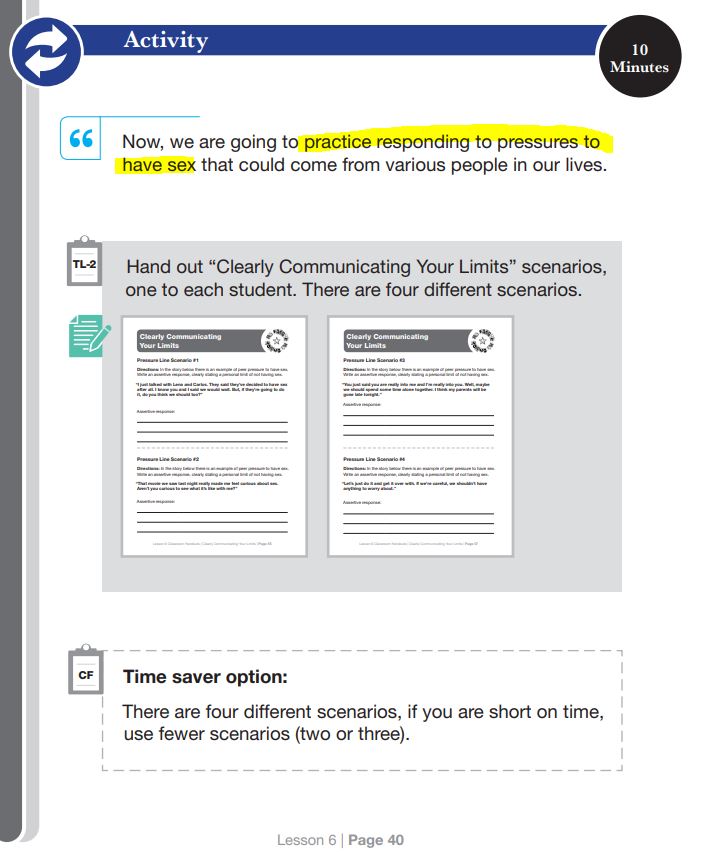 One of the most disturbing aspects of the lesson structure is the so-called 'clapping call', which the students are supposed to mimic. The technique is introduced in the lesson as a means of the teacher getting students' attention, asking them to stop what they are doing and follow the directions of the teacher by imitating the clapping behavior, thereby getting all of the kids to stop working in groups and pay attention to the teacher.
However, as many older generations of Americans know, such a "clapping pattern" mechanic was never necessary to get the attention of kids; teachers would simply ask the kids to put their pencils down and pay attention to them.
Consequently, the introduction of this "clapping pattern" mechanism to the classes is suspicious, especially when analyzed alongside the other material of this "health curriculum".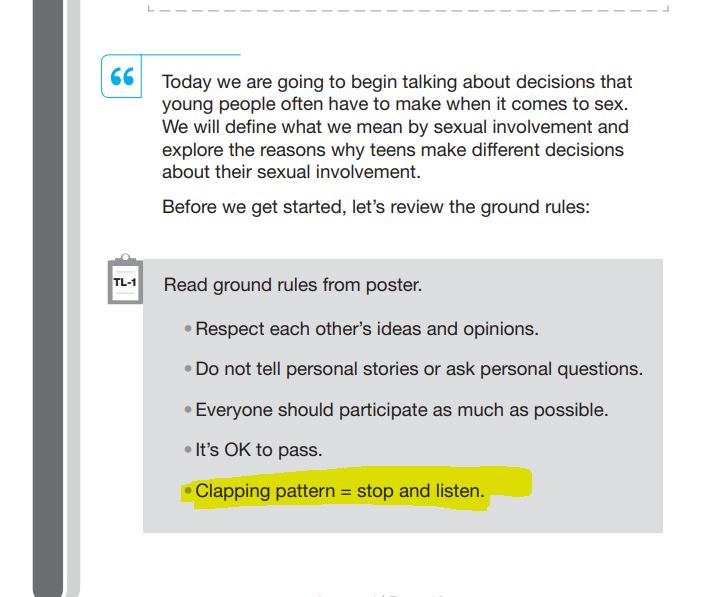 What this "clapping pattern" appears to me to be is a technique called 'call and response' where an authority figure performs an action (call) that the audience is expected to imitate (response). It is an aspect in entertainment, such as when audiences clap along to the beat of a song in order to enhance engagement of the audience to the performance, but it is also an aspect of military training such as when drill sergeants have soldiers march in cadence. A less known aspect of call and response is that its principles are leveraged by stage magicians, who use call and response techniques as part of their performances to reduce audience peripheral awareness and enhance suggestibility to the illusions the magician is performing.
This latter application of call and response mechanics is also used by cults, where it is used as part of a behavior modification strategy — for example with clapping, because the act of clapping hands is regarded culturally as applause and approval, a cult leader can encourage new recruits to view its dogma more positively when it convinces recruits to clap to new behaviors the cult leader wishes to encourage its membership to do.
Mainly in this case, I believe the clapping is meant to signal to the students that what the teacher is teaching is a positive, good thing, and encourage the students to adopt compliance physically (the act of following the teacher's lead to clap), which enhances their mental suggestibility to other directions from the teacher (such as the material they are taught), providing the teacher in the classroom the same benefits as stage magicians and cult leaders reap from 'call and response' mechanics.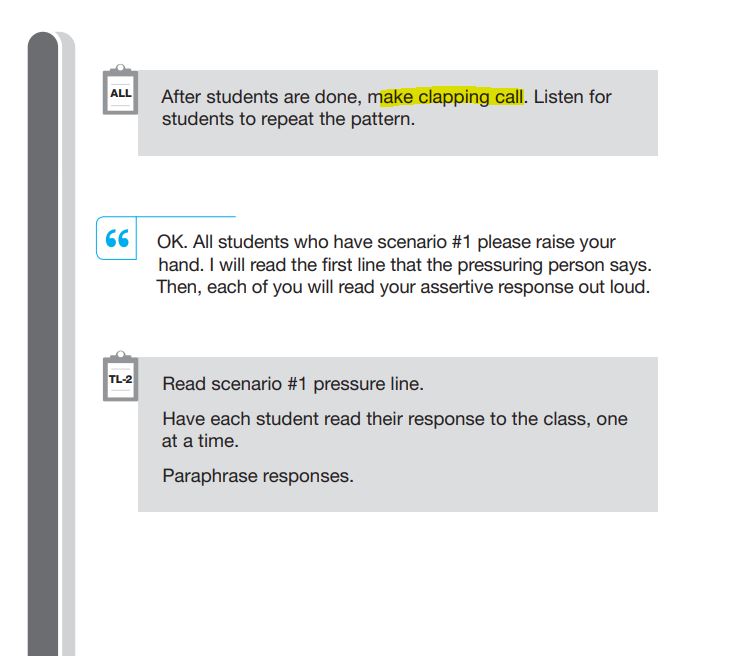 Consequently, looking at the particular subject matter of the course along with this call and response mechanism designed to reduce the student's initial resistance and enhance their suggestibility, I see a sinister intention in the author of the materials.
I do not believe this is a genuine sex education program designed to encourage abstinence; it is quite the opposite. I believe it is designed to encourage sexual behavior, not discourage it. It organizes the students into a mixed-gender class where other students peers pressure them alongside the teacher; the mere act of having another student as their 'guide' teaching substantial parts of the course is designed to be peer pressure itself, which makes its claims to be teaching kids how to "resist" peer pressure to be rather comical.
After all, part of the curriculum is for students to think about what they would be willing to do sexually with another student, and to write it down on a piece of paper. Again, writing down what you would do in a situation sure to appear in the future can be a form of suggestion in a behavior modification process.
Those who are familiar with various kinds of self-help hypnosis practices know what I am referring to here; how people are often asked to write down what behavior they would like to do or what they shouldn't do. The act of writing the thing down is meant to have important significance to the person who takes a mental note of that significance, thereby enhancing suggestibility for the modified behavior to become adopted by the writer.
The act of writing down desired behavioral changes is also a widely practiced technique within cognitive behavior modification therapy that is easily noticed by anyone familiar with the technique. Distressingly, this technique is used several times in the My Future, My Choice curriculum, as in this example,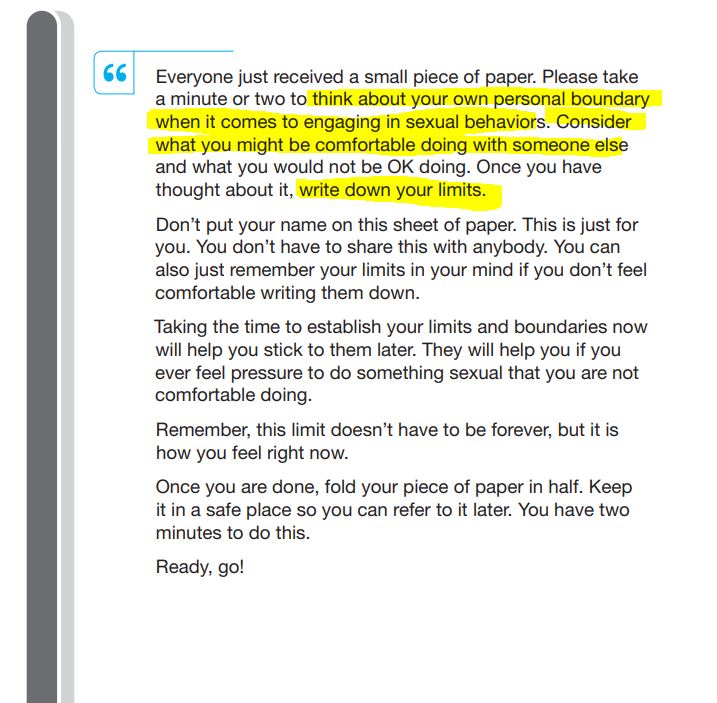 This is distressing, obviously, because they are doing a very subtle behavioral modification technique on unsuspecting children without their parents being aware of it.
The classes are also taught mixed gender, not gender segregated as sex education used to be when I was in school. This means heterosexual boys and girls must look at their class mates they may be attracted to already and think about sex with them for the entire period of instruction, and likely long thereafter. It can also result in unhealthy behaviors of bullying and harassment in the classroom for less desirable kids. Overall, this mixed gender structure is at best irresponsible, and at worst, intentionally designed to breed conflicts between students.
The book also teaches children about homosexuality, and encourages them to think about thought experiments where two homosexual children are making out,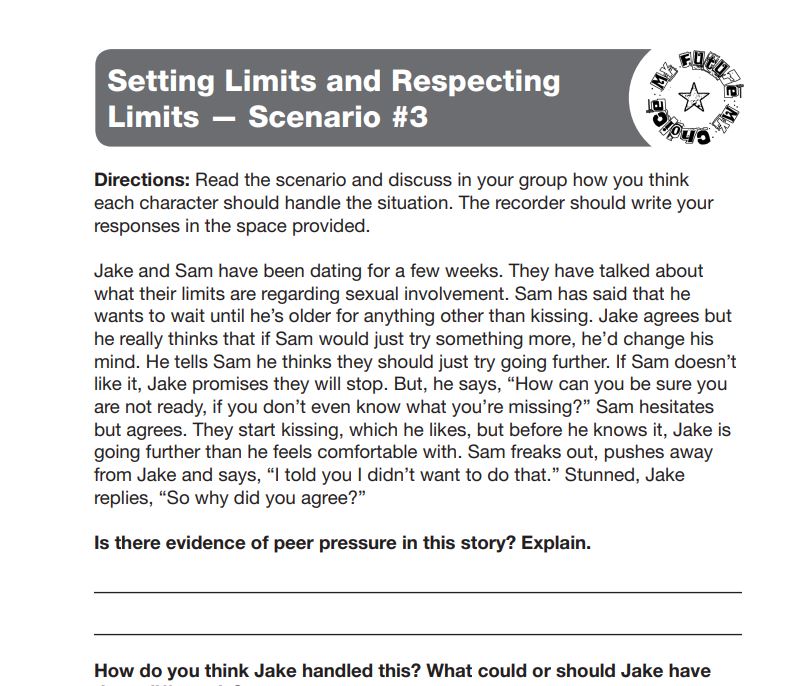 This, again, is an aspect of behavior modification process; if nothing else, it is designed to normalize perceptions of homosexual behavior in young students by presenting this thought experiment and think deeply about the two boys who were kissing.
Lastly, the curriculum also encourages kids to talk to "trusted adults" about sex, and this is not specifically parents. In fact, the material suggests kids may not want to talk to their parents about sex and should instead find other "trusted adults" to do so with.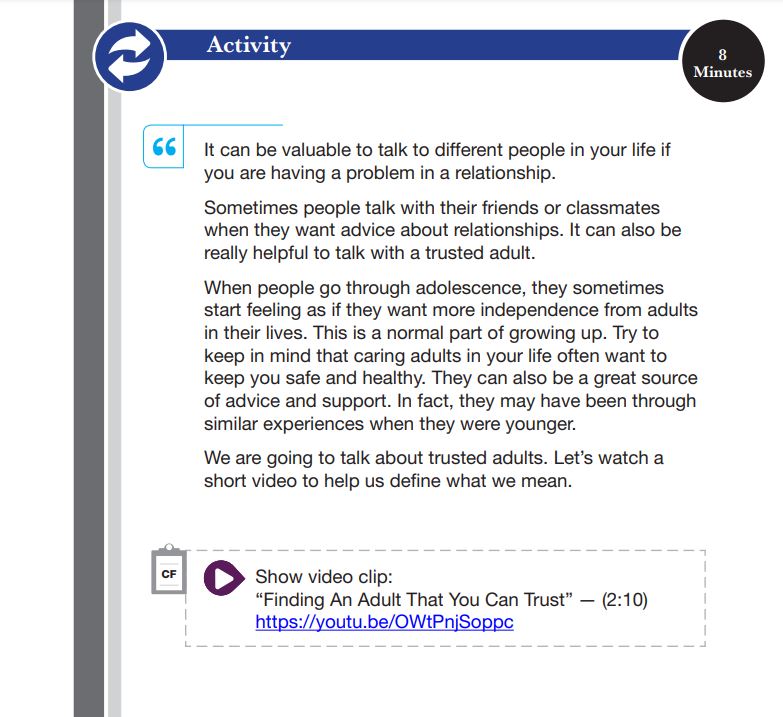 And this is the video the children are supposed to watch to help them identify what a "Trusted adult" is.
As you can see in the video, it suggests to kids that talking to their parents about sex might be "uncomfortable" and instead encourages them to talk to teachers, coaches, or "parents of a friend" instead of one's own parents about this kind of thing — all of the people who, according to the US Department of Justice statistics, are statistically the most likely to abuse a child, especially one who does not talk to their own parents about these issues. Worse, the video suggests that kids should only look for advice from adults who will validate their feelings; it presents the irresponsible idea that validating feelings is the most important quality for a "trusted adult". This is obviously bad advice, because children can have feelings that are not necessarily accurate reflections of reality or healthy for them.
In my opinion, this video and this lesson is designed to encourage kids to turn to the teacher who is teaching this material as their "trusted adult", the one who is introducing them to sexually explicit music and teaching them about gender identities and sexual kinks without their parents having any idea this is taking place. This is the kind of thing cult leaders do to distance people from their families.
Amaze.org produces numerous videos like this one that are equally terrible, which you can watch on their YouTube channel if you really want to go down the rabbit hole.
I should point out that behavior modification processes that rely upon techniques to enhance suggestibility require cooperation from willing participants; they do not work if the participant is hostile to the efforts to coerce them. It is not possible to "brainwash" someone who is not actively participating, but therein is the problem; most students do not understand what this class is designed to do to them, and so they may not understand they should not be cooperating with the teacher. Especially because the teacher (an authority figure) and their age peers (whom they may desire to please) are pressuring them to cooperate, which enhances the suggestibility of even a student who may be uncomfortable with what is going on and has some minor awareness that the class is not "right". The pressure from the authority figure and other peers makes a reluctant student more complicit to "go along with the flow", which is why this class has been designed this way in the first place.
This is how cults manage to recruit even intelligent people, because they become sucked into call and response mechanics (clap calls) and pressured by people they may admire (peers and teachers). And gradually, over time as peer pressure and the behavior modification techniques are reinforced repeatedly, the mind is changed — the child adopts the desired and rewarded behavior, and may find it difficult to unlearn.
But What is Really Going on Here? Why Are They Teaching This?
Now, allow me to write a lengthy explanation on why including concepts like 'asexuality' is deeply problematic as part of this cult-like behavior modification session the children are becoming subject to in the classroom, and what the actual objective is. It's not to encourage children to be their "true selves" or any of this other nonsense that social activists often claim to justify their abuse. It's something far more sinister at work here.
Asexuality in Humans is Pseudo-Scientific Nonsense
I have said it bluntly and definitely, that 'asexuality' is nonsense, and teaching it to children as if it is a normal sexual orientation encourages some children to develop an aversion to normal sexual behavior later in life. You can skip to the next section of this article if you want if you feel you agree, but for others, here is the detailed explanation on why it is nonsense, and why it should alarm parents as well as the rest of society, for children to be taught 'asexuality' is real in humans.
The concept of 'asexuality' in humans originates in the writings of the discredited "sexologist" Alfred Kinsey, who published numerous studies in the 1940s-50s. Kinsey was exposed in the 1990s as a fraud who fabricated much of his research (you can read the finer points of his fraud in the book Kinsey, Sex and Fraud: The Indoctrination of a People by Judith A. Reisman, as well as in Alfred C. Kinsey: A Public/Private Life by James Jones). Later, in the late 1970s and 80s, third wave feminism writers built upon the initial writings of Kinsey to weave an elaborate ideological framework from it, much as they also did from John Money's writings. Unfortunately, much like Money, Kinsey's fraud was not discovered until the 1990s and by then the writings had already influenced significant schools of thought within sociology, particularly within the field of abnormal psychology.
Specific to this 'asexuality' idea, the concept was largely popularized by Lisa Orlando at a 1972 caucus of the New York Radical Feminist with the distribution of her "Asexuality Manifesto", which tried to present abstinence as a form of feminist protest, and Myra Johnson wrote about asexuality in 1977 anthology book, The Sexually Oppressed. Additional writers, predominantly lesbian women in romantic but largely non-sexual relationships, would contribute additional ideas over the next few decades to construct the modern 'sexual orientation' of 'asexuality' which is now being taught to children by programs like My Future, My Choice.
Consequently, to this day there is substantial pseudo-science still being spread based on Kinsey's writings, just as with Money's. In fact, it has overtaken the reliable scientific based definition among mainstream tech companies; for example, Wikipedia's editors replaced asexual reproduction article with the third wave feminist idea of 'asexuality'.
In actual scientific fact, 'asexuality' does not exist among human beings. This is because the term 'Asexuality' more properly refers to organisms which asexually reproduce. Humans reproduce sexually, from a male and a female mate of the same species. Asexual organisms can reproduce without a mate. Humans cannot do this and consequently are not asexual.
Furthermore, per repeatable scientific studies into the workings of the human body, the reason a human would not have any interest in sex is primarily due to hormonal dysfunctions. Consequently the label of 'asexual' is more properly called sexual arousal disorder, and it can be treated. It usually is the consequence of a sex hormone imbalance, but sometimes is also confused with a similar condition with a different pathology; there is also a form of sexual arousal dysfunction that has a psychological component, usually due to sexual abuse or some other kind of mental trauma (such as, for example, brainwashing sessions into gender identity pseudo-science ideologies such as My Life, My Choice seeks to do). This latter condition is normally called a sexual aversion disorder or hypoactive sexual desire (some writers claim there is a significant difference between the two labels; I think they are over-complicating things with a desire to create unnecessary labeling for conditions of identical pathology, as the only difference is the scale of aversion, not the root cause of the aversions). This cognitive disorder is not really a lack of desire to have sex, but is actually just an aversion to sex, which results in a lack of desire to engage in the sexual behavior the person has developed the aversion to. There is a significant difference between avoiding a behavior and having no interest in a behavior, and this nuance is not always noticed by those afflicted by cognitive disorders.
Let me point out another problem with the belief in 'asexuality' as a normal sexual orientation among humans — humans have existed for roughly 250,000 years. Due to the way that natural selection works, if it was something instinctive and normal for humans to be born who were never interested in sex, our species would not have endured 250,000 years of existence because ancient humans simply would have died out due to a large portion of our ancestors being disinterested in sex. In order for a behavior to be instinctive (normal) in humans, you must have ancestors who practiced that behavior and passed it on genetically to their offspring. This is obviously not plausible with asexuality, which discourages reproduction instead of encouraging it. Our earliest ancestors did not have children necessarily because they intended to, but rather it was a consequence of the sexual drive that promoted the behavior that led to offspring.
Furthermore, just as with homosexuality, there is no identifiable gene or set of genes which cause a lack of sexual interest or inability to experience arousal, and in fact, the vast majority of people who claim to be "asexual" actually do form romantic partnerships and engage in things like masturbation. Despite claiming no interest in sex, many who claim to be asexual often do have sex of some type. Consequently, this form of sexual arousal disorder is a culturally conditioned one. If you don't believe me, try to show me a person who can reject the effects of drugs like Propofol through sheer willpower alone. You will not find one. Our bodies are machines, and our behavior is dictated by the chemical reaction processes in our bodies. In fact, anyone familiar with steroid abuse in professional athletes is aware of the effect of anabolic steroid drugs such as Dianabol (Metandienone) that significantly enhance the sex drive, often in such a way that it will interfere with a person's normal everyday thoughts and may even cause the user to become temporarily nymphomaniacal while abusing the steroid. The human body is a machine, and we are deeply influenced by the chemical processes occurring in our bodies. The idea some humans are wholly immune to these processes is nonsense.
To lack complete interest in sex and yet still going through puberty is, quite bluntly, physically impossible. Sex hormones are labeled as such because they regulate the human reproductive system, and create the drives for arousal. Sex hormones are what causes a person to experience arousal and sexual attraction, and you cannot have both the development of the physical characteristics of puberty and not have sexual arousal or attraction alongside that development. It's biologically impossible.
Those with medically legitimate types of biological sexual arousal disorders are nearly always either a child who was born with some kind of severe hormonal disorder (and who needs hormone replacement therapies in order to experience puberty), or in older adults (30+ years, usually) who have developed some kind of hormonal disorder as part of the aging process. It's never seen in otherwise healthy teenagers who are going through puberty. You can no more go through puberty and not feel any sexual urges than you can resist other kinds of hormones and their impact on your body.
What is biologically possible, however, is for a teenager to develop mental blocks about their feelings of arousal; it is possible to misinterpret their feelings if they have become the victim of some kind of coercion or mental trauma that is related to sexual attraction. This is often seen in children who are sexually abused at a young age, who associate the feelings of sexual attraction with the negative experience of abuse, and therefore try to block these thoughts and feelings as they feel them. This is treatable with counseling, but may go untreated if the person believes their disorder is just a normal "asexual" lifestyle.
Consequently, people who claim to be "asexual" are instead engaging in a kind of public theatre or roleplaying, possibly as a consequence of cultish brainwashing into the gender identity ideology, or possibly as a consequence of sexual abuse. In the former case, this is similar to how some cult members are brainwashed into sincerely believing they can commune with aliens or possess magical powers. It is not that the person actually can be magical or lose the ability to be sexually attracted; instead, the person lies to themselves about what they are actually experiencing, because the ideology has trained them to filter reality through the lens of its dogma and self-lie.
In conclusion there are no and never will be any genuine "asexual" humans, because humans are a mammal, and like every other mammal we sexually reproduce. The human body exists for the primary biological purpose of having sex and reproducing more offspring, and every aspect of human biology is optimized for sexual reproduction. If that was not the case, our species would not have dominated this planet. We'd have gone extinct. It is because the bodies of men and women are excellent at reproducing healthy offspring, not bad at it, that we are so populous a species. While mistakes happen (like congenital birth defects) they are so infrequent they play no significant role in the proliferation of our species and those traits are not passed on to future generations over thousands of years.
While it is possible for people to experience sexual dysfunctions that inhibit reproduction, for obvious reasons, people with those maladies cannot reproduce and consequently do not pass on the gene mutations that would cause these issues in future descendants.
250,000 years of human evolution has optimized the human body for traits that almost guarantee healthy reproduction for the average human, which is why even people with fertility issues still produce testosterone, estrogen and other sex hormones that drive sexual interest and attraction.
Consequently, the development of a mental sexual arousal disorder should not be encouraged in children, nor pretended to be as if it is a perfectly normal thing to self-create as part of this pseudo-scientific belief in "asexual humans" being some kind of norm. These self-labeled "asexuals" are suffering from a delusion causing an aversion to sexual behavior, likely as a consequence of past mental trauma, and like all people suffering from a delusion interfering with their lives, they need therapy not validation of the unhelpful delusion.
By now you've probably heard enough of my refutation of the 'asexuality' nonsense, but this was a necessary issue to address. Now, let us dive into the heart of the matter, as I explain why I believe this aspect of abnormal psychology is being taught to children in such an irresponsible way.
Why are Pseudo-Scientific Ideas Like Asexuality and Gender Identity So Popular Among Social Activists?
You may wonder, if asexuality in humans is nonsense, then how has this idea managed to spread to where this concept is taught in a public school health curriculum?
Having read numerous third wave feminist essays, I believe I have a straight forward answer to share with you, but to do so I must walk you through about a century worth of philosophy in a few short paragraphs. I have tried to simplify this as best I can, and I hope that you will stay with me through my explanation. It may bore you, but it will educate you about some things you may not have known about before. I have compacted the information in as few of sentences as I am able.
I believe that what has occurred over the past forty years is that the actual scientific terminology of 'asexual' has been subverted by third wave feminist social activists, who have attempted to claim that it is 'natural' for humans to exist who have no sexual urges nor who experience sexual attraction, and as part of this claim developed materials to brainwash students (at first, in the colleges, and now in the public schools) into these ideas. They did this for entirely ulterior reasons; originally, as part of a desire to resist mating with men as a radical form of feminist protest, and later to rationalize the observed phenomenon of 'bed death' — long-time lesbian partners frequently losing complete interest in having sex with each other.
I know, it sounds nuts. Bear with me, I'll explain in detail why this is the case.
Although third wave feminist writers had no actual scientific evidence for the claims made as part of their ideological frameworks, using the junk science techniques of 'proof' commonplace in their circles (primarily, "surveys" and "polls") third wave feminist writers sought to obtain legitimacy for their ideas without having to actually provide genuine evidence for the claims they make. Instead, they rely on anecdotal and personal story-telling, weaving narratives instead of conducting the legitimate scientific research that would disprove their theories.
Essentially, what the third wave feminists have done to justify the existence of sexual orientations like "asexuality" would be like me trying to prove the existence of aliens and UFOs using as my only source of proof the survey results of people who purport to believe in aliens and taking these questionnaire answers at face value without requiring any physical proof of aliens. Obviously, that is not how real science works. Genuine science is more than just measuring a data set. Real science also requires testing — experiments must be falsifiable and repeatable. There is nothing produced by the third wave feminist writers who claim 'gender identities' exist that is falsifiable nor repeatable, and consequently their conclusions are NOT scientific. Instead, like all other branches of Sociology, third wave feminists writing in the field of 'Gender Studies' rely heavily on the logical positivism form of 'weak verification' which has plagued the field of Sociology for generations, and is in my opinion, largely responsible for the Replication Crisis within Sociology and other inter-disciplinary fields such as Epidemiology (which applies a flawed Sociological approach to predict the spread of infectious diseases).
Sociology as predominantly practiced today should not be regarded as a legitimate science because it applies the scientific method in such a piece meal fashion that much of what is produced is at best a hypothesis and at worst quasi-religious, and I am hardly alone in my harsh criticisms about this aspect of it. One need only search on Google for "sociology is not a science" to find numerous detailed essays with rigorous explanations of how far the field has drifted from legitimate evidence based methodology.
What the Goal of Third Wave Feminism Is
Outside of academia most people today know 'feminism' as a derogatory word to label militant misandrist social activists, but in actuality, the vast majority of Americans today are ideologically identical to second wave feminists, who desired equal treatment for men and other racial groups under the law. Gender equality in this sense is largely considered the norm in the modern first world, such as we presently enjoy in America. Consequently, when most people use the word 'feminist' today in America, what they are actually talking about is third wave feminism.
If you are unfamiliar with what third wave feminism is, the simplest explanation is that it is a branch of feminism with strong Marxist overtones, primarily developed by 'gender studies' activists in the 1980s. Almost all of the most influential writers in third wave feminism have been lesbian social activists (who in my opinion, were primarily seeking to validate their lifestyles using academia — they believed they could use the perceived legitimacy of professorships at universities and the publishing of essays in peer review journals to reshape social perceptions about their lifestyles in a more positive light). This is why you always see gender identity ideologies and Marxism aligned frameworks like critical theory in third wave feminism writings; third wave feminism, at its foundation, is based on Marxist thought due to its radical — Marxist radicalism specifically — origins.
Consequently, the reason third wave feminists classified 'asexuality' as kind of sexual orientation within their ideological framework is for the same reason they have invented other kinds of sexual orientations and gender identities; the more they can dissect the individual by our behaviors and over-stress the importance of these behaviors, the more they can separate the individual from the rest of society through these labels. This is why they have invented labels like genderqueer, asexual, gray-asexual, transgender, aromatic, demisexual, nonbinary, and so on, when originally all these writers were talking about is different behaviors they noticed among lesbian peers, which they were overly-scrutinizing.
As you read third wave feminist writings that lay the foundation for the ideas taught in material like this My Life, My Choice curriculum, you notice very few men — even homosexual men — play any significant role in the incorporation of these ideas into third wave feminism. Rather, what the radical feminists did is take the writings of men like Kinsey and Money, and integrate them into their Marxist radical activism in a way they believed would be beneficial for their agendas.
Marxists understand that the more people dissect themselves and are encouraged to cast away traditional norms to adopt new self-awarded labels, the less these self-dissected people will identify with others in their society by the shared collective identity of the hegemony; in practical terms, the less they will identify themselves as an American because they will abandon the qualities that define the stereotypical American identity.
To re-iterate what the thought process of the originators of radical feminism was: they believed by convincing people to identify themselves as splinters of society (gay) and then breaking those splinters down even further (transgender, transracial, otherkin, asexual, aromatic, demisexual, etc.), they attack the very thing that makes democracies like the United States functional; shared collective identity which every citizen can find commonality with. Societies, especially democracies, whose populations are not united with a strong collective identity of values (hegemony) cannot long endure, and they collapse under the weight of the bureaucracy created by numerous competing interest groups who reject the idea of shared commonality and identity (i.e. "American") in favor of their special interests.
Eventually, as generations of indoctrinated feminists took on these ideas, they started dissecting themselves further and further, which is how we ended up with so many absurd "gender" and "sexual" identities people are claiming nowadays. I would say the majority of people adopting these labels have no idea this pattern of self-dissection and labeling was engineered to lead them into a Marxist revolution, although most who rant about 'the patriarchy' boogeyman construct have at least some awareness of it, I suppose, as 'patriarchy' is a stand-in for hegemony within the framework (sometimes even called patriarchal hegemony, or hegemonic masculinity by the ones more versed in the origins of the framework).
This kind of long tail approach to engineering the collapse of nations was discussed in detail in the writings of the Marxist Antonio Gramsci, who provided instructions about how revolutionaries can go about this in his "Prison Notebooks". Gramsci's theory on how to best cause a revolution instructed that revolutionaries must undermine the hegemony (ideological and moral leadership of society which is reinforced through shared national identity i.e. being an American, and having an identified set of shared American values) by revolutionaries creating their own 'counter-hegemony' that will break the public away from the hegemony of the nation's leadership.
Gramsci was deeply influential on 1960s counter-cultural Marxists, especially those in academia. The takeover of universities to indoctrinate students into Marxist ideologies to create new counter-hegemony, often referred to as "the long march through the institutions" is an application of Gramsci's ideas. As second wave feminism became overtaken by third wave feminism due to the influence of Valerie Solanas and her SCUM Manifesto, as well as feminism separatist groups like Cell 16, Marxism became very popular among feminist thinkers into the 1980s. In the 60s they were called "radical feminists", radical because of the Marxist ideologies they endorsed, and these Marxists birthed the third wave feminism that dominates feminist thought today.
Consequently, third wave feminists have engineered their own counter-hegemony, and that is what they have transformed John Money and Alfred Kinsey's pseudo-science into. It is purely ideological with no actual scientific basis, and it has been engineered specifically to cause the collapse of the United States and other Western "hegemonies" whom the originators hate, because they felt alienated as lesbians in these societies.
Then, when Kimberlee Crenshaw threw her own hat into the third wave feminism ring with her 'intersectionality' framework that introduced what is most academically properly called 'third wave anti-racism' but frequently referred to as 'Critical race theory', these ideas became a core aspect of third wave feminism's counter-hegemony. This helped third wave feminists legitimate their ideas, under the moniker of "lived experiences", which is really just another term for anecdotal storytelling.
Abortion is also a major aspect of third wave feminism, but it would add a great deal more to this essay to fully explain that rabbit hole. The super short explanation is abortion as activism was originated by lesbian radical feminist activists — which, by the way, is who the "Jane Roe" in the famous Roe Vs Wade case, Norma McCorvey, was, as was the attorney Linda Coffee — as part of a kooky belief that for women to have equality they must be able to reject the traditional role of motherhood even if it means termination of pregnancies. Basically, they have transformed the act of an abortion into a form of protest, and tragically that is what it is really about for many of them.
At any result, that has been my crash course lesson in third wave feminism. It is now taught in our public schools, designed to indoctrinate children into its ideologies as a form of counter-hegemony. And they have been successful because not enough people have called this nonsense out for what it is, as I am doing in this article.
Who Is Responsible for Creating the My Future, My Choice Curriculm?
I realize this has been yet another lengthy essay with a great deal of information to process, but I do not believe it is sufficient to simply point out what the My Future, My Choice curriculum is teaching without having explained what its purpose is. And now that you understood the purpose I will show you who is responsible for creating it.
This curriculum was not dreamed up in a vacuum; it was created by Amaze.org AKA Advocates for Youth, a nonprofit ran by numerous people who regard themselves as social activists, such as its president, Debra Hauser,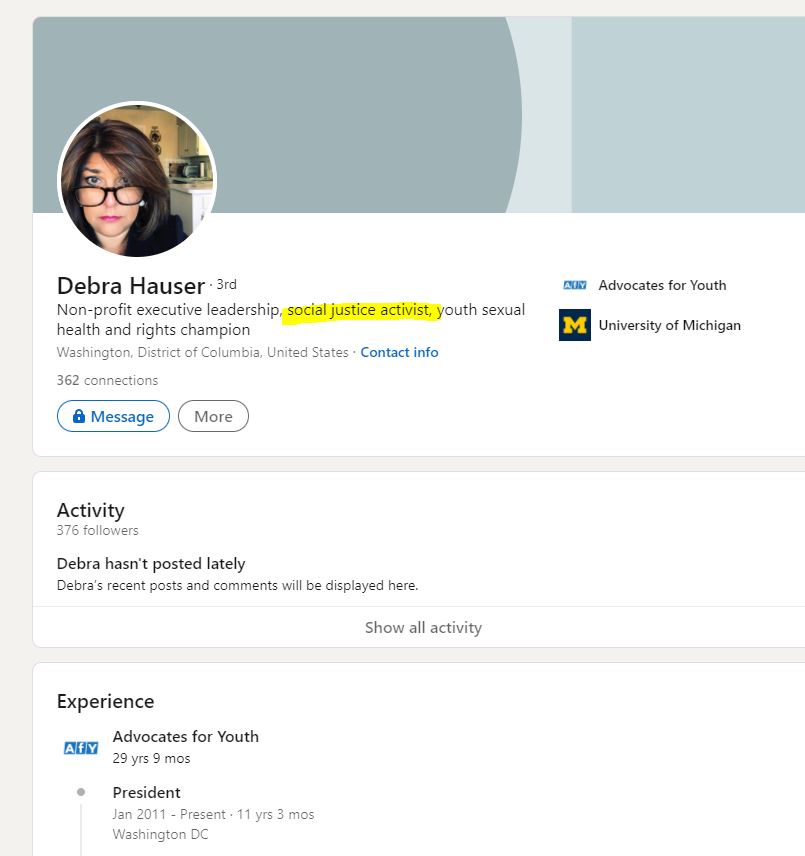 Its chair, Jamila Perritt, also regards herself as an activist. Look, she made sure everyone could see her raised fist in the air on her Twitter profile header,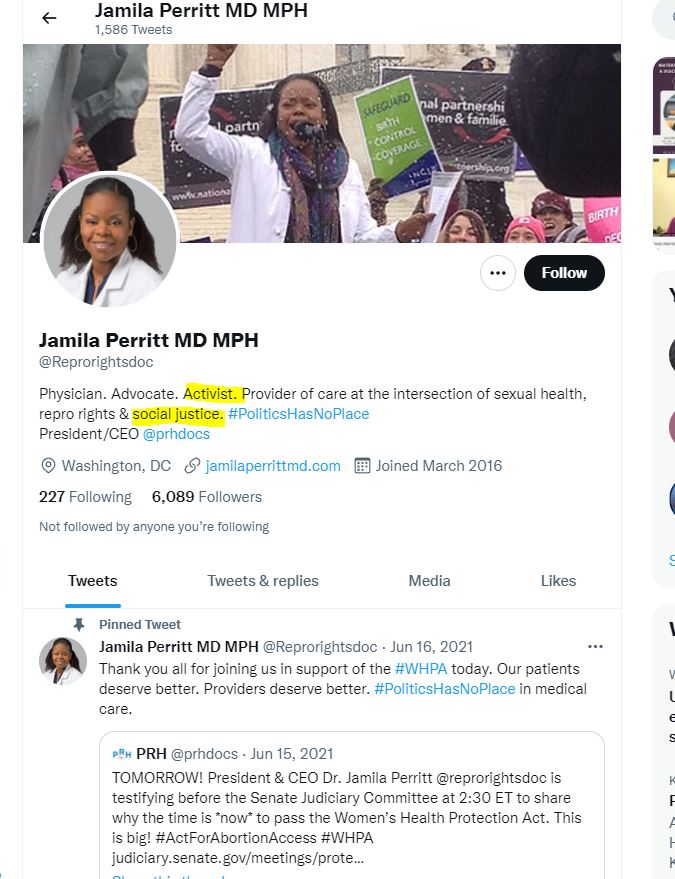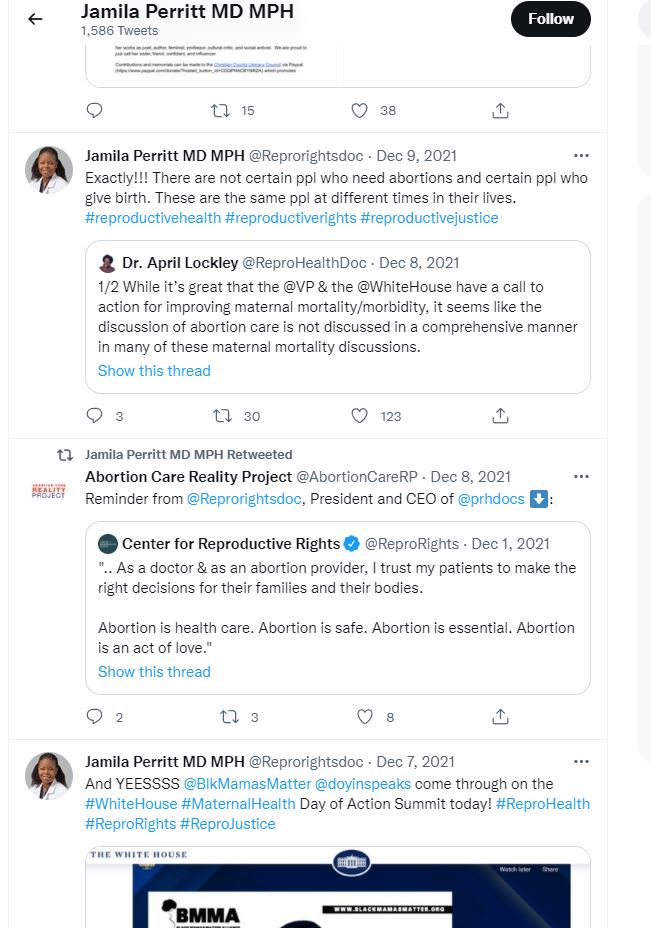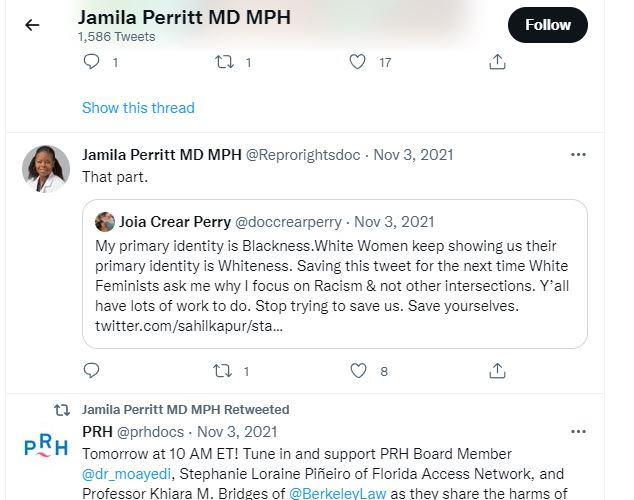 Jamila Perritt seems to be primarily pre-occupied with her pro-abortion advocacy nonprofit, Physicians for Reproductive Health. Apparently, she is trying to use the perceived legitimacy of her medical degree to advocate for abortions. From reading her Twitter thread she is also a big supporter of Black Lives Matter and Critical race theory advocacy as well, spending a good deal of her time spreading various propaganda in service to that agenda.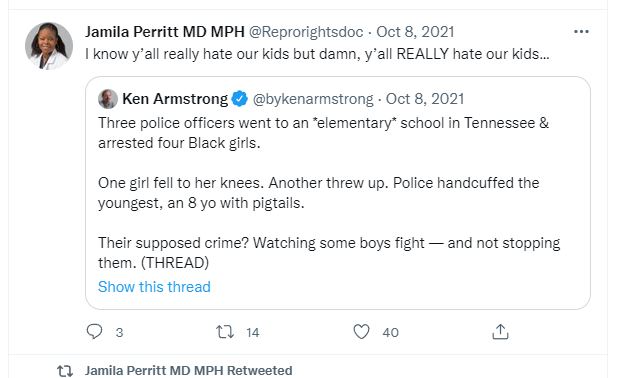 Kristi Mahoney, another executive of Advocates for Youth, also works for Westwind Foundation, a pro-abortion activist group of third wave feminists.
In fact, all three women are deeply involved in pro-abortion advocacy groups.
I've looked through many of their employees LinkedIn profiles and found several have worked at Planned Parenthood in the past, so no real surprises there.
Again, it is no coincidence that Amaze.org is teaching third wave feminism to children. That's who is responsible for the material to begin with; third wave feminist activists.
And don't think for a moment that Advocates for Youth has nothing to do with Indivisible. These people all travel in the same circles.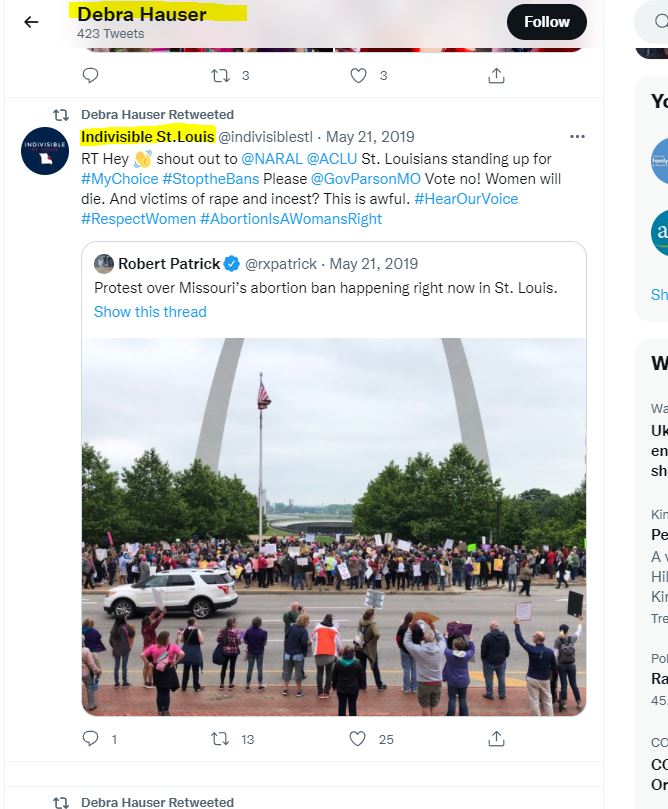 That is a tweet from Debra Hauser's Twitter account, of a post made by an Indivisible chapter in St. Louis that her account follows.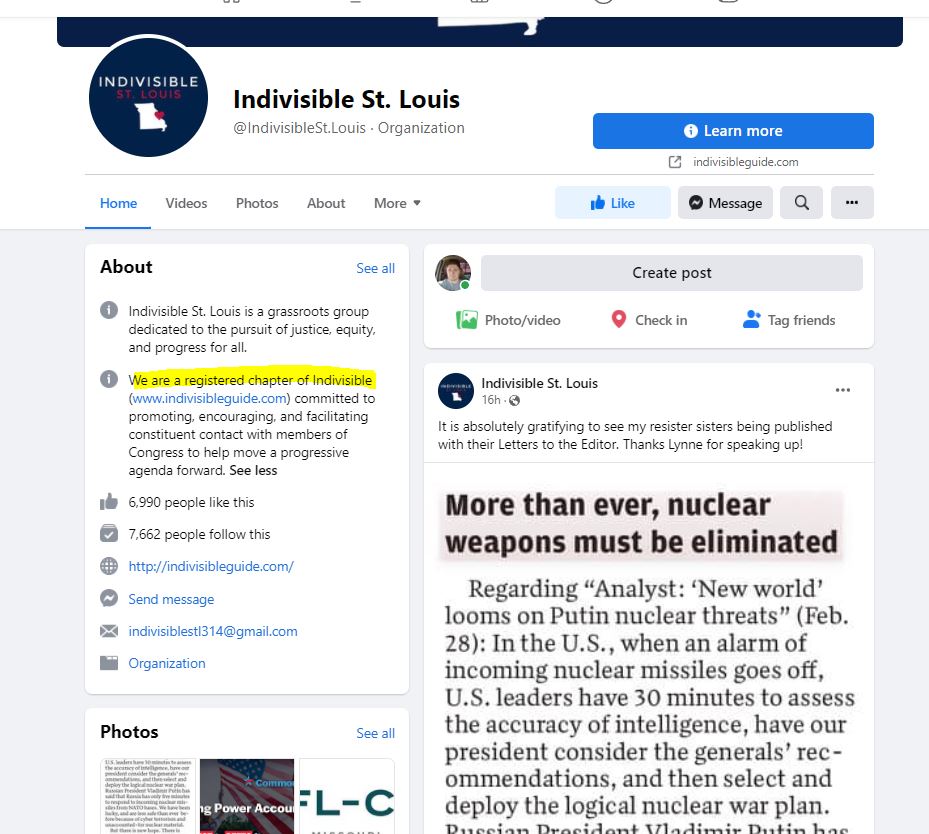 Here are some additional tweets from Debra Hauser, the president of the company providing sex education curriculum to all of the children of Oregon, California and numerous other states that buy their curriculum,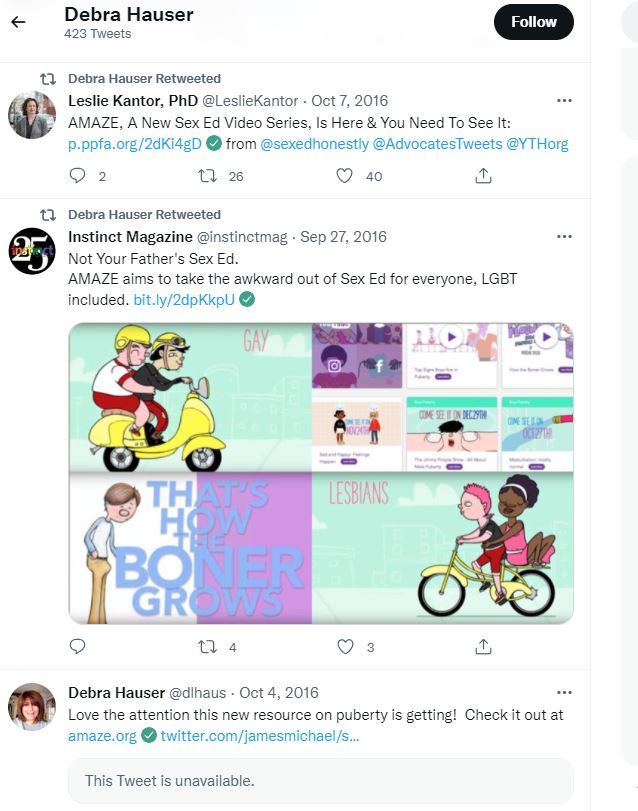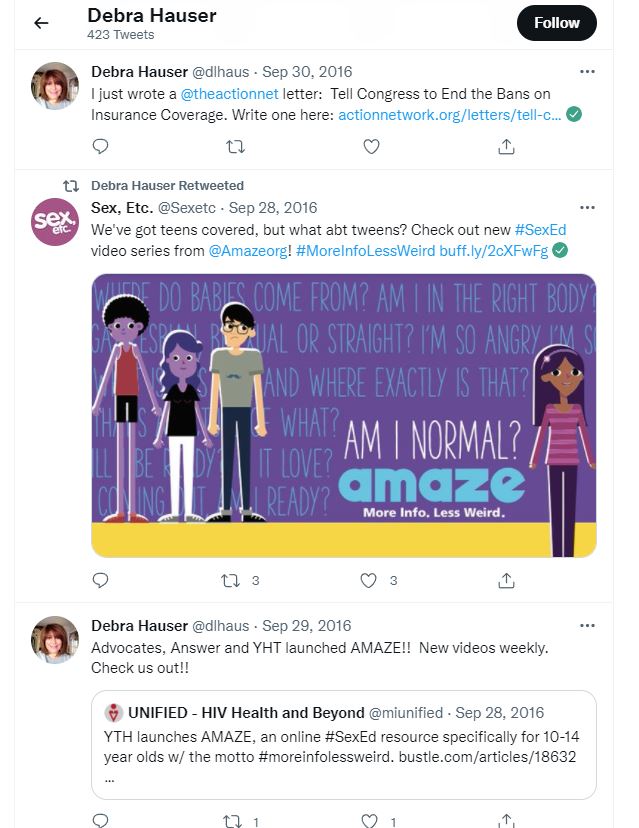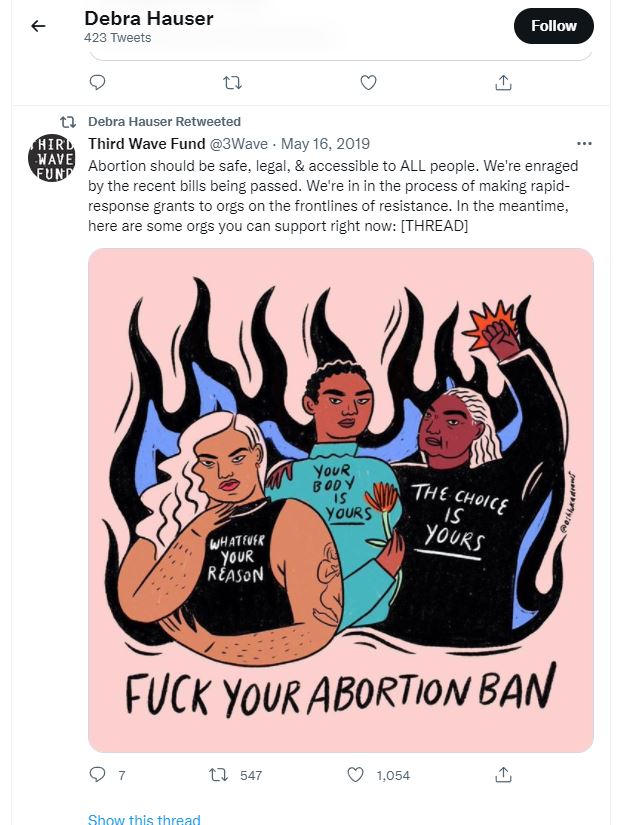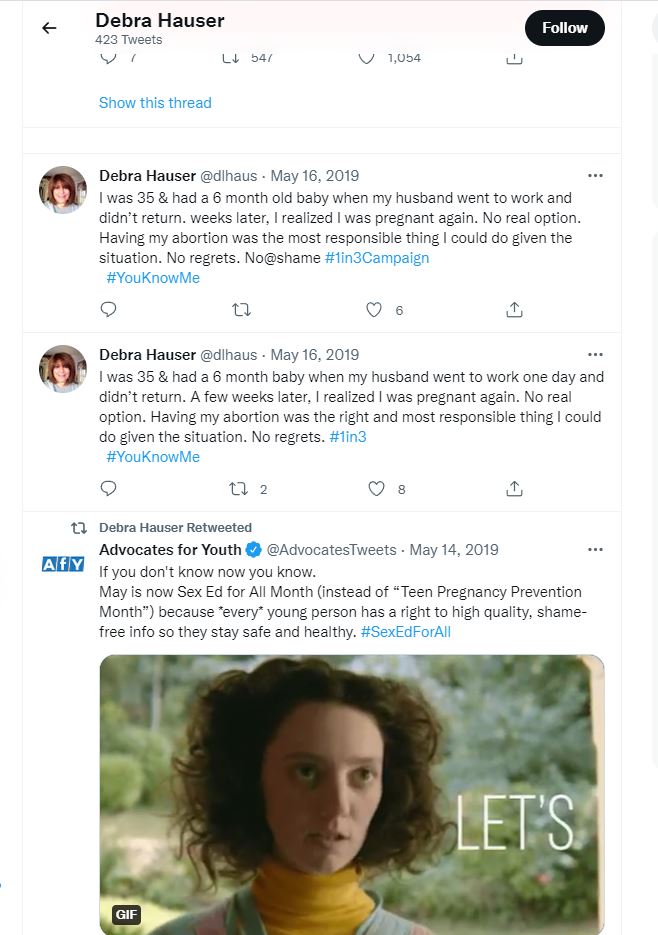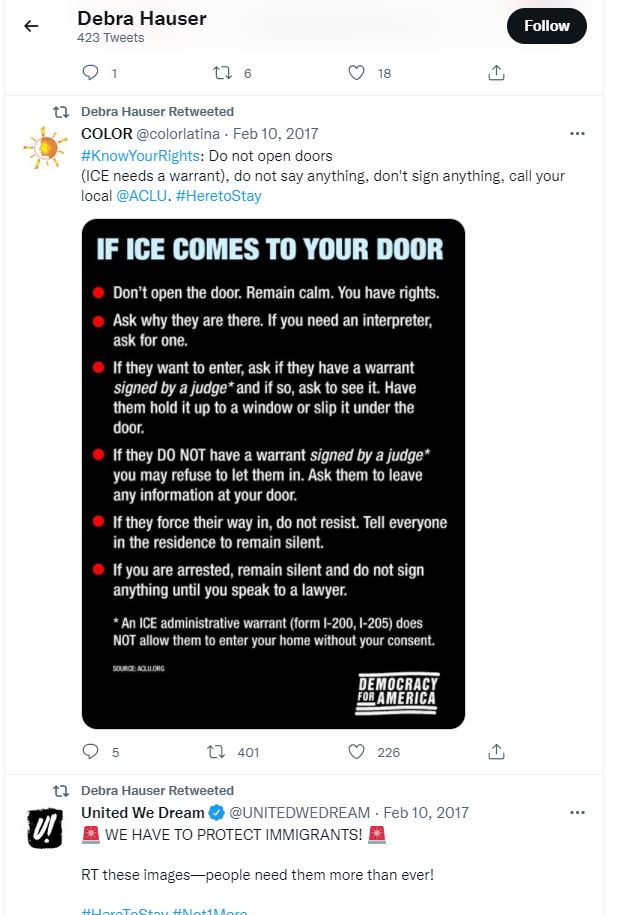 Debra Hauser supports many Indivisible causes, including giving automatic citizenship to illegal aliens. She is a signature to an open letter on https://www.withdreamers.com/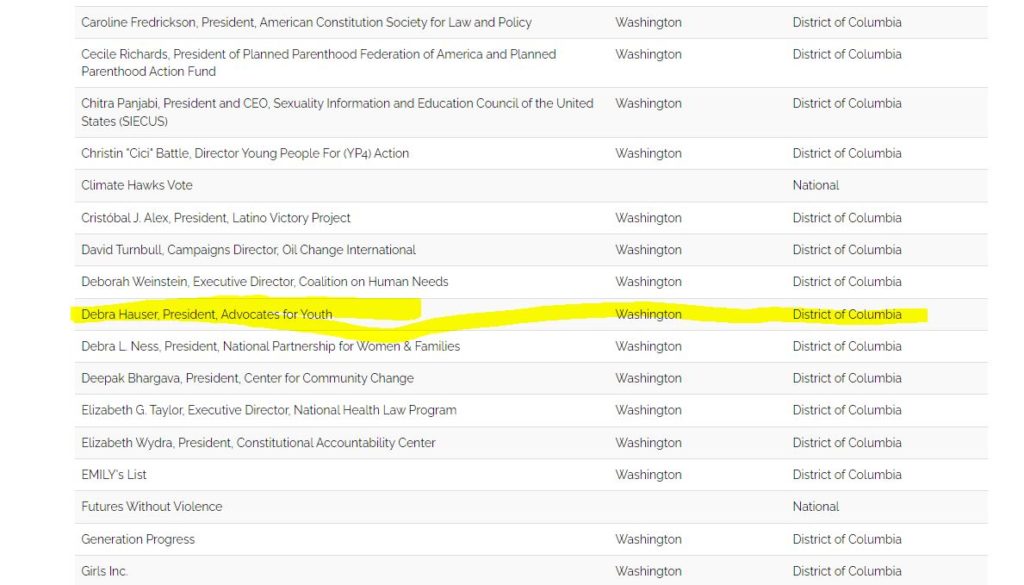 There's way more, but you get the idea. This "sex ed curriculum" is not legitimate, it has been created by radical extremist social activists with association to Indivisible and its agenda as a means of indoctrinating children into their fringe ideas.
In Conclusion
The average person is not well versed in the necessary areas of knowledge to identify this curriculum for what it is, and see these people for what they are. That is part of their insidious nature. If you cannot identify what a thing is accurately, it is difficult to combat it. Most people with no interest in feminism would never study these people's writings, and I only did so because I regard third wave feminists as a kind of cult, or at the very least more quasi-religious than it is legitimately intellectual.
Reading the curriculum PDFs from the state of Oregon website, I knew this nonsense was made by activists for the purpose of indoctrinating children. And now with the publishing of the information behind the people responsible for its creation, you can see my deduction was correct about them and their goals.
I severely doubt many of the teachers of this curriculum even fully comprehend what the material is designed to achieve and what agenda it serves. What they probably believe is that they are creating a more 'equitable world' by fueling the division of American society into microcosms of personal identities, and breaking up the hegemony of the shared American identity they find "oppressive".
What they do not understand is that shared collective identity is necessary for a state to maintain its own socio-political integrity, as you need a population to be united to overcome times of crisis and ensure continual stability. By inventing new labels for behaviors and placing enormous importance on these behaviors, they create micro-categorizations for people who practice these behaviors. This new categorization has the social impact of separating these individuals from others. What this actually achieves is subdividing populations into ever smaller and smaller tribes; this creates more division in our societies, not more unity. And you cannot have unity in a republic where tens of millions of people only care about the interests of their own small little sliver of society, and view everyone else as their ideological enemy trying to take their resources and whom they must crush and destroy in order to have "freedom" and "happiness".
The approach to life and exploration of truth that third wave feminists have adopted is expressly designed to sow division in society by encouraging people to dissect every aspect of their life under a microscope and self-assign labels invented by others. Ironically for Marxists, this is a form of capitalistic pseudo-individuality, because no matter how much they dissect their psyche, they are still at the end of the day following a trend someone else created. Tragically, by adopting a trendy pseudo-individuality the person does not develop a genuinely shared sense of connection to most other people. They place themselves into lifestyles where they feel like an outsider for most of their life, always looking over their shoulder for someone out to get them for their self-assigned labels; which is a problem entirely of their own engineering, as they are the ones who chose the self-labels in the first place.
The ideology of third wave feminism encourages people to create incredibly small tribes at war with their neighbors. It encourages large numbers of people to be paranoid, hysterical and worst of all, to engage in bad decision making throughout their lives by celebrating victimhood instead of excellence.
What third wave feminist ideologies do is an incredibly malicious and evil thing to do to a young child's mind. It does not serve their long-term interests, whatsoever. It only serves the interests of long dead revolutionaries like Antonio Gramsci who were upset about their failed revolutions and desired to collapse societies in revenge. It also serves the interests of people alive today who see something to gain from sowing division in a country where pseudo-individuality is commodified with merchandise like t-shirts, flags and other kinds of products. And importantly, the spending of public money to produce nonsense like My Life, My Choice.
Is this really what you want the children of America to be taught? You must decide, or others will decide for you.