This article will be an editorial, as I will share some of my opinions on the communications in order to provide some further context to them. All of the legal disclaimers from my previous articles apply to this article, too.
I am not an attorney and my comments shouldn't be regarded as legal advice. They are, however, my opinion based on my interpretation of the laws and backed by the evidence I have shown in this article.
By the way,

If you wish to contribute to my legal defense fund (as the people I have been exposing have threatened lawsuits against me), you can click here to do so.
You can also make a monthly donation to the operating costs of the Yamhill Advocate, which will help me hire additional staff reporters. Click here to subscribe.
Newberg School Board Director Brandy Penner Is Opposed to Religious Exemptions for Vaccine Mandates
According to recently released emails as part of a public records request, Newberg School Board Director Brandy Penner protested against teachers being allowed to have religious exemptions to mandatory Covid-19 vaccinations.
This is the email chain, with the personal identifying information of the teacher who wrote into the board redacted, to protect their privacy. It was not originally redacted when this email was provided as part of a public records release request.
(I have organized this email chain so it can be read in chronological order the letters were sent and responded to)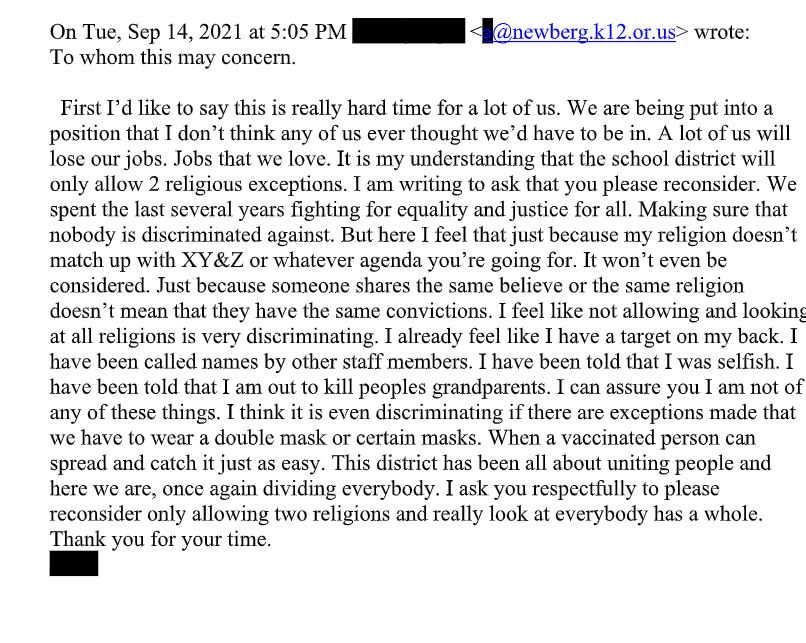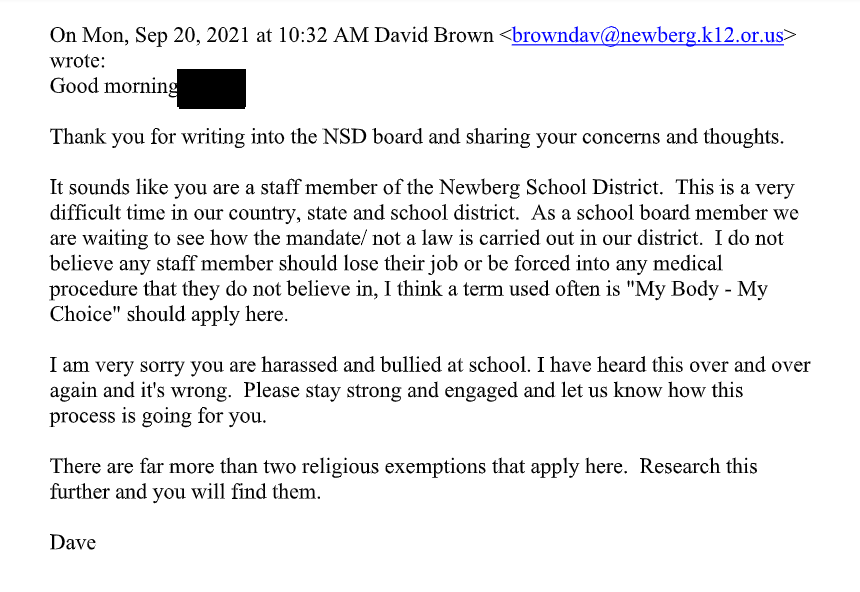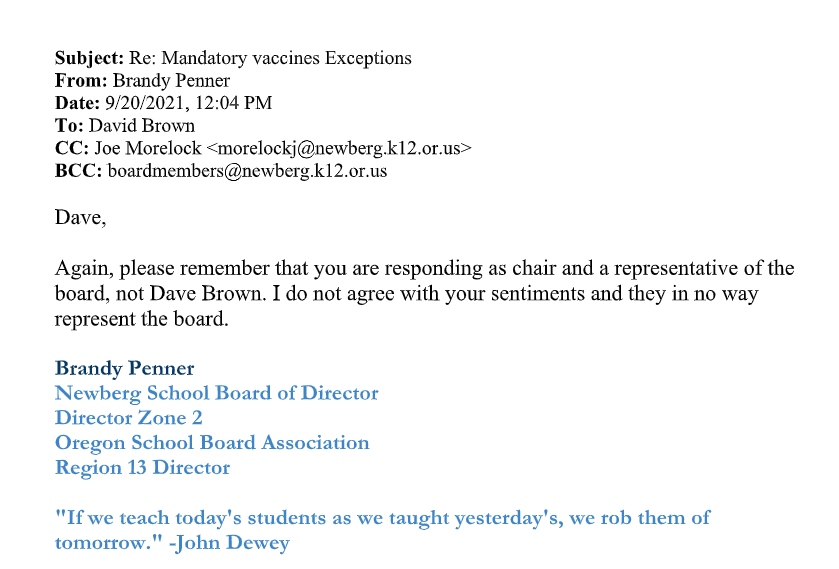 As you can see, Newberg school board director Brandy Penner says she does not agree with what Chair Dave Brown has said to this teacher.
The state of Oregon provides exemptions for public employees to vaccine mandates. According to the Oregon Bureau of Labor and Industries, "employers with mandatory COVID-19 vaccine policies will need to consider requests for exceptions for individuals with either (1) sincerely held religious convictions, or (2) a disability that prevents them from receiving a COVID-19 vaccination."
As reported by the Daily Wire, this past Friday the 5th Circuit Court of Appeals has blocked President Joe Biden's coronavirus vaccine mandate for all public employees, calling it "staggeringly overbroad."
The Newberg public school district is currently suffering a staffing shortage, per discussions by Newberg school administrators in emails made available to Yamhill Advocate as part of a public records release.
As previously mentioned in the Yamhill Advocate reporting, Brandy Penner is a member of Newberg Equity in Education(NEEd), as detailed in Meet the Newberg, Oregon Mafia Led by Elected Officials and Other Community Leaders.
Here is a photo of Brandy Penner and fellow NEEd member and School board director Ines Pena at the protest rally they held on Veteran's Day, as previously reported in, KATU2 News Ignores Newberg Veteran Rally, Promotes Anti-American Protest Instead.