As many Newberg residents are now aware and as covered in my last article, Newberg, Oregon November Ballots Missing Candidates, Here is What Voters Are Advised To Do, the November 2022 ballots for Newberg residents have errors on them which is resulting in a special election taking place on December 20th, 2022 for the local city council seats. This article features additional information that explains how this mistake happened and who is responsible.
In a recent Newberg Graphic article, Ballot mix-up has city, county, state scrambling for solution, Yamhill County Clerk Keri Hinton provided a statement explaining how the Newberg ballot errors occurred,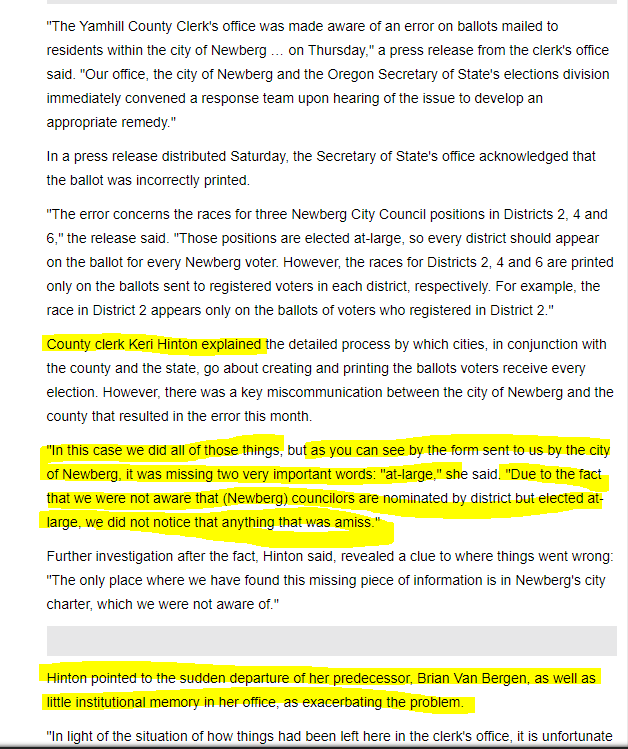 Hinton's claims have been verified by the Advocate; by simply looking at the forms that the City of Newberg clerk Sue Ryan submitted; they do indeed lack notice that the elections are held at large should not use district voting. Anyone can click here to read the form for themselves, and see it lists voting by district,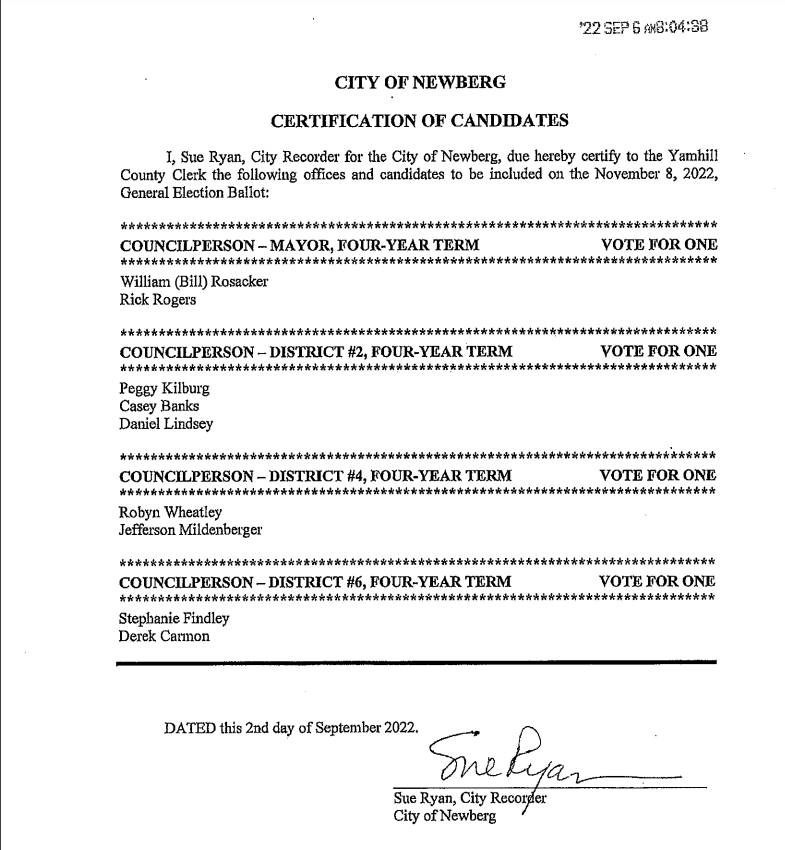 Now let's compare this form submitted by Newberg to the form submitted by the City of Sheridan which also elects city council members at large as Newberg does,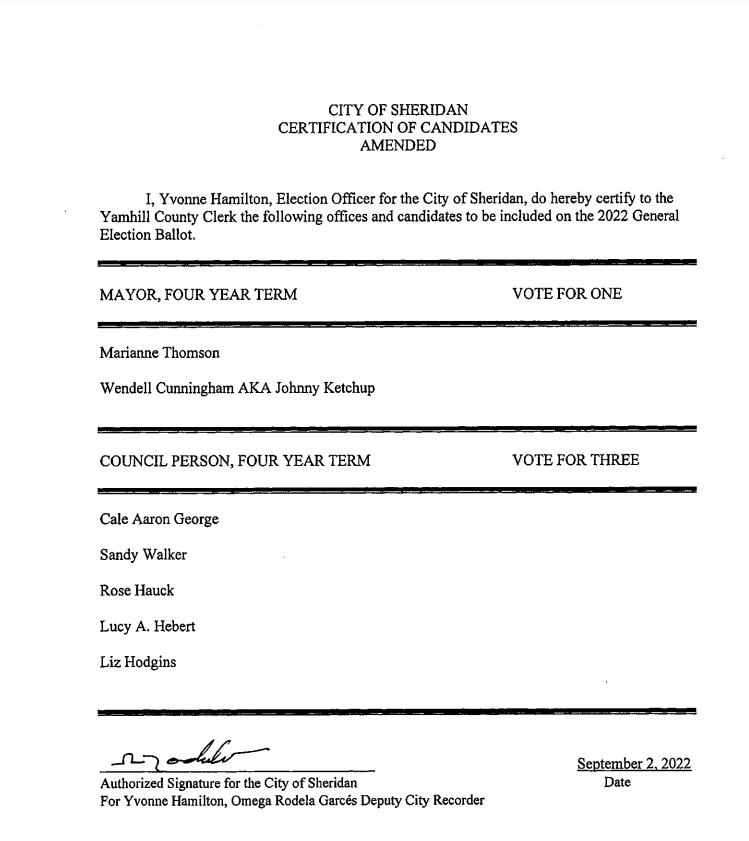 The differences are obvious; the Sheridan form informs residents to vote for three candidates for City council. The Newberg form instructs that votes for city councilors are by district.
I believe this evidence demonstrates the fault of Newberg's ballot errors for the November 2022 city council election unmistakably lies with the City of Newberg and not the Yamhill County Clerk's office. This is what the evidence shows.
As for any claim that the mistake was intentional, I have seen no evidence for this. Based on my sources and own investigation into past year filings, it looks to me that what Hinton said in the Newberg Graphic article is correct; Newberg Clerk Sue Ryan has always submitted the form to the County Clerk office with this mistake. In past years former County Clerk Brian van Bergen corrected the error submitted by Ryan on his own, but as this is Hinton's first Newberg election as clerk she was not aware of this mistake.
It would appear a lack of communication during those past elections between the County Clerk Office and City of Newberg is the root problem for the ballot mistake.
Progressive Yamhill Attempts to Politicize the Mistake
Despite this error clearly not being Hinton's fault, this has not stopped Progressive Yamhill members from politicizing the event and spreading unsubstantiated (and quite frankly, ridiculous) claims of the error being some kind of scheme to harm the election campaigns of the candidates they want to win.
Progressive Yamhill, the extremist social activist group whose activities the Advocate has widely reported on in past articles, has made numerous allegations against Hinton, blaming her for the ballot mishaps. The Progressive Yamhill and Save Yamhill County Facebook Page accounts have spread this false narrative to their members and the public at large, attempting to use a mistake created by City of Newberg clerk Sue Ryan to benefit the campaign of their preferred candidate for the County Clerk office, Cory Fribley.
(For those new to Advocate reporting, Save Yamhill County PAC is ran by Lynette Shaw, who is the founder of Progressive Yamhill)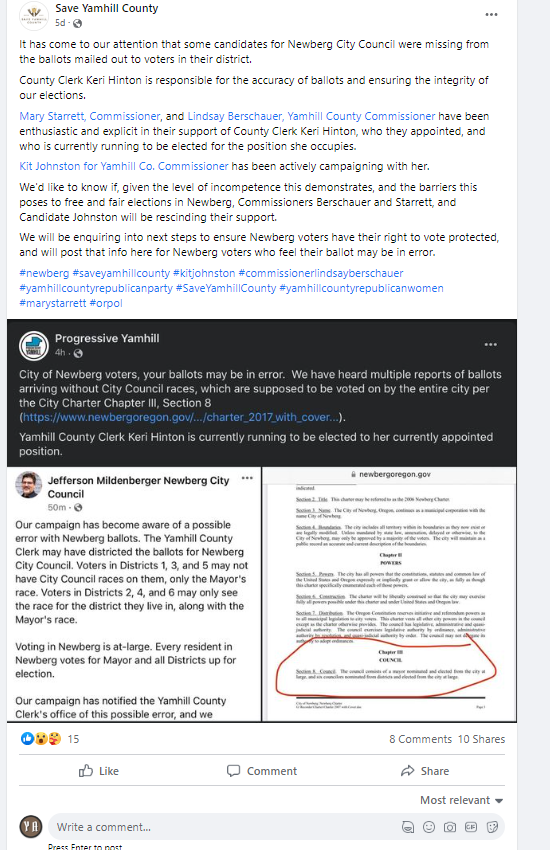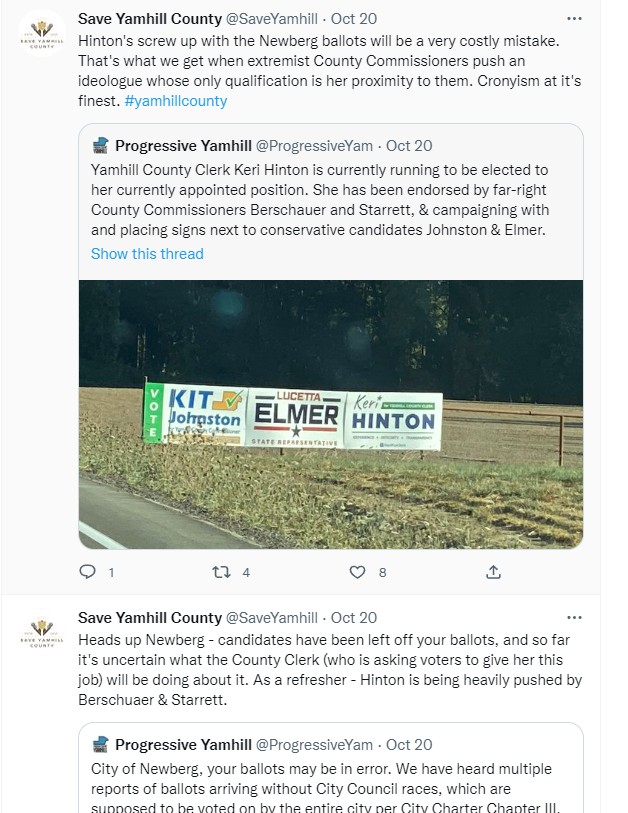 Since the Advocate began exposing Progressive Yamhill members identities and their close ties to one another, the group has tried to become less obvious about which local candidates are aligned with the group but by grasping at straws to make false allegations against Keri Hinton I believe reveals who their candidates are.
Even on his own campaign Facebook page, Cory Fribley has attempted to use the situation to his own benefit.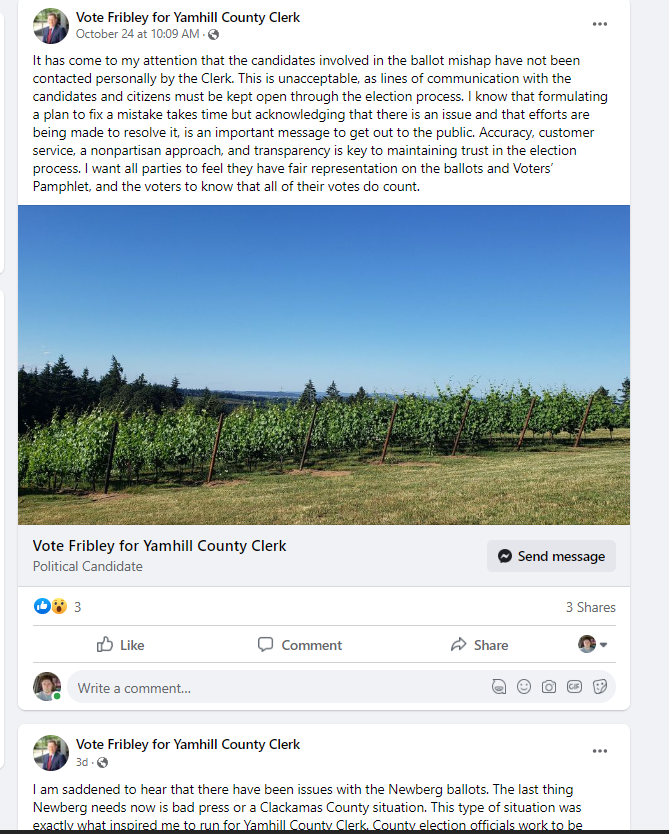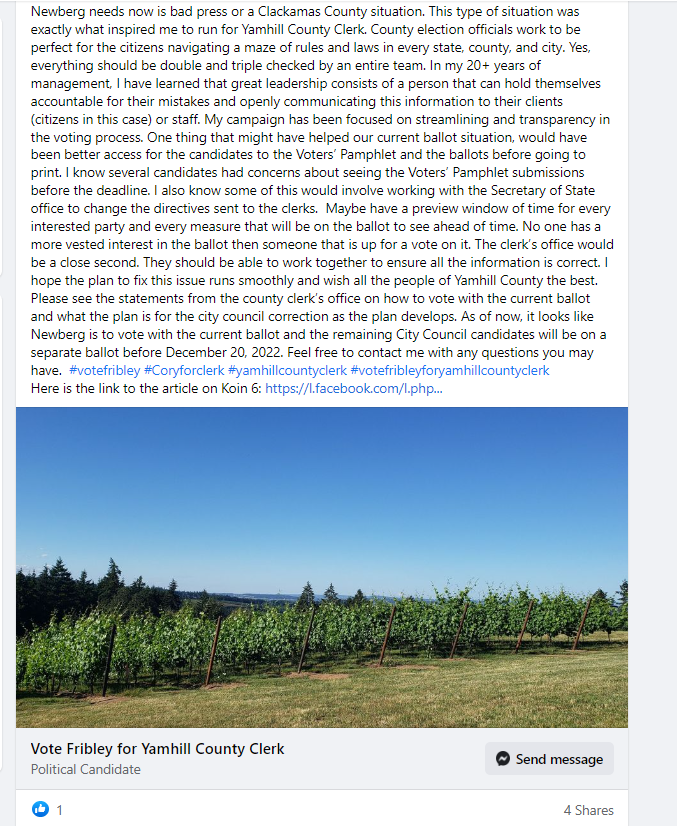 Progressive Yamhill appears to be getting more and more desperate to remain relevant in local county politics; this election season is an important one for them, as they stand to lose nearly all political influence over Yamhill County cities should their candidates lose this year. Residents should be cautious about any statements about a candidate that are made by Progressive Yamhill and their members, as they have a long history of deceiving voters with blatantly false claims hoping the misinformation will help their candidates win elections.
Update 10/26/2022 4:58 PM PST.
The Advocate has just been made aware that the City of Newberg made an official statement two hours ago acknowledging that the city clerk did not specify that elections are performed at large.