Newberg, Oregon School Board Directors Brian Shannon and Dave Brown participated in a town hall format questions & answer (Q&A) livestream hosted by United Not Divided.
From the description of the YouTube videos on the United Not Divided Channel,
"Newberg, OR school board members being recalled ask community members to participate in a civilized Q&A to answer questions, offer clarity on some issues, etc. All participants have been asked to participate in a civilized manner and were required to sign an agreement to act and behave civilly. The moderator and host will remove any participant and or panelist should they not act accordingly. The purpose of these sessions are to bring unity and understanding back into Newberg. The community, families, school employees and most importantly the students deserve to have answers from their elected board members."
Before you watch the video, I believe it should be pointed out that many of the people who were allowed to ask questions of Dave Brown and Brian Shannon during this livestream are members of Progressive Yamhill, whose subchapter is Newberg Equity in Education. This group are also the organizers of the recall campaigns against Dave Brown and Brian Shannon.
You can verify this yourself by downloading the spreadsheet of the member groups and searching for the names of the people who asked questions during the Q&A sessions.
These are the members of NEEd and/or Progressive Yamhill I was able to identify who asked pointed questions of the school board directors:
Kat McNeal
Nancy Almquist
Tonya Tompkins
Many of these individuals associated with these extremist social activist groups have been active participants in the organized harassment against Dave Brown and Brian Shannon, which went as far as seeking to break up Brian Shannon's marriage under the belief it would force him to move out of his school district. In fact, Jeff McDonough's own wife, Kimberly McDonough, is one of the people who gathered information about them to distribute to other members as part of the organized harassment campaign,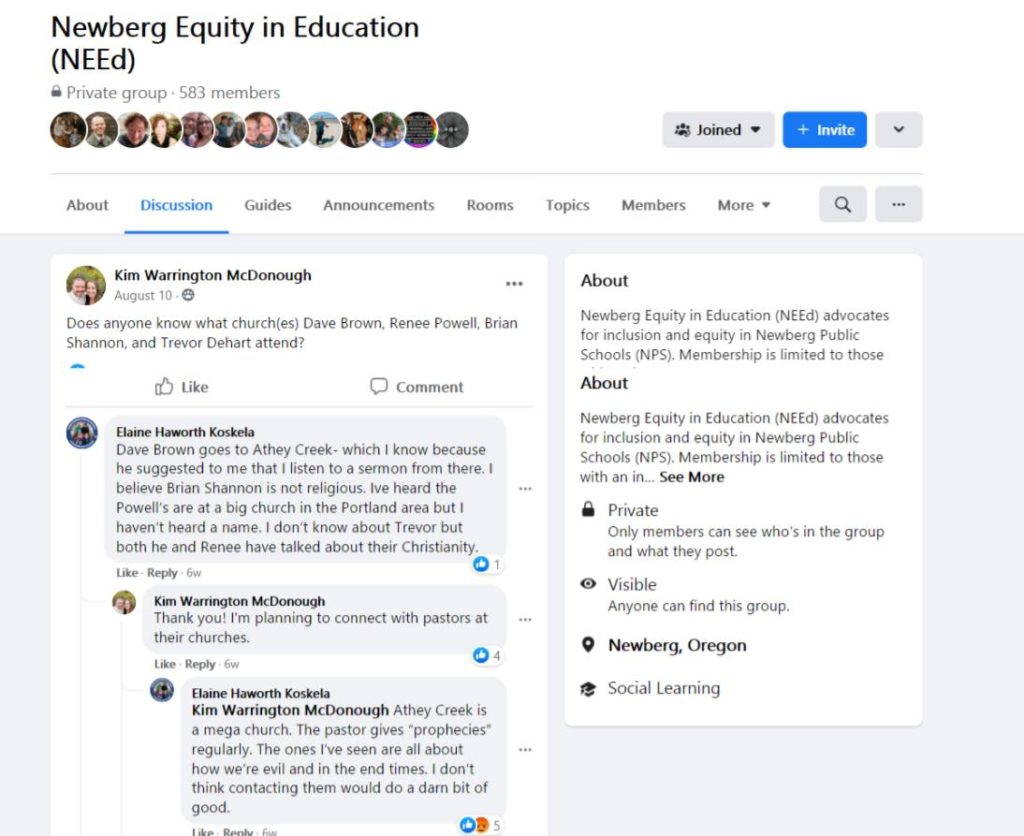 So, as you watch these videos you should be mindful that Dave Brown and Brian Shannon have very civilly and professionally answered the questions of people who have harassed them.
(Note: Despite what the video player thumbnails may say, you can still watch the saved versions on YouTube by clicking on the hyperlinks. Presently, the Youtube channel host has not updated the status of the videos yet to allow them to be embedded correctly)
This is the Q&A Session with Brian Shannon:
This is the Q&A Session with Dave Brown: