As previously reported in the Advocate article, Newberg City Council Approves Hefty Severance Agreement to Former City Manager, Obligating Him To "Release Claims", former City Manager Dan Weinheimer recently resigned and received a large severance package approved by Newberg City Council that awarded him over $235,500 in compensation.
Based on newly released documents obtained by the admins of Newberg Transparency, we now have some insights into why he may have received such a large severance.
Yesterday, Newberg Transparency released Dan Weinheimer's employment contract and the severance package City Council order, which were obtained as part of a public records release request.
In reading the documents, I have made some observations I believe provide insight into what has transpired.
The provisions of Weinheimer's contract specifically state, in Section 11: Resignation, that if voluntarily resigning then he must provide a minimum of 30 days in advance of his resignation date, unless the employer agrees otherwise. As Weinheimer only gave a few days advance notice, this means that City Council must have known and agreed to his resignation in advance of his drafting of the resignation letter that was submitted to City Council.
Additionally, Section 9: Termination, makes it clear that severance would only be available to Weinheimer if he was asked to resign by City Council, as this would constitute a 'termination'.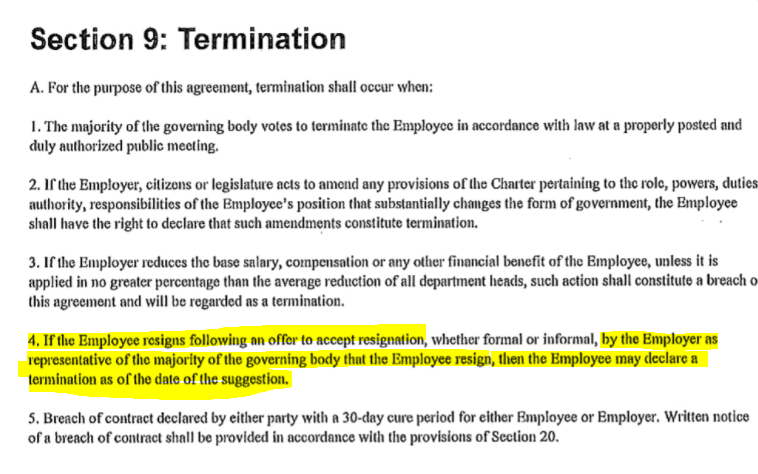 Furthermore, the provisions of Section 10: Severance of the contract are identical to the compensation that was ultimately provided by the the severance agreement, which are only available if his contract is terminated not by his own volition,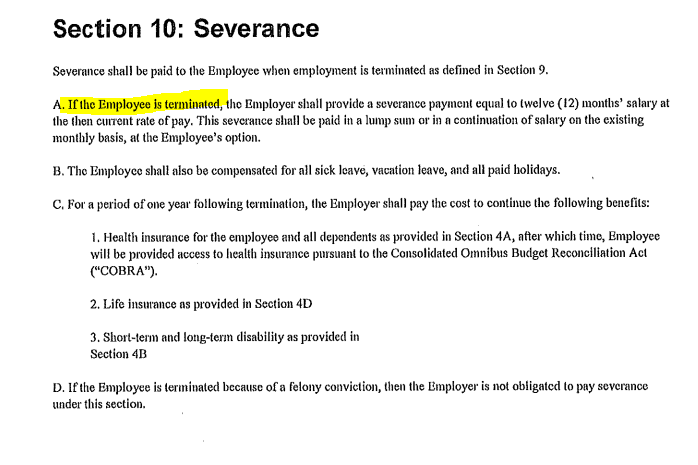 Considering these facts, the evidence implies that Dan Weinheimer did not so much as voluntarily resign, but rather that he was actually fired, and by using legalese the City Council has attempted to obscure this fact without disclosing to the city residents the precise reason for why Weinheimer's employment as City Manager was terminated.
After all, the provisions of his employment contract make it clear that asking him to resign would constitute a termination (i.e. "firing") and therefore provide him severance. No other form of "resignation" would have provided him such a hefty severance, other than a termination initiated by City Council.
The Advocate has previously tried to obtain the reason for Dan Weinheimer's termination from City of Newberg, and has been told the following by Will Worthey, current interim City Manager,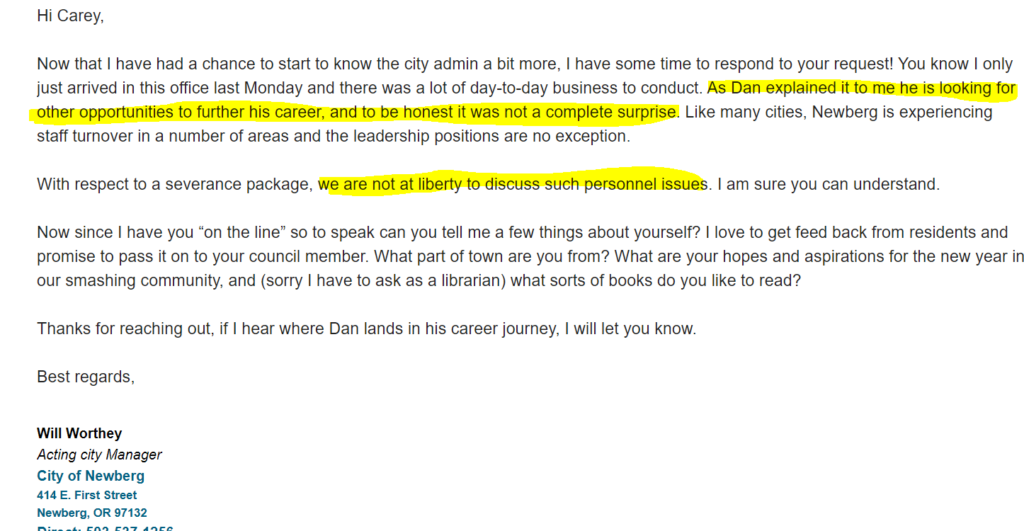 You should also take notice that Will Worthey has stated that Dan Weinheimer voluntarily resigned, when the facts of the situation strongly imply otherwise.
If Dan Weinheimer was indeed asked to resign, Worthey's statement to the Advocate that the termination was something Weinheimer initiated means that Worthey has either lied or did not know the full facts of the situation when he gave this statement.
In conclusion, I would like to disclose that the Advocate was told by an anonymous source several days in advance of the actual public announcement that Dan Weinheimer was going to be "resigning". The anonymous did provide me with a reason for why he was "resigning".
Unfortunately, at the time of this posting I have not been able to confirm this claimed reason with solid evidence, and so it remains a rumor, which is why I have not published what this rumor is.
Anyone with evidence of any wrongdoing committed by any public employee is encouraged to submit this evidence to the Yamhill Advocate, you may reach us at yamhilladvocate@gmail.com