This article will be an editorial, as I will share some of my opinions on the communications in order to provide further context to them. All of the legal disclaimers from my previous articles apply to this article, too.
Newberg, Oregon School Principal Casey Petrie Refuses to Remove BLM Flags from Teacher Classrooms
As many people know, the Newberg public school board voted 4-3 to pass a ban on politically divisive symbols in Newberg public school classrooms, such as the Black Lives Matter (BLM) flags. Yet, evidence shows that the policy is not being complied with by school administrators. This article will explain why they are not doing so.
A source has provided the Yamhill Advocate a reply to a complaint filed by a parent about BLM flags still hanging in classrooms in Newberg, Oregon schools, specifically, Chehalem Valley Middle School, where school principal Casey Petrie provided the following response,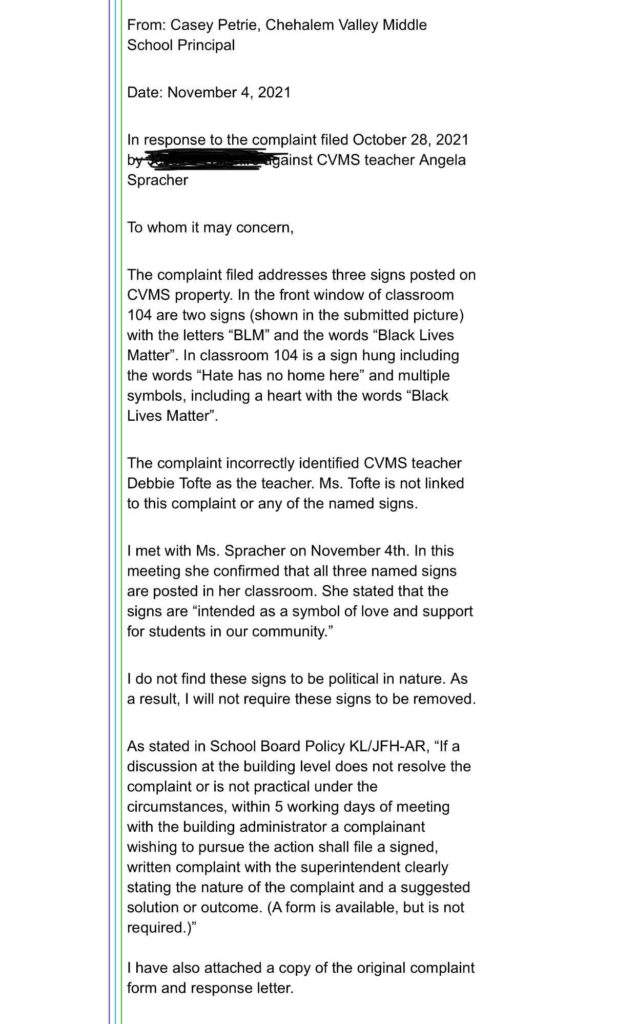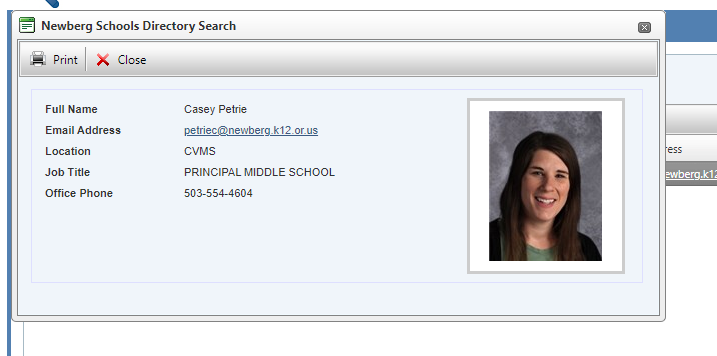 According to the Newberg Public School District Staff Directory, Casey Petrie is the Chehalem Valley Middle School Principal
The source who provided me a copy of this email complaint told me that they immediately submitted their complaint to the district office after Casey Petrie refused to take the BLM signs down, and that no one has responded from the district office. That would mean it has been 16 days since that complaint was sent to the district office and no further action was taken.
It should not surprise anyone that Petrie has refused to remove the BLM flags from the school. After all, she was investigating the activities of one of her co-conspirators, Angie Spracher.
For those new to my reporting, let me explain.
As previously reported by the Advocate in the article Meet the Newberg, Oregon Mafia Led by Elected Officials and Other Community Leaders, Casey Petrie is a member of Newberg Equity in Education, the private Facebook group that is the Newberg based sub-chapter to the group Progressive Yamhill, founded by Megan Corvus, a self-declared 'racist',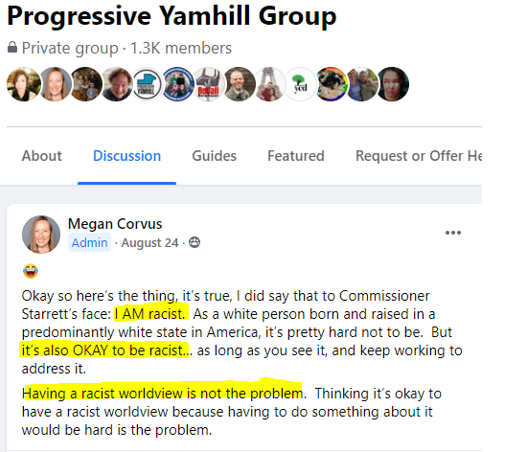 Megan Corvus, and others in the groups Progressive Yamhill and Newberg Equity in Education, believe in a form of racism called 'Critical Race Theory' where only "whites" can be racist, and that they owe a blood-debt to "blacks" and "browns" for injustices that happened over the past several hundred years. "Whites" are recruited into the group to be "ally-accomplices" who will use their positions of authority in society to implement racially segregated policies that benefit "blacks" and "browns", with this segregation re-labeled as 'equity'.
Groups like Progressive Yamhill and Newberg Equity in Education are sub-chapters of what is called the Indivisible Movement, a cult-like group of social activists who push Critical Race Theory in all government and public institutions using unethical tactics, primarily in the form of paper terrorism (the use of frivolous lawsuits and other legal documents lacking sound factual basis as a method of harassment) to intimidate public officials into supporting their causes. The Indivisible Movement is a powerful supporter of the Black Lives Matter organization.
Here is proof that Casey Petrie is a member of the Newberg-based chapter,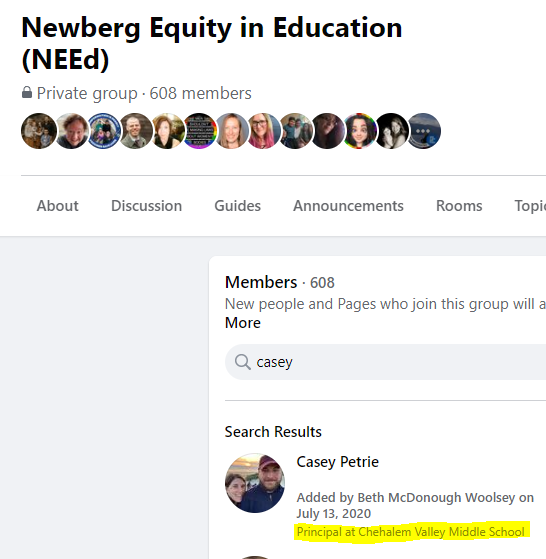 Here's a recent post from Petrie's Facebook wall that I think summarizes her state of mind and her willingness to comply with any laws or policies she is required to follow,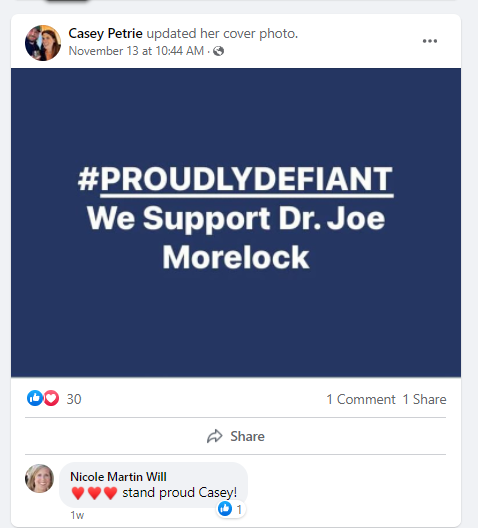 As previously reported, Joe Morelock had his employment as superintendent of the Newberg public school system terminated earlier this month in a vote of 4-3 by the school board. In response, Newberg Equity in Education held an Anti-American rally on Veterans Day to protest the firing; an event that distracted press coverage away from actual veterans organizations holding events nearby.
What Black Lives Matter Actually Represents
I've already provided tremendous amounts of evidence that show Newberg Equity in Education members believe strongly in racial segregation in Meet the Newberg, Oregon Mafia Led by Elected Officials and Other Community Leaders article already, so instead let's talk about how Black Lives Matter's #1 goal is to dismantle America and how the teachers in the Newberg public schools are trying to assist with that effort.
Black Lives Matter flags are the corporate logo of Black Lives Matter Global Network Foundation, a 501(c)(3) non-profit that operates a political action committee, Black Lives Matter PAC.
Black Lives Matter Global Network drafted a proposal for a new federal mandate, the BREATHE Act, that if passed would eliminate all law enforcement at the state and federal level (from local police departments to immigrant enforcement) as well as closing all prisons at the state and federal level. Instead, community leaders would self-police themselves by racial lines using the money that previously was spent on law enforcement and prisons, effectively turning those community leaders into warlords.
In the BREATHE ACT, this rule by warlords is called, "Self-Determination of Black Communities", which also includes allowing illegal immigrants to be able to vote in state and federal elections without holding US citizenship.
Oh, they also want to defund the military, too.
Don't believe me? Go ahead, read their promotional brochure about the Breath Act for yourself.
You can also read the proposed bill yourself, too, by clicking here.
The important takeaway is this: Not only is Black Lives Matter political, but that political activism is specifically advocating for the collapse of the United States as a sovereign nation. When you hang the BLM flag up somewhere, that is what you are promoting with it.
BLM wants to overthrow the United States by eliminating all of the things that allow it to be a functional country, like a justice system and only citizens being allowed to vote.
It is a cult of radical, militant black separatists who do not believe in racial equality whatsoever.
And it IS a cult. It is a form of cult that has a de-centralized leadership structure where the cult leaders publish books and charge high fees to perform seminars that instruct others to form their own sub-chapter extensions of the cult in their own hometowns. It is a cult because their beliefs are quasi-religious (blood debts are a religious idea, after all) and these quasi-religious beliefs supersede all other ideas they have, including other religions they may claim to be part of. They become a member of the cult before they are are anything else, be it an American, Christian, a teacher, or even a parent. Their most important membership status is with the cult.
The leaders of the BLM cult have become extremely wealthy because their cult has been very successful at infilitrating American society nationwide.
Casey Petrie is a Member of a Pro-BLM Facebook Group That Supports Racially Segregating Newberg Students
So, what does the Newberg sect of the cult do with its time?
As I have explained in the previous article, Exposing Liars: How the Newberg Equity in Education Cult Harassed School Board Directors In Their Private Lives, the Newberg Equity in Education group has harassed Newberg school board directors Dave Brown, Brian Shannon, Renee Powell and Trevor DeHart using tactics that range from stalking, harassing employers and even trying to break up Brian Shannon's marriage so that he would need to move out of his district and lose his seat.
Casey Petrie has been an active participant in the Newberg Equity in Education group that has engaged as a collective in all of this unethical and I think illegal behavior.
Here is a post from within the Facebook group where it was announced that a racially segregated student group, the Black Student Union, was created. Casey Petrie was amongst those who 'loved' the post,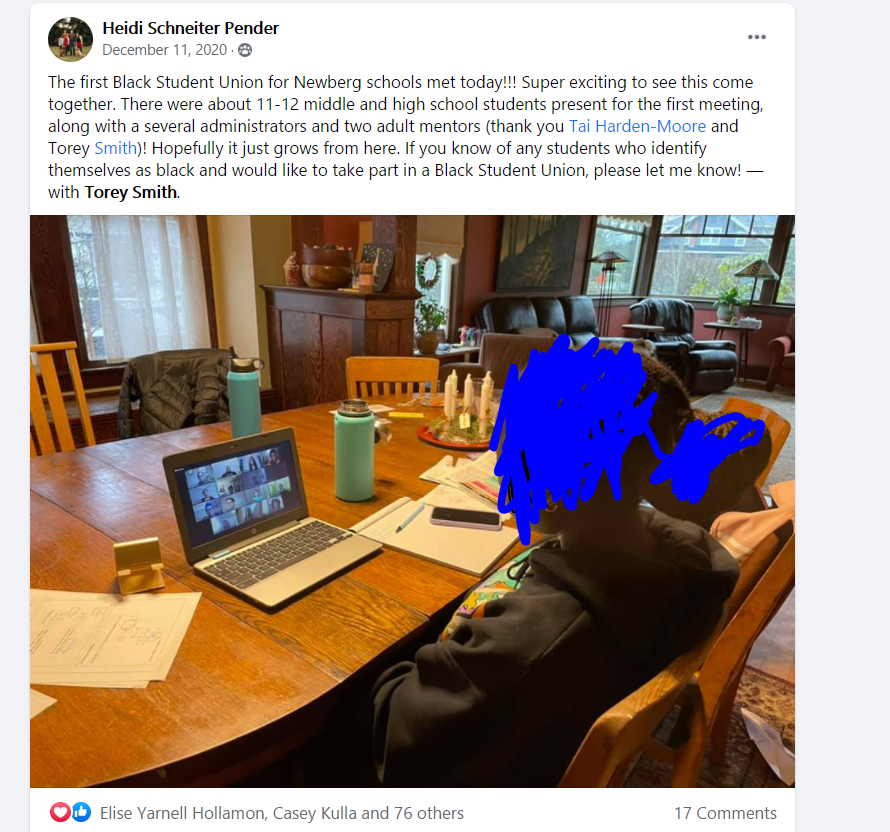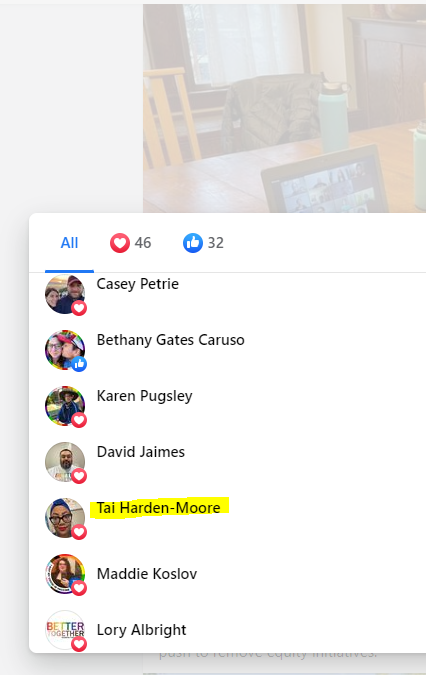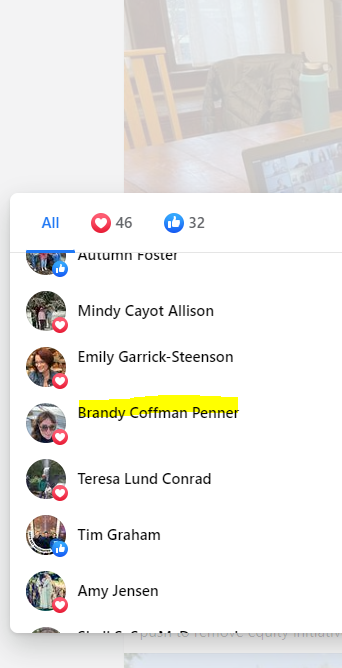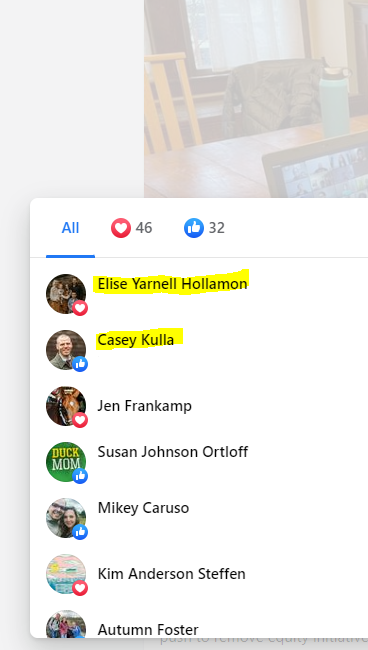 Other notable names who also 'liked' the creation of a racially segregated student group in the Newberg public schools were,
Lu Pita aka Guadalupe Martinez Zapata, Vice-Chair of the Oregon Department of Education
Casey Kulla, Yamhill County Commissioner
Elise Yarnell Hollamon, City of Newberg Council member & Director, Access Strategies at Providence Health & Services
Brandy Penner, Newberg School Board Director
Tim Graham, Principal at Newberg Catalyst High School
Casey Petrie, Principal at Newberg Chehalem Valley Middle School
Tai-Harden Moore, diversity consultant for City of Newberg and Portland Community College instructor
Per Supreme Court decision, Brown v. Board of Education of Topeka, it is illegal to racially segregate students in the public school system. Yet, this is happening anyway in Newberg, with the blessing of numerous elected officials and school faculty, such as Casey Petrie herself.
Going back to the email complaint about BLM signs, I believe it is important for me to point out that the teacher whose classroom Petrie identified the BLM signs to be hanging in, Angie Spracher, is also a member of Newberg Equity in Education. As I have previously shown, her classroom is the one where she removed the American flag in violation of Oregon state law, ORS 339.875 Procurement, display and salute of flags, and showed this off to Petrie and other Newberg Equity in Education members, with a TikTok video she posted to the group's feed,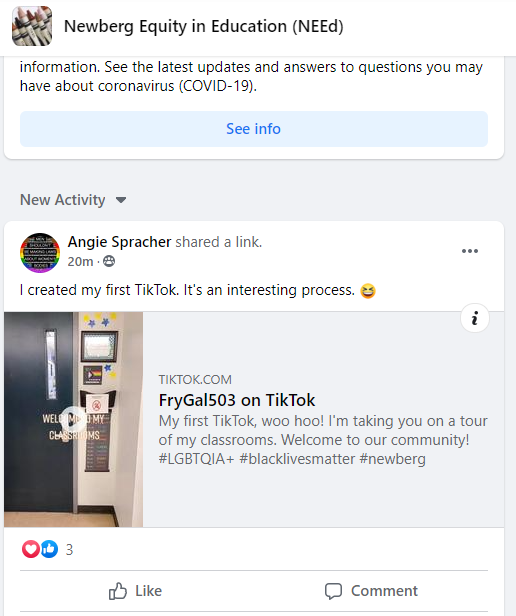 Angie Spracher has not been subject to any penalties for these violations of state law. And why would she, when the people who are supposed to be holding her accountable are instead advocating for racial segregation, in violation of federal law?
BLM Activists Erupt in Violent Protests Nationwide
Casey Petrie's claims that the BLM flags are allowed because they are a "symbol of love and support" are unfounded.
Just last week, Hawk Newsome, co-founder of the Black Lives Matter chapter in New York City, declared to reporters that, 'There will be riots. There will be fire, and there will be bloodshed,' if Mayor-elect Eric Adams reinstates the New York police department's anti-crime units, as Adams said was his intention to do. Earlier this month, Adams, a Brooklyn Borough President and retired New York City Police Officer, was elected mayor of New York City in a landslide victory, running on anti-BLM platform with promises to restore law and order to the city.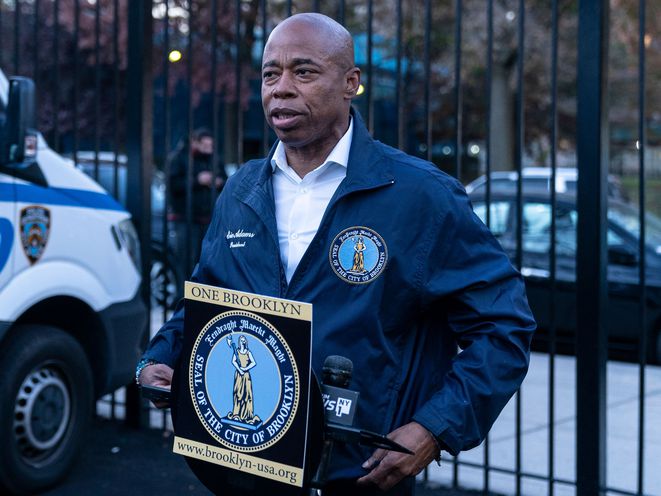 New York City Mayor-elect Eric Adams
Furthermore, just two days ago the following email newsletter was sent to subscribers by Black Lives Matter Global Network Foundation, the parent organization of all local chapters,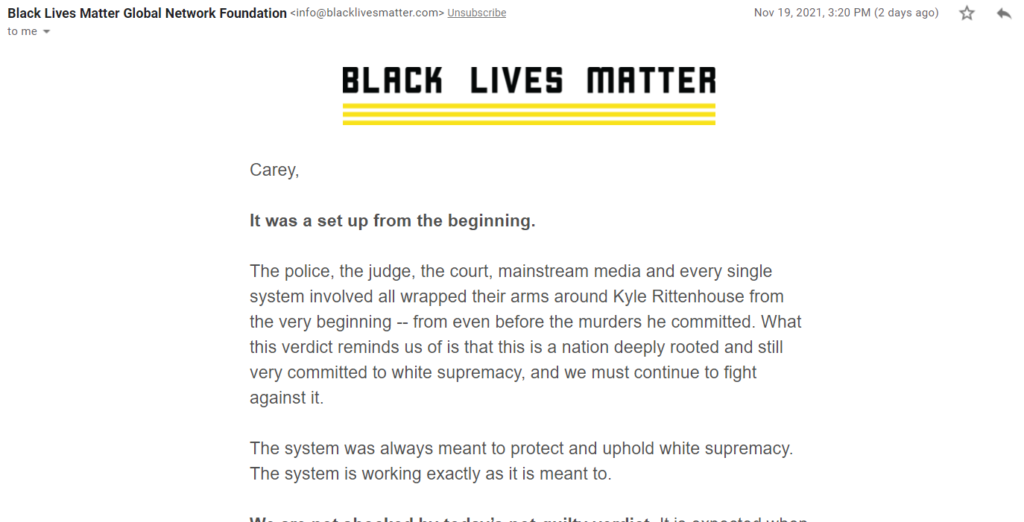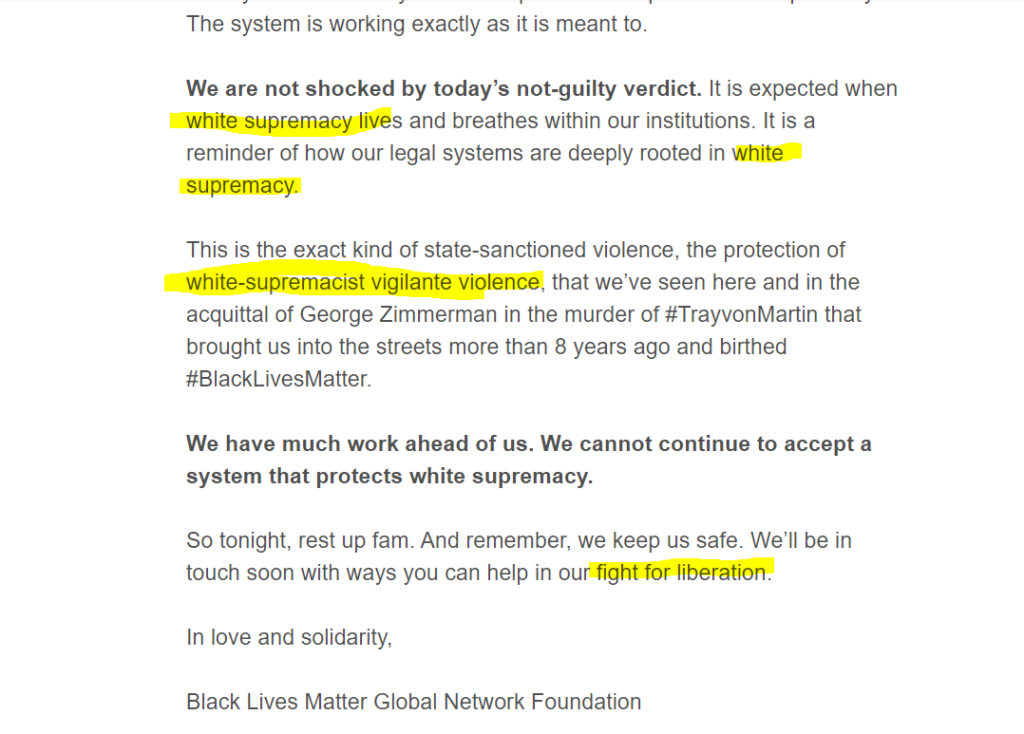 I have highlighted the phrase "white supremacy" in the email because I want to point out something very important here; Kyle Rittenhouse shot two Caucasian men. His case has nothing to do with white supremacy or racial issues, for that matter, because he did not shoot or even harm anyone who was not Caucasian.
Yet, BLM is intentionally spreading misinformation to fan the flames of anger and violence, as is their way.
Yes, violence.
Yesterday, violent riots broke out in major cities across America, organized by pro-BLM factions to protest the Rittenhouse verdict. One of the largest of these riots happened in Portland, Oregon, which resulted in at least one reported death. Police are still investigating to identify the culprits responsible.
Furthermore, local media was unable to document the riot fully, because rioters even attacked news camera crews trying to report on the riot,
I think I've made my point.
BLM is not about love. It's about hate and violence.
And people are getting sick of it. That's why New York City just elected an anti-BLM mayor, Eric Adams, who is himself an African-American, to get the cults out of power because it's become crystal clear that BLM is about hate and violence, not love.
I would strongly encourage anyone who lives in Newberg who has not already done so to take the time to read my previously published articles that expose the truth of what is happening in the Newberg, Oregon public school district, by reading my previous editorials on the subject. Other local media are not reporting on the truth, no doubt in part because some of the "journalists" are themselves members of the racist Facebook groups, as I have previously shown.
I have published hundreds of communications that show in detail that the Newberg Education Association teacher union has been taken over by a racist cult that wants to dismantle America by indoctrinating children into radical, fringe ideologies so that when they become adults they will help the cult do this very thing.
If you have not read it yet, the article I would begin with is,
Followed by,
This is a dangerous time for our country, as the dissident few who are radicalized have managed to infiltrate schools even in rural areas like Newberg, Oregon. Their goal is to increase their ranks by exploiting children, posing as trusted teachers to trick them into joining the cult.
Yet, as the people of New York City showed, it's possible to remove these cultists from power. You have the power to do so, as a citizen of this country.
People need to get involved and support the Newberg school board directors Dave Brown, Brian Shannon, Renee Powell and Trevor DeHart, who are trying to get the cult out of the Newberg public school district.
Contact information for the Newberg Public school board directors can be found at, https://www.newberg.k12.or.us/district/school-board for those looking to submit any complaints that school principals and administrators may be refusing to act on.