Update 4/19: Newberg City Council voted to approve the plan; only Councilor McBride abstained, stating he wanted the citizens of Newberg to vote on the plan.
Update 4/26: The Advocate has now been informed that Newberg, Oregon resident Bill Rosacker has formed the Choice for Newberg campaign measure to gather signatures from residents who want to see the Urban Renewal Plan put onto the November 22 ballot, allowing Newberg residents to decide on if the new taxing district should be created that will divert tax money to this new urban renewal project. The Choice for Newberg campaign organizers have roughly one month to obtain the 1,610 signatures needed to place the measure on the ballot.
Tomorrow on Monday April the 18th, Newberg City Council will vote on whether to implement the Urban Renewal Plan its committees have been working on for the past several years. I expect that it will be passed. Per law, if residents wish to oppose the implementation of this plan they will have 30 days to gather several thousand signatures from local voters, in order to put the decision of whether to approve the plan to a vote in this coming November's election season.
This article is intended to educate residents of Newberg, Oregon about the proposed Urban Renewal Project which the City Council is, as of this moment, set to vote in favor of next week. While this article contains my personal opinions and viewpoints about the project, my opinion is based on numerous facts, which I will lay out in detail in this article. I believe there is sufficient information provided in this article for others to form their own opinions. But I will not reserve my opinion on the project, as I see enormous problems with it.
As I see things, there are significant downsides to the Urban Renewal Project and I see zero benefits to the City and its residents. None.
I am not saying this to be hyperbolic. I think the entire proposal is ill-conceived and poorly constructed.
I will break down each of the major problems I see with it.
What Is the Newberg Urban Renewal Project and Why Do I Hate It?
The Urban Renewal Project consists of about 500 pages of documentation, and contained within those pages are proposals for everything from building new infrastructure (water, electrical, sewage, roads, etc.) for the so-called Riverfront Master Plan, to the so-called 'Newberg Downtown Improvement Plan' which will, among many things, rezone the downtown Newberg area to permit the demolishing of old historical homes from the past 150 years to replace with tiny home villages and apartment complexes, as well as permitting "car camping" (stealth camping in vehicles) in neighborhoods. This summary is by no means comprehensive of everything contained within the plan, but I will say for certain that I strongly believe Newberg will be an entirely different town if this plan is implemented, and it become more like Portland in the worst way possible (overcrowding, establishment of ghettos, a significant lack of parking space for most home owners and businesses, city policies that only benefit special business interests and tourists, etc.). It is that dramatic of a proposal. I believe if its drafters were being honest, they would just call it the "Portland-ize Newberg Project".
A substantial part of the plan is a so-called Vertical Housing Development Zone, which the plan creators claim will result in the creation of "affordable housing" by usage of State Statute ORS 307.841-307.867 which allows Cities and Counties to come to agreements with various taxing jurisdictions to grant 10 year partial property tax exemptions for new mixed use developments.
I view the Urban Renewal Project as an extension of the other zoning ordinance changes the Newberg City Council is making (such as allowing "car camping" in suburbs and tearing down historical homes in downtown Newberg and replacing them with tiny homes and apartment complexes) that are intended to dramatically change the landscape and culture of Newberg to be less traditional small town Americana, and more aligned with the current trends of social experimentations popular with Democrats.
The Problem with Newberg Housing Market, In a Nutshell
The problem with this plan is that taxes and fees (such as System Development Fees, which is so complex an issue in Newberg it deserves its own dedicated article) only partly contribute to the sale price of houses, which is why old and decrepit houses in Newberg are also selling for astronomical prices despite having been constructed decades ago. The cost of constructing new housing certainly does require developers to sell homes for close to half a million dollars or more, but it doesn't change that the market price of homes is very high due to a purchasing trend created by out of state landlords — a trend which this plan does not account for.
The reality is that Newberg City Council has no control over how developers will price the homes they sell; as an example, the Crestview Crossing development across from Providence Hospital was also pitched to the city as a mixed use development with housing and commercial. Many believed the Single Family homes would be affordable for local residents. However, I have confirmed from the brokers selling these new Single Family homes that the units are selling for $400,000 to $550,000 each.
This is what the "Single Family Home" units in Crestview Crossing are,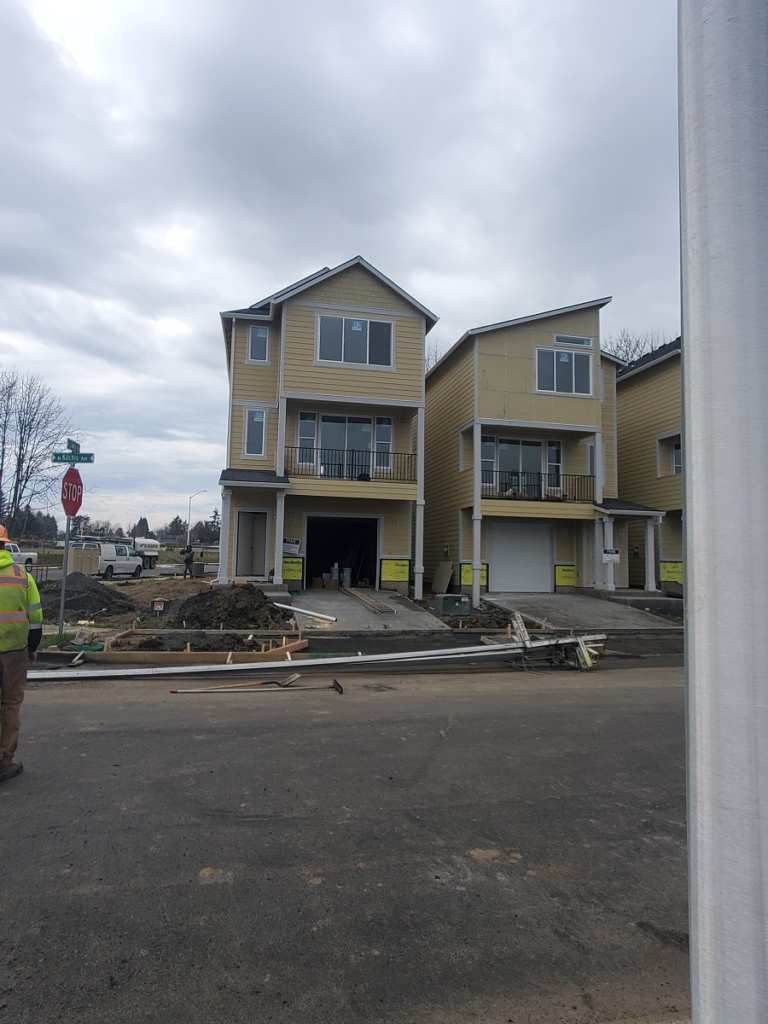 This is the type of housing that will be constructed in the "Urban Renewal District", and the price point this housing will most certainly sell at will also likely be $400,000 to $550,000, or more. This is obviously because that is what the present market price for homes is. This type of housing is most profitable for the developers to build in Newberg, because there are many who will purchase them. I believe one of the contributing factors is because many of these homes are purchased by Californians as vacation homes, which they rent out on websites like Airbnb to wine tourists when not using them. This is also true for many of the newly constructed apartment units as well. Anyone can confirm this by simply browsing Aibnb listings within Newberg city limits, or listings on similar vacation rental sites such as Vrbo. You will see many homes and apartments originally built for local housing are now advertised to out of state vacationers.
An example of one of the historical apartment housing properties in downtown Newberg that was converted into vacation rentals is Yamhill Flats, which sits across from Newberg City Hall on N. Howard Street.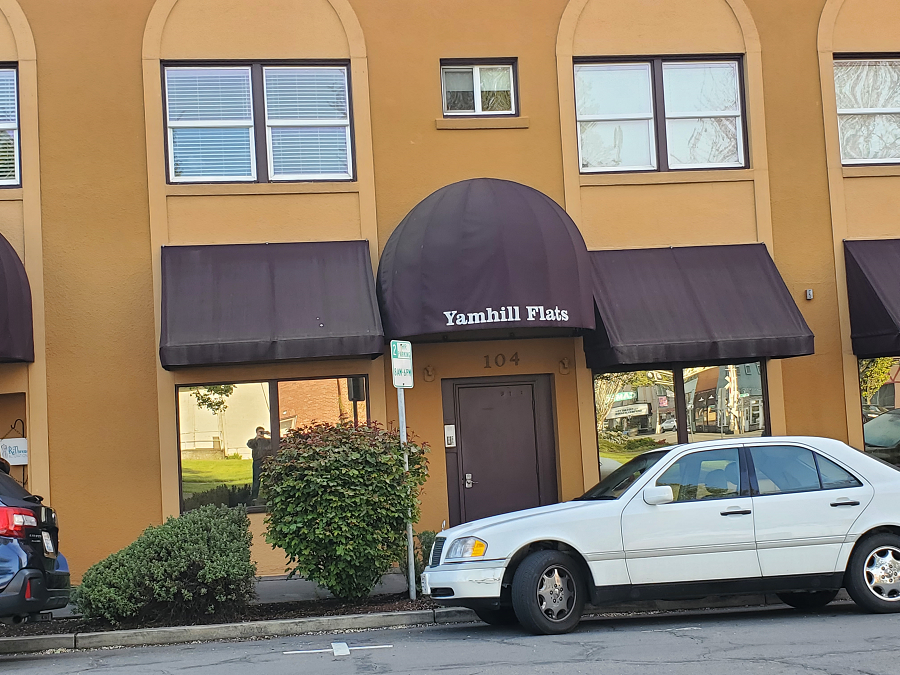 Yamhill Flats is owned by Yamhill Development Corporation, which is owned by Portlanders Susan and Frederick Passmore. The units are managed by Megan Carda via her company Lifestyle Properties Oregon. The apartments are advertised as "guest suites" and exclusively rented to wine tourists.
Yamhill Flats is not alone in this; my research indicates all of the studio apartments on Main Street Newberg have been converted into vacation rentals, as have many of the homes in the historical parts of town, with rates as high as $150 to $350 a night. There are also several apartment units around town which are subleased to tourists.
You'll also note these property owners charge a higher price than what it costs to rent a hotel room, even if what they are offering is only one bedroom in a house. This is also what is being done with many of the tiny home villages developed in the surrounding area as well. I have identified several "tiny home villages" which are advertised as vacation rentals for wine tourists and are not at all priced for local residents. In the case of Yamhill Flats, they are expressly advertised as 'historic flats' as a central selling point. The whole point of these rentals is for tourists to vicariously experience what small town Americana wine country is like.
This is also the case with the overwhelming majority of RV parks within a half hour drive of Newberg; they are catered toward vacationers. Many RV parks now prevent long-term stays and charge high prices (easily over $1,500 a month). Several of the RV parks near Newberg that once permitted residential long-term living and charged affordable rates have been acquired by new owners and converted into resorts where guests cannot even park a trailer, and can only rent out existing "luxury" trailers owned by the park, at high vacation rental prices. This is problematic, as RV trailers and motorhomes were once an excellent way to allow for low income housing in the area and the transformation of these RV parks into strictly vacation rentals has eliminated a great deal of affordable housing in the Williamite Valley. However since these ownership changes, there are now very few local RV parks which actually permit long term rentals and charge prices locals can afford.
I believe the wine tourism industry is one of the main things driving up the cost of housing in Newberg, and it is a problem that simply building more housing is not going to resolve because the only thing this achieves is creating more units for investors to scoop up and rent to wine tourists. Unless they are going to build land use restricted and rent control housing, there is no way for the City to prevent this trend from continuing with any new development. And the issue with rent control is that it means landlords cannot afford to invest into maintaining their properties, as inflation and price increases of labor inevitably drive up property maintenance costs above what rent control policies limit their income from the properties to. This is why rent control districts inevitably transform into ghettos.
The reality is that the average resident in Newberg only earns $28,000 a year, and the median household income in Newberg is $56,910. The reason for this is obvious; aside from A-dec and retailers, the main employer of Newberg residents are the wineries. Wineries pay the average employee minimum wage or close to it. Their labor needs are most intense on a seasonable basis in Autumn, and all other times of the year they primarily employ warehouse workers, bartenders and waiters. While the wineries generate enormous money from out of state customers, they give very little back to the local market in way of wages. This would not be a problem in pre-2000s Newberg, as the Willamette Valley has always been dominated by seasonable agricultural work on farms — the problem is the wineries attract wine tourism, which the orchards and dairy industry did not.
Due to the wine tourism, the local housing market has transformed into the lodging market for the wine tourism, and this has dramatically skyrocketed the price of housing for local residents beyond what the majority of people who grow up in the area can afford. Worse, as orchards, corn fields, berry bushes, hay fields and livestock farms are transformed into vineyards, it actually makes it harder for people to find year-round employment working as a farmhand, which has created enormous difficulty for small mom and pop farms to hire labor when they need it, because people who would have worked year round for numerous farms as the labor (per the busy seasons for their crop or herd) instead move away, work in a winery warehouse or get a job in some other industry so they have sustainable income year round.
Many retail employers have complained about labor shortages in Newberg, but these employers are offering minimum wage and slightly more than it as pay. The brutal reality is that as more local housing is converted into tourist lodging, fewer and fewer people can afford to live in Newberg on minimum wage. And so it is no wonder that more and more people are not taking these jobs, and instead moving away to more affordable areas.
To be blunt, the vast majority of residents in Newberg can barely afford the average market price of $1,500-$2,500 a month rent for an apartment, and can only dream of obtaining a mortgage for a newly constructed $450,000 home in Crestview Crossing with no backyard. Consequently I doubt these homes will be sold to local residents. The average resident in Newberg cannot compete with wealthy out of town investors seeking to capitalize on the wine tourism, and who work through local brokers and realtors to manage their portfolio of properties — many of whom, by the way, are Progressive Yamhill members.
In order to secure a mortgage of around $450,000, assuming that you have no debt and a good credit score you would need to put down roughly $90,000 to secure an estimated 3.12% interest rate — your monthly payment for a $450,000 home would be about $1,903. That means your annual income would need to be around $70,000. As mentioned previously, the median household income in Newberg is $56,910. Again, this is the median HOUSEHOLD INCOME, not individual income. Median household income represents what the average two people living together in a household bring in. These statistics mean the average couple in Newberg earn $56,910 a year, together. And it is below what is needed to purchase a home, or even to rent many apartment units in town.
Bear in mind, interest rates are rising. I doubt a 3.12% interest rate will be an option for most people purchasing a home in Newberg in the future.
In my personal opinion, the only way that affordable housing will be created in Newberg is when new businesses move to the area that offer good paying wages to local resident workers, so that local residents can compete with these wine tourism investors in the housing market. I am not talking about just a couple hundred new good paying jobs either; Newberg needs multiple employers to bring thousands of good paying jobs to the area. To my knowledge there is NO company that has any intentions of establishing something like a manufacturing plant or software development firm in the proposed Urban Renewal District development. To my knowledge the City Council has never attempted to even attract one during these six years of planning. I have seen no evidence of the City having any conversations with anyone to bring more jobs to Newberg. The only thing they have done is talk to land developers who want to build housing, and consultant firms that will give the City Council whatever math they want to make their lofty ambitions sound good on a drawing board.
In my research the only companies who have interest in the Newberg Urban Renewal project are land developers who will construct small warehouses and "single family dwelling" homes like those constructed at Crestview Crossing. The Newberg City Councilors who favor this plan appear to have a 'Field of Dreams' mindset, claiming that good paying jobs will come if the City picks up the bill to build the infrastructure to develop the lands around the old paper mill site, but there is NO evidence that any employer wants to do such a thing. Real life is not a Kevin Costner movie; any experienced entrepreneur knows that before you start any project you should validate the market by identifying real customers. Until there is someone like Intel who wants to build a facility to provide good paying wages to residents so they can afford $1,500 to $2,500 apartment units and half a million dollar homes, there is absolutely zero reason to build any infrastructure because the City has no idea what the needs of an employer like that are. You don't know what they want to see specifically, and so you may build something that will turn them off from the site.
When companies like Amazon, Intel and so forth build a location they will reach out to a city and negotiate terms, telling the city precisely what they need. Quite frankly, it is idiotic to build infrastructure when you have no idea what the needs of the commercial manufacturing plants might be. The City should have first found several large corporations willing to bring good paying wages to Newberg residents before ever planning this district, and they have wasted tax payer money and time on a pipedream that, if it should ever be built, will most likely have all of its commercial zoning changed to "residential mixed use", which translates into housing and a few retail storefront spaces. There is precedence for this, because Crestview Crossing was originally zoned for commercial use only and the use was changed to allow for half a million dollar condos to be built when a land developer came knocking. Consequently, there is no reason to think this City Council won't permit all of the planned commercial areas to be turned into housing.
Additionally, I am concerned about permitting the construction of tiny homes in Newberg's historical areas. Century old homes could be demolished, and I think most certainly will be. People from out of state will purchase homes with no attachment to the city, who will demolish them and seek to maximize their profit. This means construction of multi unit dwellings on what are presently single family dwelling lots. I mean think about it — if your goal is to rent out to wine tourists, you can rent a tiny home for the same price as an entire normal size house. Demolishing a historical house in downtown Newberg and constructing a couple trailer houses on the land will maximize your profits; you can easily build four or more tiny shed homes on any of these sites in downtown Newberg. I have lived in cities like Austin, Texas and Los Angeles, California; I have witnessed this happen. They do it in Portland as well.
Aside from changing the landscape significantly, logistically the issue with demolishing single family homes and constructing apartments and tiny home villages is that these historical areas do not have sufficient parking. We can already see this is a problem around the old Central School Building in downtown Newberg; there is not enough parking for the center to be used to hold so much as a county commissioner debate. People who visit the building take away the parking spaces on the road from those who actually live in the surrounding homes. The roads are also not designed for the amount of traffic, because the area was created to be a school and suburb. The building was not designed to be a "cultural center"; it was designed as a school in a small town and it offered almost no parking at all, because it was unnecessary. Most students and teachers walked to school because they lived right down the street. Because the old school building is now being used to host people from around the city and surrounding areas, it has created parking space issues for local homeowners — many of whom do not have a driveway for their house. This parking issue will become a problem in other historical suburbs in Newberg if houses are demolished and replaced with tiny home villages and apartments.
Now, I realize there are very libertarian minded people in Newberg, who believe that people should be permitted to do anything they want with a piece of property, but the reality is that cities are communities and if city planning is anarchy then the whole community becomes dysfunctional, and it impacts everyone's lives. The reality is that, at present, the majority of children who grow up in Newberg will not be able to even afford to rent an apartment in Newberg, because when they become adults there will be no jobs paying enough for them to compete with wine tourists for lodging. This is a significant problem.
"Tiny homes" is a cool sounding term but let's be honest about what these actually are in their construction; they are a shed with plumbing. You can't raise a family in a shed with plumbing and so families are not the people who are ultimately going to be in this kind of housing. Instead these units are just going to be wine tourist rentals and it's not going to improve the housing market for locals. It'll just make it even worse.
Demolishing good single family homes to create yet more lodging for wine tourists is the last thing Newberg needs right now.
The Elephant in the Room — The Old Paper Mill Site
Before I finish out my criticism of the core of the plan, I need to mention the old paper mill site.
What Happened to the Paper Mill?
Newberg's economic growth has traditionally been spurred by locally owned farms (primarily hazelnuts / filberts) and the paper mill. The paper mill has had multiple owners but existed for 80 years, until in 2015 it was sold to WestRock, a company that owned other paper mills. WestRock claimed it would continue operating the mill, but promptly fired all of the more than 200 workers. WestRock then hired teams of scrappers to drill massive holes and otherwise destroy the heavy machinery used for papermaking, and then re-listed the mill on the market with the stipulation that the new owner would have to scrap all of the heavy machinery. Sources say the drilling of holes into the equipment caused large amounts of chemicals to leak into the soil. Unfortunately, a union lawsuit accusing WestRock of destroying capital equipment and curtailing production to drive up prices was dismissed by the U.S. Justice Department.
For a more comprehensive look at what WestRock did you can read the article 'Corporate Vandalism' on NW Labor Press. In the article, Greg Pallesen, president of the Association of Western Pulp and Paper Workers union, told NW Labor Press, "Those mill jobs paid $28 an hour plus benefits, and they're the type of job that the Newberg area won't likely see again." The article discusses the claims that the paper mill had been intentionally purchased by WestRock in bad faith with the intention of removing a competitor paper mill. In the article Pallesen said he attempted to broker deals to sell the facility and reopen the mill, but WestRock was not interested.
Then, in September 2020 WestRock, through its broker Phil Higgins (a Progressive Yamhill member), sold the mill and its damaged equipment to St. Louis, Missouri-based scrapping company Commercial Development Co. Inc., who is presently in the process of demolishing the facility for its materials to be sold as salvage. According to the February 8th, 2021 Newberg Graphic article Mill Demolition Underway, Commercial Development Co owns 120 acres of industrial land, four acres of multifamily residential land and 1.5 acres of commercial land located within state-designated opportunity and enterprise zones primarily south of the city limits.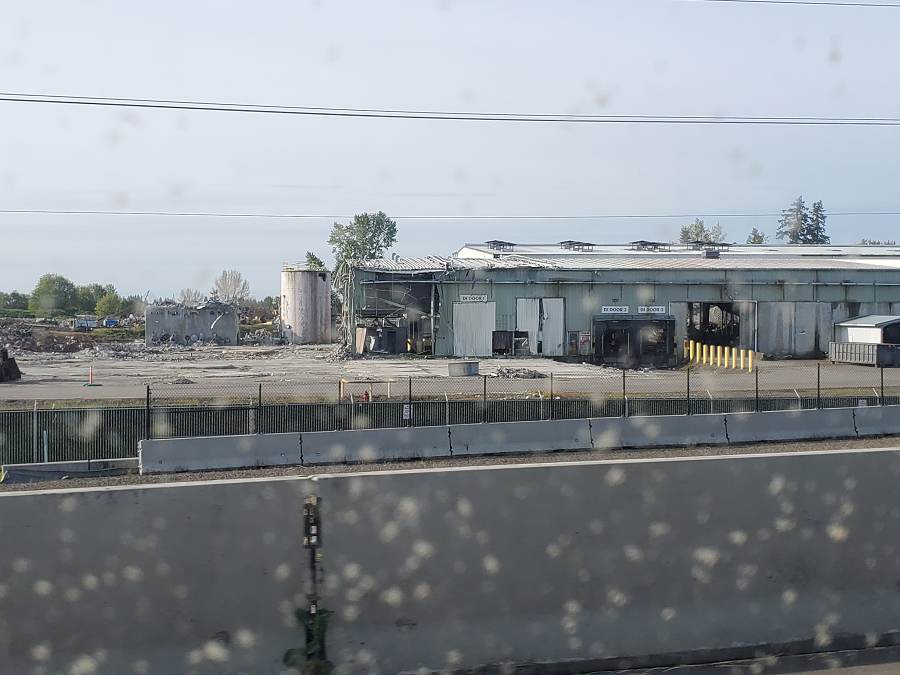 The old mill site has been reduced to rubble, its materials sold off as scrap and salvage. It is unknown what the cost of environmental cleanup of the contaminants will be.
The current Progressive Yamhill controlled City Council has been trying to incorporate this former paper mill land in its "Riverfront Master Plan". The idea is to develop a tract of land along the cliff between the Newberg-Dundee bypass and the Willamette River. This tract would be a mixed use commercial, residential and recreational zone that abuts the mill property on the east.
The problem with all of this is that the soil will require clean up; not just at the mill itself, but surrounding areas, including along the river. I have seen no evidence there has been a study on what it will cost to do this cleanup. So I find it to be irresponsible of the City to develop this plan with no idea of what the cleanup requirements and costs will be for a new developer of the land.
In fact, recently City of Newberg purchased the water rights from the mill property portfolio for $3,185,432.00, and they made this determination without having first conducted any kind of study into whether the river area is contaminated and what the cost to clean it will be. Additionally, sources have told me sulphur was stored near a bridge on the mill property. I do not believe any environmental studies were performed prior to this purchase either. (Update 4/22: I have located an EPA assessment in 2020 of the mill property water site that shows it is contaminated with sewage that impairs its use for recreational activities. The EPA page for the site shows it has had no other testing for other kinds of pollution.)
Several sources familiar with the operations of the mill site have informed me that it was common practice to dump chemicals such as lacquer thinner and various oils onto the mill site and surrounding areas to kill weeds, and that chemicals were often dumped into the railroad tracks to dispose of them. The paper mill site also had large mixing tanks that had asbestos in them, and which were busted up by WestRock. Obviously, anyone living in Newberg can go by the old mill site right now and see that the old site has been demolished, and all of the various materials — including asbestos — has dispersed itself into the air and surrounding areas. All of this will require cleanup in the future and to date, no studies have been conducted on what the cost of cleaning the environment will be. Instead, all the City of Newberg has fixated on is how they are going to build a bunch of high cost housing and shopping centers for the wine tourists along the possibly contaminated river front area.
I do have some idea of what it might cost to clean though, because the old Blue Heron Paper Mill site in Oregon City is presently being demolished and transformed into a Riverfront mixed use development site, which is similar to what the Newberg Urban Renewal Plan intends to do. In May 2016, Oregon City received a $600K EPA Grant to cleanup the site, and last year the Confederated Tribes of Grand Ronde (the owners of the site) received an additional $800,000 grant from the EPA for additional cleanup. Just from these two grants, that is $1.4M spent cleaning a similar paper mill site and surrounding areas that were contaminated by it. We can expect the cleanup of Newberg's paper mill and its surrounding properties (such as those which are planned to be developed into housing) to require a similar cleanup but again, the City has commissioned no study into what the cleanup costs will be.
The Mill Site Could Be So Polluted No Construction Is Permitted
One of the major problems with having no study is that the site and surrounding areas could be so polluted no construction is permitted for decades. Newberg already has a site that was deemed so polluted no construction was permitted for a decade, this site being across from City Hall. Around 2005 a demolished car dealership was deemed polluted by leaky oil collection cans stored in its basement, and that property now sits as a vacant lot across from City Hall as a "brown site".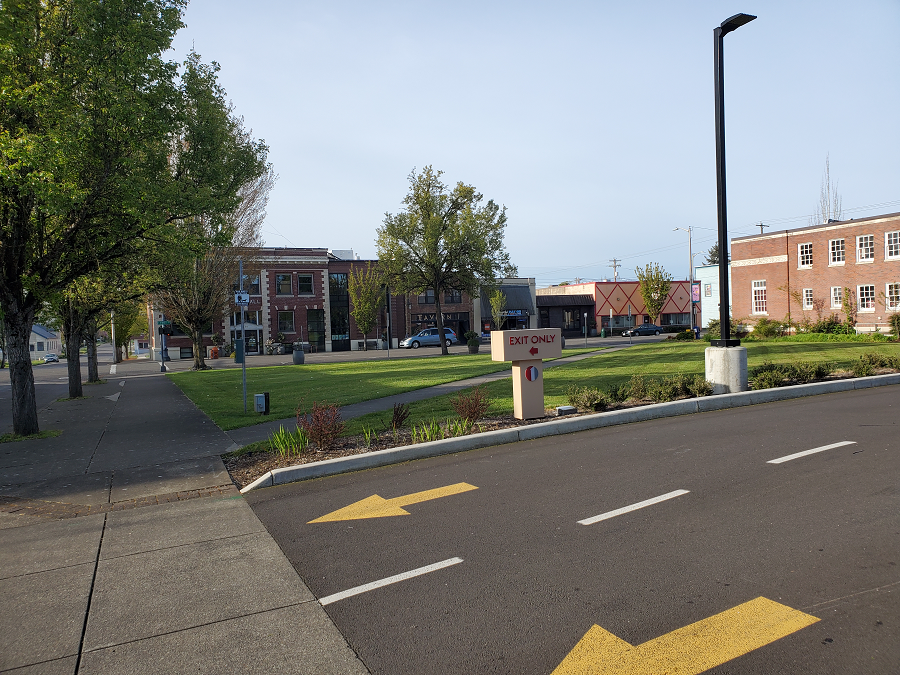 The "brown site" across from Newberg City Hall, currently used as a dog park.
As such, the City is perfectly aware that contaminated land can prevent construction, and yet no studies have been done into whether this grand plan to develop a probably heavily contaminated area is even going to be permitted in the first place. But they are more than willing to commit hundreds of millions of your tax money to this pipedream project that could be blocked by the state and/or EPA.
How Does the Urban Renewal Project Work And Why Its Funding Structure Is Gambling With Public Money
An Urban Renewal Project is a kosher term for a special tax increment financing district, which is what its technical term is. In fact, on the City of Newberg's page for the project, it is referred to as a tax increment financing district in the website URL of https://www.newbergoregon.gov/planning/page/urban-renewal-tax-increment-financing-newberg.
Generally, the term 'Urban Renewal Project' is the way in which these types of districts are dressed up to make them sound more appealing to residents, as if the creation of these districts will result in 'urban renewal', which is a vague term that could really mean anything but sounds pleasant at face value.
While the document makes the math sound complicated by getting into the weeds, the simplest explanation is that all of the various special taxing districts within City of Newberg limits (Fire Department, public schools, police, Chehalem Parks and Rec, etc.) will have their current tax rates collected from Newberg residents locked at the rate they presently are receiving from Newberg residents. This lock will be for 30 years. This does not mean the tax increases stop though; instead, the tax rate increases these districts are projected to receive for the next 30 years (the rates would have organically increased over time, to accommodate inflation) will instead be diverted to the Newberg Urban Renewal Project for the next 30 years to cover the costs of this new district. This is why the name 'tax increment financing' is the more correct term for this type of taxing district, because it finances itself from the increases to tax rates that would occur regardless whether it was created or not.
There is, of course, a very obvious drawback to this kind of district, which is why I dislike the term 'Urban Renewal Project' for it; the reason tax rates increase over time is largely due to inflation, and so inevitably if you take money away from the other districts and government agencies, they are going to need a new tax, bond, or some other kind of fee to be increased (such as a water bill or sales tax) to compensate for the deficient that has been created by the new tax increment financing strategy / Urban Renewal District.
To be crystal clear; the City of Newberg is seeking to pass a resolution that would take future tax money AWAY from other districts, such as the school district and other government agencies, such as Tualatin Valley Fire and Rescue. These other districts will lose this money and the City of Newberg's new tax increment financing district will obtain it. The City of Newberg has no ability to stop these other districts and government agencies from increasing their fees to compensate for this loss, by passing new bonds, increasing fees, or anything else they decide to do in response that will ultimately result in the amount of money residents pay for these services to increase far beyond what they would have paid if the Urban Renewal taxing district was never created in the first place.
While these tax increment financing strategies for "Urban Renewal" have become popular, they generally fail to deliver on their promises. A study, Improving Tax Increment Financing (TIF) for Economic Development, reviewed more than 30 studies of tax increment financing districts over several decades, concluding that "in most cases, TIF (tax increment financing) has not accomplished the goal of promoting economic development." (An article published on the Lincoln Institute of Land Policy delves into more detail about the study, if you wish to read more about it).
As previously mentioned concerning Crestview Crossing, there is no way for the City to ensure the housing that is created in the proposed district will be affordable for local residents nor that it will only be sold and/or leased to local residents. What is almost certain to occur is a continuation of the present trend of Californians who view Newberg as a new Napa Valley to scoop up the homes for either retirement or vacation rentals. I have seen nothing in the documents that would prevent this.
In fact, there is nothing truly permanent about the plan other than the diverting of taxes away from other districts and agencies; a future City Council could change the plan so dramatically the money is never spent to build any infrastructure at all. With the plan proposed for 30 years, it is unlikely some of the councilors will live to even see its completion. A new City Council could decide to change everything about the plan whenever they want and spend the money for many other purposes.
Borrowing against a future increase in property values is gambling. Newberg is in a bubble right now and it is possible the market could crash. This is not a fiscally responsible city planning and management plan that has fully considered how the market may change over a 30 year period.
I view the Urban Renewal Project as an extension of the other zoning ordinance changes the City Council is making that are intended to dramatically change the landscape and culture of Newberg to be less traditional small town Americana, and more aligned with the current trends of social experimentations popular with Democrats.
Who Is Responsible for the Newberg Urban Renewal Project?
As I mentioned before, I believe the Urban Renewal plan is a pet project of Progressive Yamhill members. I believe this for several reasons.
The November 15, 2021 Newberg City council meeting agenda packet covered Urban Renewal committee re-appointments. The names of members of this committee I have highlighted are associated with Progressive Yamhill and its subgroup Newberg Equity in Education (NEEd), either by being actual members themselves or married to one.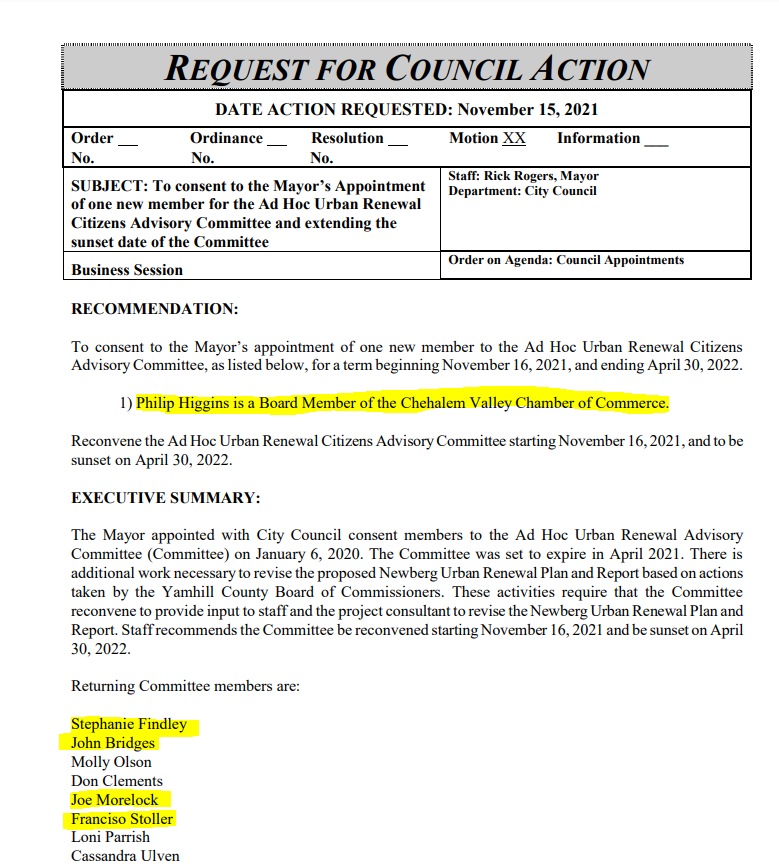 Other documents show a list of people involved in the planning of different parts of the plan who are also affiliated with Progressive Yamhill, such as this acknowledgement sheet on page 2 of the Riverfront Master Plan presentation,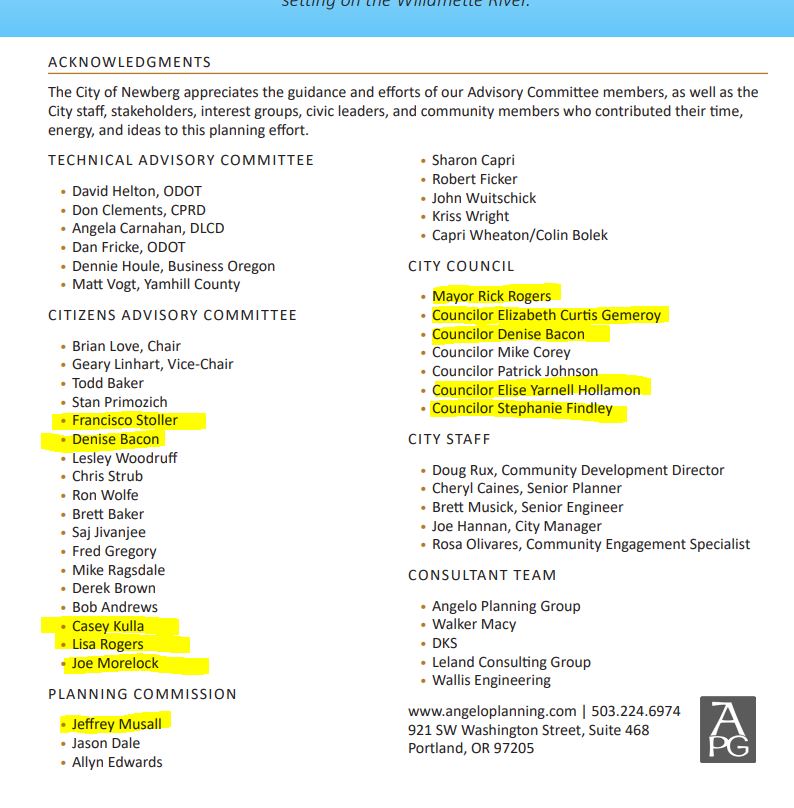 (Bear in mind, these are only those whom I have been able to identify direct connections to Progressive Yamhill by reviewing the internal communications of its private Facebook group and its membership roster, which I discussed at length in a previous article. There are some people who posted into the group using obviously fake Facebook profile names, and the identities of those accounts are unconfirmed at this time.
I would also like to point out that several sources have informed me that non-Progressive Yamhill associated people are often added to City of Newberg committees with the intention of creating the token appearance of non-partisanship, but the input of these unaffiliated individuals are rarely considered with the same weight as those associated with Progressive Yamhill.)
There are other Newberg city employees with involvement in both the Urban Renewal District and Progressive Yamhill, such as Shannon Buckmaster, who I previously mentioned in the article, Newberg City Council Spends Covid-19 Recovery Funds On Progressive Yamhill Members' Private Businesses.
Lastly, in case a reader still has any doubts that the Urban Renewal Project is closely associate with the agenda of Progressive Yamhill, in reviewing the internal discussions of the private Progressive Yamhill Facebook group I located several posts concerning the Newberg Urban Renewal Project.
As an example, this is a thread within the Progressive Yamhill group from August 2nd, 2021 where Newberg City Councilors Stephanie Findley and Elise Hollamon used the Progressive Yamhill group to manipulate public perceptions. It is clear the intention of this thread was to organize an astroturfing tactic in order to gaslight residents– gaslighting being the creation of a feigned appearance of spontaneous grassroot support for an agenda, when in reality it has been coordinated by the Councilors themselves who represent the City government. You should also note that former Newberg City Councilor Elizabeth Curtis Gemeroy is also involved in this discussion of creating an astroturfing campaign,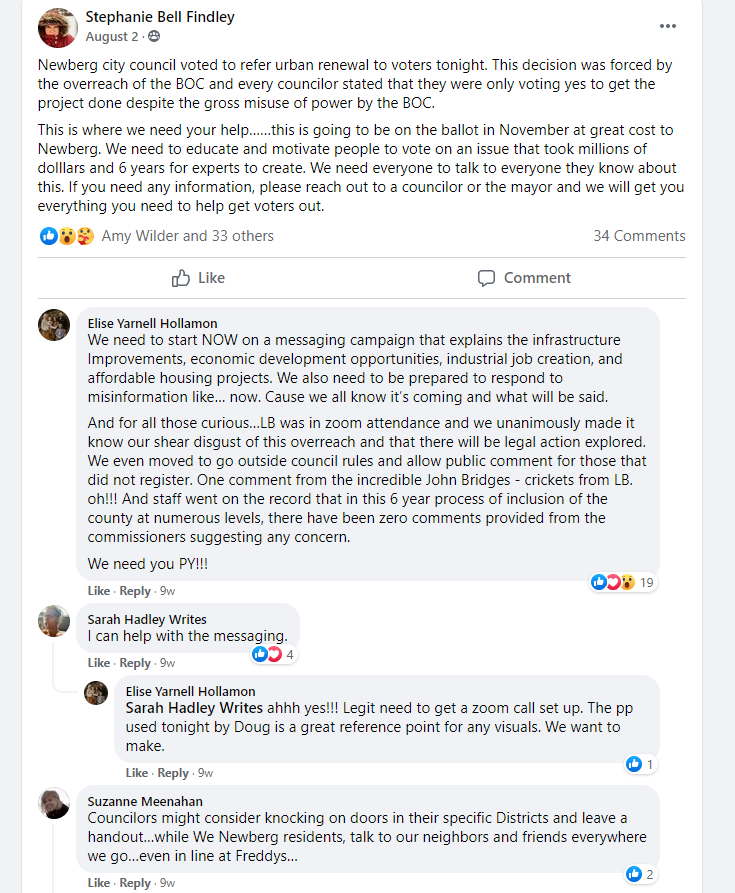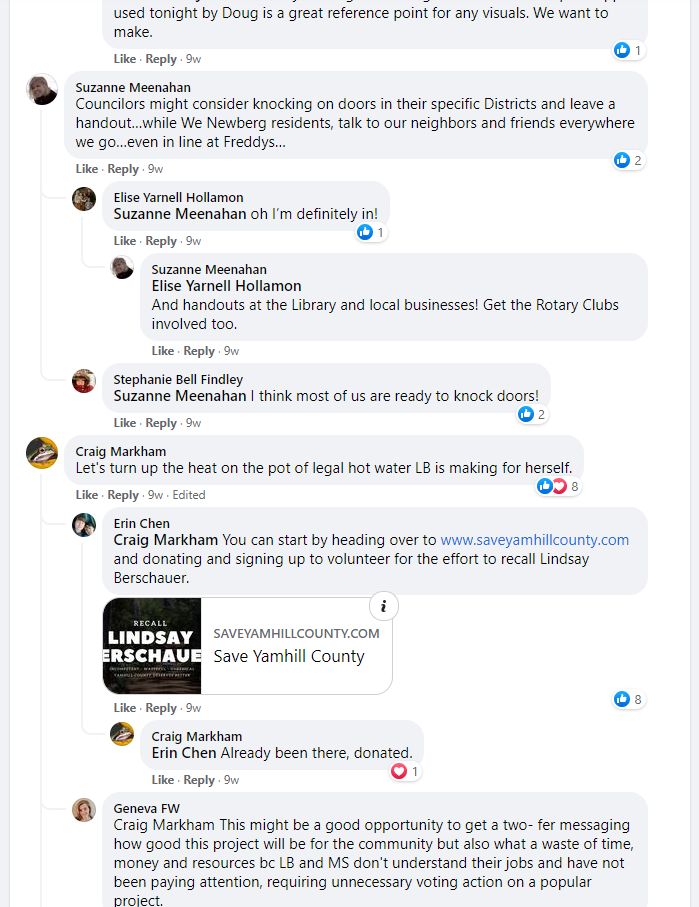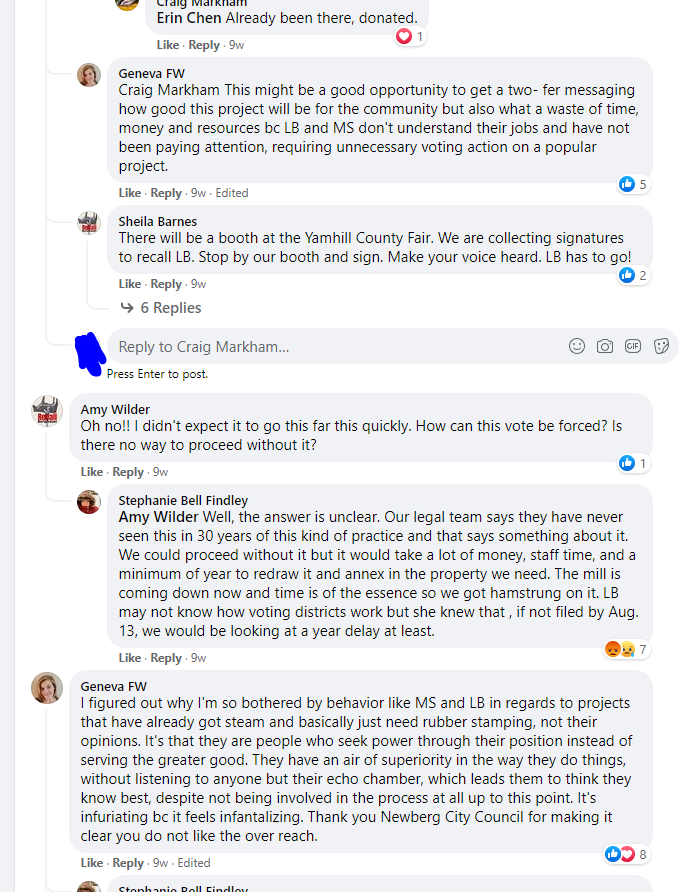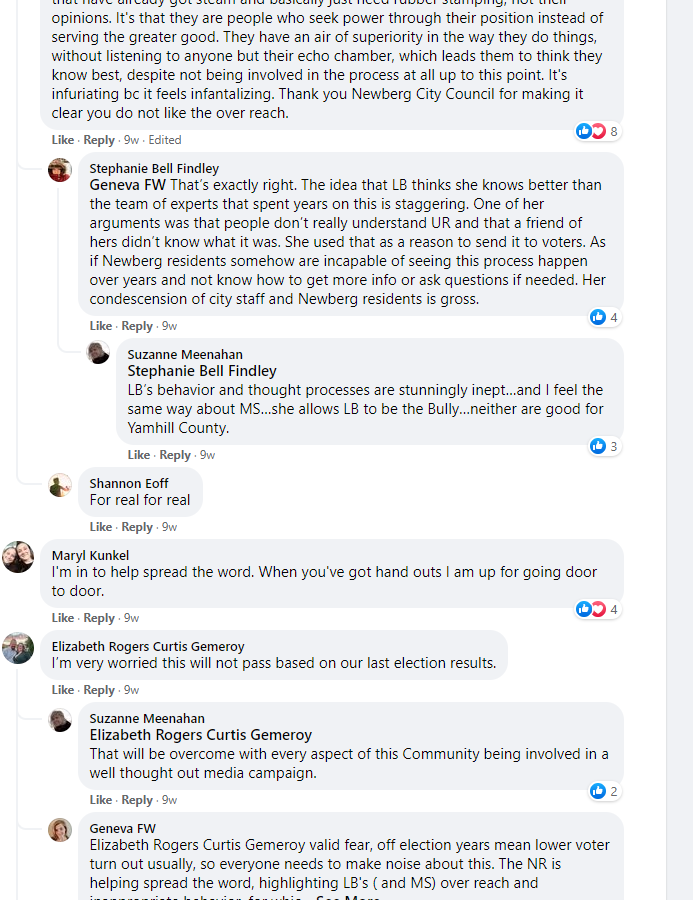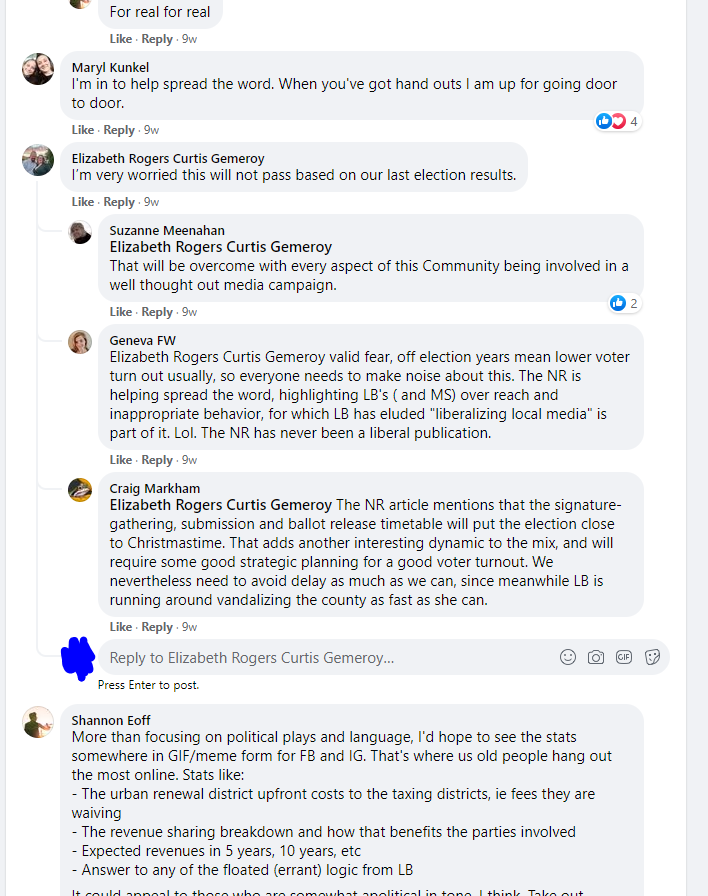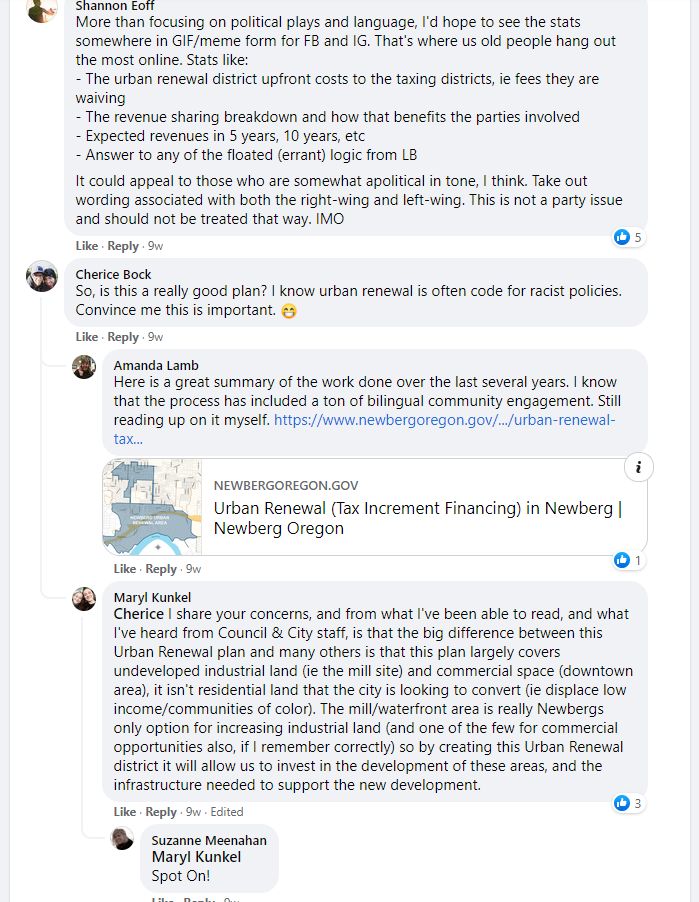 As a note, Findley assumed the urban renewal district would be on the November 2021 ballot because the Yamhill County Commissioners stated they would only support the annexation of county land for the proposed project if the residents of Newberg voted in favor of the plan. Since this thread, the City of Newberg has removed the land they wanted to the degree they no longer require the approval of the County as a means of preventing the district from being voted on by residents.
Findley is also incorrect that adding such a vote to the November ballot would cost the tax payers heavily; it is special elections, such as the recalls Progressive Yamhill members such as herself helped organize against Newberg school directors Dave Brown and Brian Shannon, and Yamhill County Commissioner Lindsay Berschauer, that each cost taxpayers $60K to $120K to hold. Allowing the residents of Newberg to vote in November on the Urban Renewal Plan would not cost the tax payers more, as the ballots are being printed, mailed and counted regardless due to the election that will take place.
I would also like to point out that one of the posters in the thread, Shannon Eof, is a Board Director for Newberg Habitat for Humanity, as well as a member of the Newberg City Council's Affordable Housing Committee.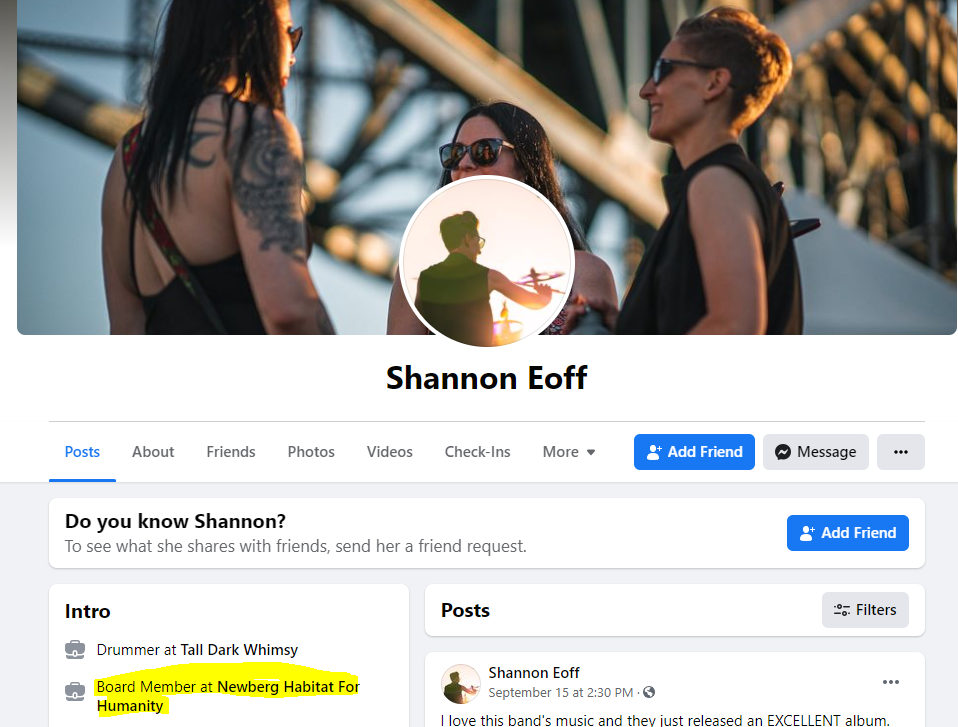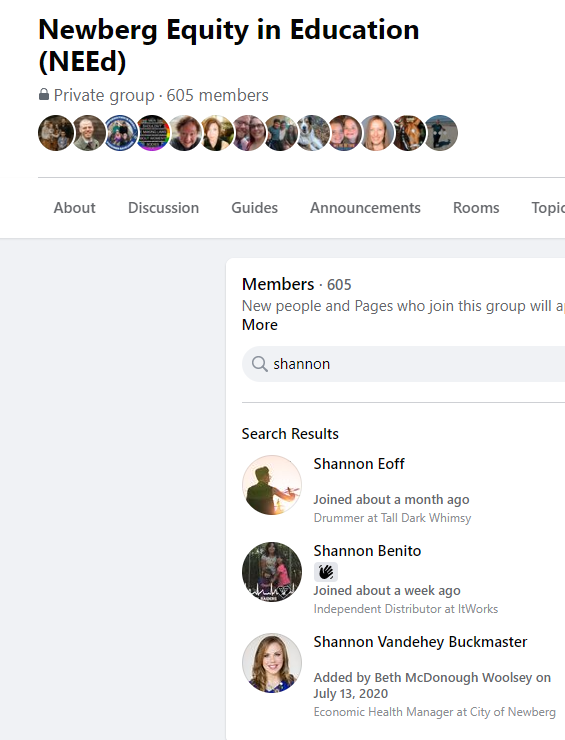 In Conclusion, the Newberg Urban Renewal District Is A Dumb Idea That Will Not Bring Good Paying Jobs to Newberg
The Urban Renewal District Plan is yet another example of how the Progressive Yamhill controlled Newberg City Council is mismanaged. Just as they squandered the federal covid-19 money to reward their members instead of spending it in a practical way to help the city return lost jobs to the area (such as were lost from the paper mill closure), they are now going to waste hundreds of millions of tax money developing the very last pieces of undeveloped property in Newberg that could be used for commercial development. And I believe what the result will be is the construction of a bunch of pretty houses and apartments that will not be rented out to locals, but instead subleased to wine tourists, just as many existing properties of this type are right now.
While they claim the plan will bring good paying employers to Newberg, they have not identified any company that is going to do this, and so they have no reasonable reason to believe any such employers will come.
An important part of any business plan or proposal is validation of your customer base, verifying that there will be customers for the business you wish to start. While a city is not a business, there are parallels. The City is claiming that it wants to spend millions of dollars to build infrastructure that will attract new employers who will bring good paying wages to Newberg residents. However, the City has not identified a single company that is going to bring these jobs. All it has done is dream up an enormous infrastructure project, hoping that maybe someday someone from somewhere will bring jobs to Newberg. And it has spent a lot of money hiring consultants to create a bunch of Power Point decks and some fuzzy math to justify its dreams.
If you view the City's idea in terms of a new business proposal, there are no "customers" for the industrial area they want to build infrastructure in; there are only land developers who make money by developing the land on the taxpayer dime to build a Field of Dreams that maybe someone might someday want to start a business in. So naturally, of course the local land developers want the City to hire them to construct the infrastructure in the Urban Renewal District, because it means a big pay day for them without having to first find a customer like Intel, as they would otherwise have to do first.
This is why I say the Newberg Urban Renewal Plan is idiotic. You'd have to be an idiot to believe if you just spend millions of dollars then customers will just magically appear. It is that kind of mindset that causes most new businesses to fail, and it is also the reason most Urban Renewal Plans fail, too.
Even business plans with identifiable customers, who have sales orders for a new product, even those business can fail. The City has not done the bare minimum required for its planning to be a sound business plan, which is identify who your customers are going to be by actually getting a commitment from them that they will be your customers.
Furthermore, if the City found a company that would bring good paying jobs to Newberg that company might even be willing to contribute to the construction of the infrastructure and such a costly tax plan as proposed here might not be needed at all. The City has no idea, because it has had no conversations with any employers of the scale needed to provide the kind of jobs Newberg needs.
The City should not gamble with the tax payer's money on this pipedream, diverting funds from other districts and agencies whose services are already here, to pay for a moon shot. The City does not even know what these future employers from Far Far Away Land will require in a new site. How can you possibly build new infrastructure for a new business when you don't know what the infrastructure needs of the business will be? You obviously cannot. For all we know some company that wants to power their entire building on something crazy like wind mills or water turbine generators might want to move to Newberg. Maybe a core part of their business strategy is an airstrip. Maybe they will want to deliver their products by river barge. Maybe they will only build a site in Newberg if a dozen of the vendors providing them services also move, and those businesses will all have special unique needs as well.
We have no idea what any future major employer will want in a site, because there is nobody like that wanting to build a site in Newberg yet. The smart thing to do is not to build unnecessary infrastructure that may turn employers away, and instead find a company of that scale and ask them what they will need to make a commitment to provide jobs in Newberg. That is what a real urban planner does.
It seems to me the people who drafted this proposal believed their job was to make the City Council happy, that the client was the Councilors and the task was to materialize their pipedreams. But that is not who the customer of a new infrastructure proposal is; the customer is the businesses you want to do business in the new development. That is who you want to bring the jobs. The City Council is not providing the jobs and therefore they are not the customer for the infrastructure project. I can't believe I actually have to write this paragraph in this essay, because it's so obvious to anyone with even a little bit of business experience. I'm horrified that so much money and time has been spent into a plan that has no idea who is going to bring the jobs to Newberg, and that the City Councilors who favor this plan feel so self-righteous about this idiotic mess. They have no idea what they are doing at the helm of the ship and are steering the city into treacherous, unknown waters.
The City should find several huge companies that are going to bring good paying wages to Newberg residents — wages that will permit locals to afford to live in Newberg for the next 30 years. We can't stop the wine tourism; it's going to be here for as long as the fad of winery tours is around. So instead we must evolve and bring good paying jobs to the area so that residents can compete with wine tourist dollars when seeking to buy a home or rent an apartment. There is no other solution. Perhaps if more Progressive Yamhill members were real entrepreneurs, and they had less members whose private businesses are subsidized by grants, they would better understand how the private sector works and how to resolve a housing crisis that was created in the private sector. People who rely on the government to subsidize their business apparently don't have the common sense to understand the simple truth I have said in this article; you must validate a market first by identifying customers before you commit money to a new project. The Newberg Urban Renewal Project proposal is a business plan that has no idea who the customers (i.e. those who will bring new jobs) will be.
To be clear, it does not matter if I like or dislike the wineries. The wineries aren't going to leave and the wine tourism is not going to stop anytime soon. Californians are not going to stop coming until the housing bubble bursts. This is the reality of the local market, and the City must wisely manage its resources accordingly to react to it, which it has not done. While I certainly believe the wineries are beautiful to visit and I enjoy drinking their wines, the reality is that the wineries have undeniably had a negative impact on the housing market for local residents which has not been accounted for. But it's not the wineries responsibility to fix these problems; it is the local cities responsibility to adapt their urban planning to ensure the housing market remains stable so that local people can afford to live in their cities.
That said, the problem will not be solved by building a Field of Dreams, such as what the City of Newberg is proposing here. The City should have spent the past six years trying to find several large companies to bring better paying jobs to Newberg so that local residents can be competitive in the housing market against out of state money, instead of squandering money and resources on the Newberg Urban Renewal District Proposal and its pipedream of nonsense speculations.
The City of Newberg is supposed to serve the interests of the residents of Newberg. Not the out of town wineries, vacation rental owners, wealthy tourists and land developers. Not the special interest of a small number of residents whose businesses benefit from the out of town interests. The City is supposed to serve the interests of the local residents as a whole. I do not believe the majority of residents will benefit from this plan; it will inevitably increase their taxes and fees paid while providing no benefits to them for this increased expense. It overwhelmingly benefits those who do not live in Newberg and whose money will not translate into increased wages for local residents.
I am absolutely against Newberg's Urban Renewal District Proposal, and I believe the residents of Newberg should be permitted to vote on whether it is passed or not. The Progressive Yamhill controlled City Council should not decide this matter without the support of those whose lives this will negatively impact.