Maurice "Moe" Yoder, Chair of the Yamhill County Republican Party, has published an open letter on Facebook to the leadership of the Yamhill County Democratic Party, in response to their deep involvement in the multiple recall campaigns that the YCD has organized in non-partisan elections, such as school boards and county commissioner.
Here is the published statement, as posted into the Yamhill County News and Discussion Group on Facebook,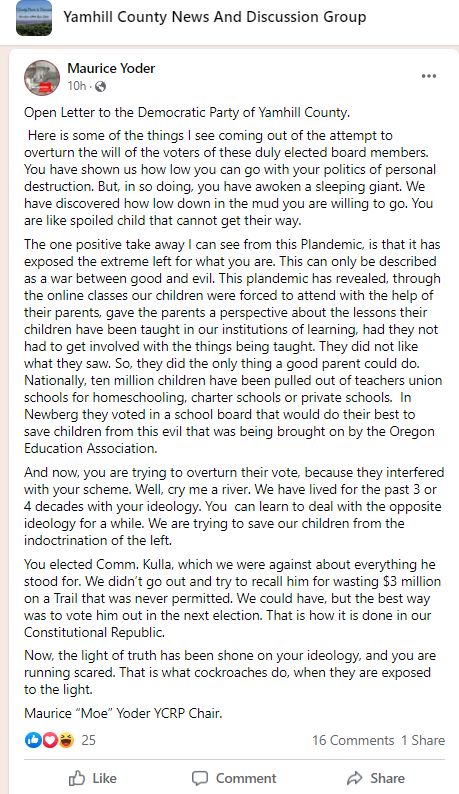 As Advocate readers may recall, the Yamhill County Democrats were exposed as the true ringleaders of Recall Brian Shannon, Save Yamhill County and Recall Lindsay Berschauer PACs. In fact, during a Yamhill County Democrats meeting in October, Kristen Stoller provided an update on the progress of the Recall Brian Shannon PAC and stated one of their goals was to "destroy Dave Brown", the Chair of the Newberg School Board. After this meeting they also launched a recall initiative against him as well.
Furthermore, Stoller acknowledged the goal of their political activism in the schools is to change the "voting culture" of Newberg.
(You can watch the entire video meeting by clicking here)
The Yamhill County Democrats have also organized the Newberg teacher union, Newberg Education Association, in their social activism efforts and are using the union to push their ideological agendas in the Newberg school system, including the promotion of the recall initiatives inside the school district using the school resources, as previously reported by the Advocate.