On January 26th I published the article, Former Planned Parenthood Vice President Doris Towery Runs For Yamhill County Commissioner which showed evidence that former Planned Parenthood executive Doris Towery who is running against incumbent Mary Starrett for Yamhill County Commissioner is a member of the Indivisible chapter Progressive Yamhill.
This article will serve as an updated version to include new information I have obtained about Doris Towery, as well as her associate Beth Wytoski, who is running against Kit Johnson for the seat currently occupied by Progressive Yamhill member Casey Kulla (who is not running for re-election, and instead is campaigning for Labor Commissioner, which I previously reported details about in my article, What Oregon Voters Should Know About Casey Kulla's Run for Labor Commissioner. )
What is Progressive Yamhill and Why Should Voters Be Concerned About It?
Progressive Yamhill is a registered chapter of the Indivisible movement, whose group activities this paper has exposed over the past several months, such as in the exposé article. Meet Progressive Yamhill subsection Who is Progressive Yamhill?
Progressive Yamhill works as a collective to push for government policies aligned with fringe ideologies such as Critical Race Theory, the pseudo-scientific gender identity theories of the discredited Dr. John Money, the defunding of police and closure of all prisons, the elimination of US Customs and Immigration Enforcement (ICE), providing illegal aliens with driver licenses and the right to vote in elections, and racial segregation under the disguised label of 'equity'. As previously noted, current Yamhill County Commissioner Casey Kulla is a member of Progressive Yamhill as well.
(As I have mentioned in prior articles, you can download my list of Indivisible chapters in a spreadsheet I have created of them, pulled from the official Indivisible.org database.
You can also download the list of members of Progressive Yamhill's Facebook group, as well as the list of those who are members of its sub-group, Newberg Equity in Education.)
As an Indivisible chapter, Progressive Yamhill endorses the national organization platform which supports legalizing all forms of recreational drugs and radical restructuring of rural areas, using urban renewal committees to support the creation of high density housing; essentially, they are pro-welfare state and socialism, and generally opposed to capitalism (which I find to be ironic given the number of people in the group who have greatly profited through private enterprise).
The group also has strong direct ties to Antifa. As reported by the Daily Signal in 2017, the group has received assistance from George Soros associated funding groups.
Progressive Yamhill was responsible for the failed recall campaigns against Newberg school board directors Dave Brown and Brian Shannon, as well as the failed campaign against Yamhill County Commissioner Lindsay Berschauer. These recall elections have cost the tax payers over $300,000, and Progressive Yamhill members and their associates raised and spent over $1 million through numerous PACs and unions to advertise these recalls. It is my belief they have spent so much money because until recent elections, they had total control over the Newberg school district and the Yamhill County Board of Commissioners. At present, Progressive Yamhill members control the City of Newberg, McMinnville, Carlton and Dayton, and they also control other school districts throughout Yamhill County.
(For a complete list of elected officials who actually are members of Progressive Yamhill's secret Facebook group, you can click here. Please do note that several associated with Progressive Yamhill are not members of the Facebook group but their ties can be identified in other ways, as I will demonstrate in this article concerning Beth Wytoski.)
Progressive Yamhill members are also responsible for curating controversial books in the public libraries throughout Yamhill County, which I discussed in my article, Newberg Public Library Offers Gay Pornographic Books To Children.
Progressive Yamhill members have direct ties to violent extremist groups such as Antifa, and in fact I have published evidence that Progressive Yamhill as a collective whole raised money to donate to Antifa groups in Portland who launched the ultra-violent attack on the Portland federal courthouse during 2020, and that several of their members also participated in these attacks. You can find this evidence in my previous article, George Fox University Professors Cherice Bock and Melanie Springer Mock Exposed, sub-section Involvement in Antifa and other Extremist Groups.
Here is some evidence for Progressive Yamhill raising funds for pro-Antifa groups in Portland. I will only share a few examples of this though so as not to distract completely from the focus of this article, but so that you can still see my claims have evidence for them as they are relevant to the subject of Doris Towery and Beth Wytoski (as Progressive Yamhill members endorse them as candidates).
Here is an example of the group donating money to several Antifa aligned groups in Portland, as well as several other pro-Critical Race Theory black separatist groups (including several that specialize in indoctrinating children).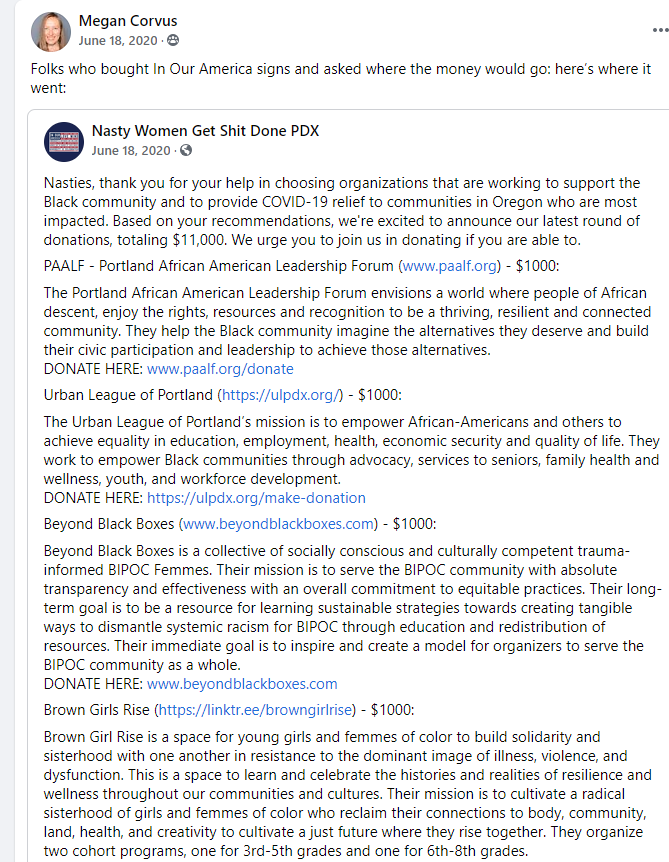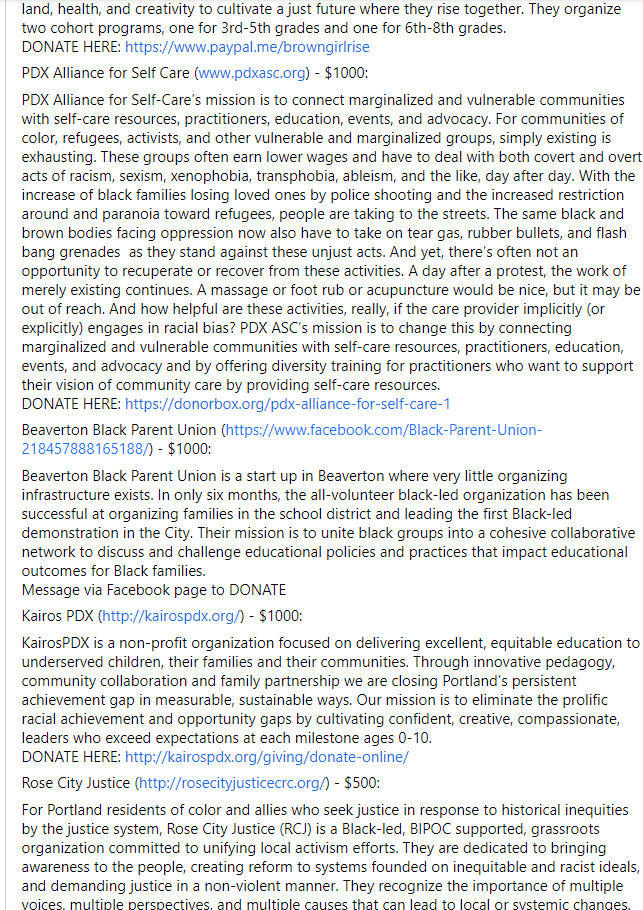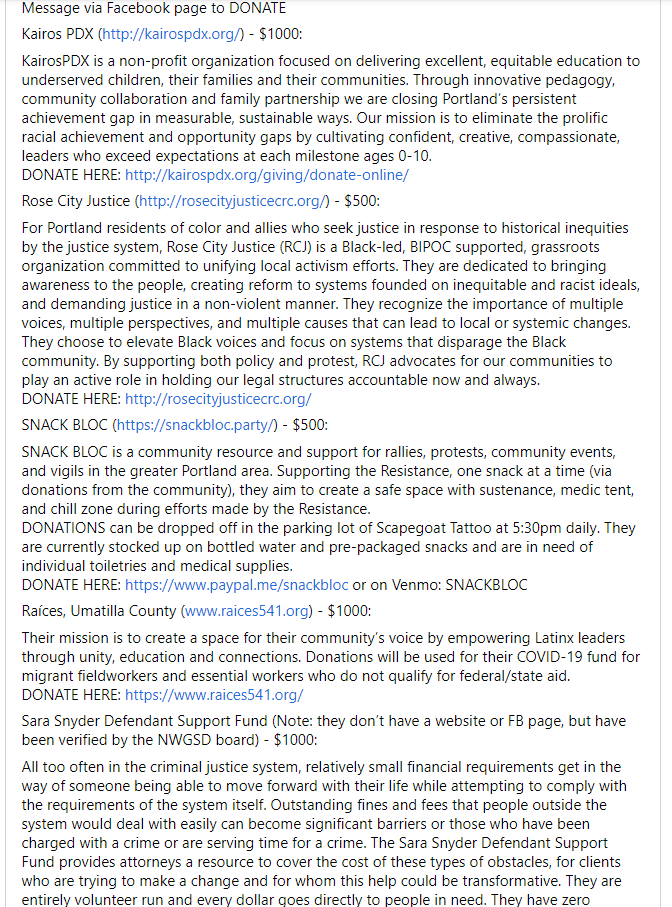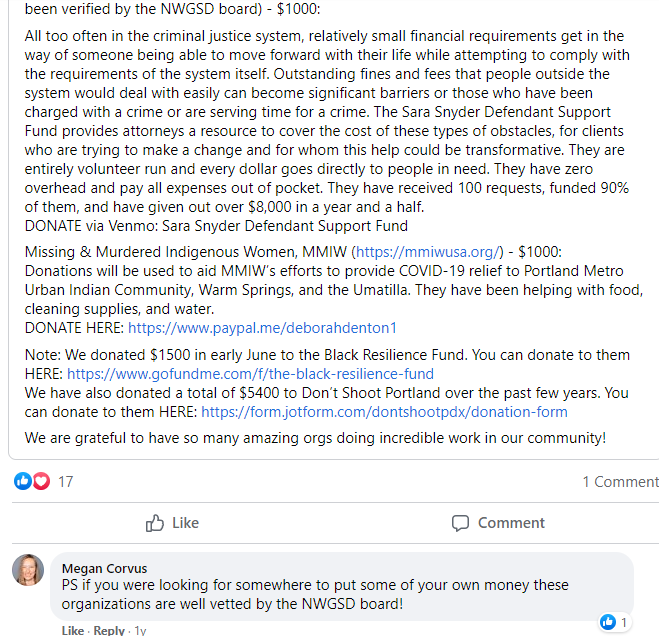 The money donated to these groups was collected through the sale of "In Our America" propaganda yard signs bearing the American flag but that subverts it by featuring Indivisible ideology written on the stripes. They have been selling these signs for several years to raise funds for many fringe Indivisible aligned groups,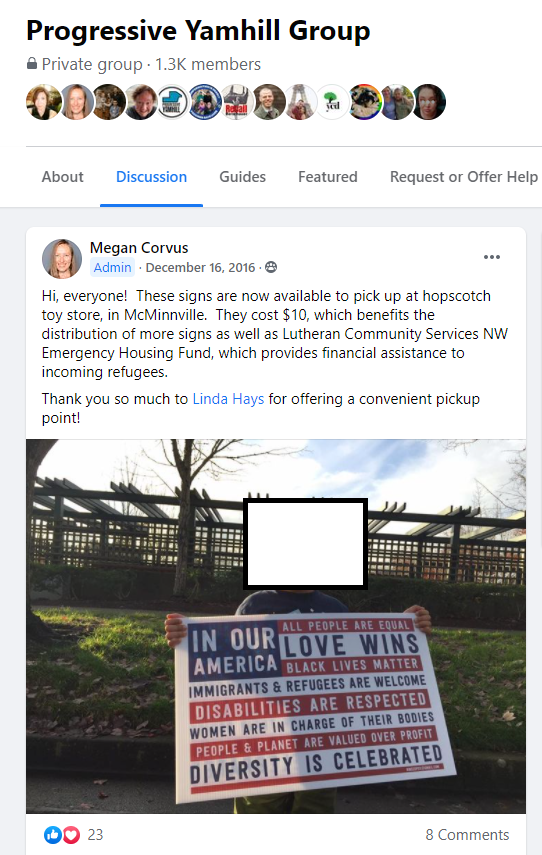 (These signs, and others like it, are designed to both trick regular people into displaying Indivisible propaganda signs in their yards and raise funds they can donate to Antifa and other radical extremist groups. Selling these fake patriotic signs is a common tactic of Indivisible groups to exploit the unsuspecting general public into assisting their agenda.)
In another example, here is Progressive Yamhill member Sheila Barnes using the group to organize "supply caravans" to assist Antifa rioters in Portland,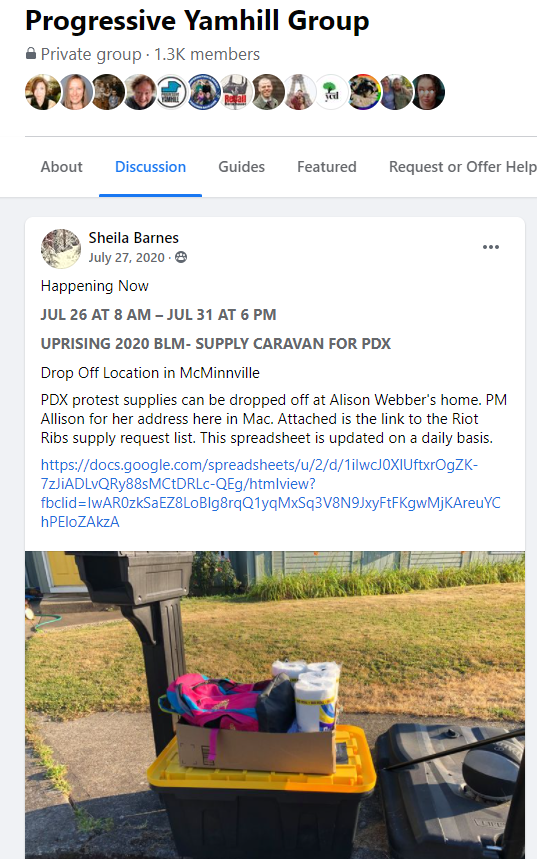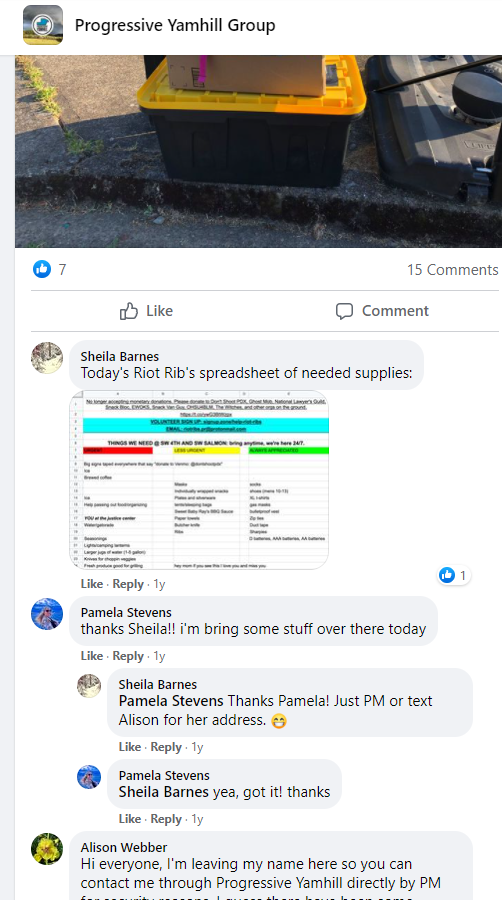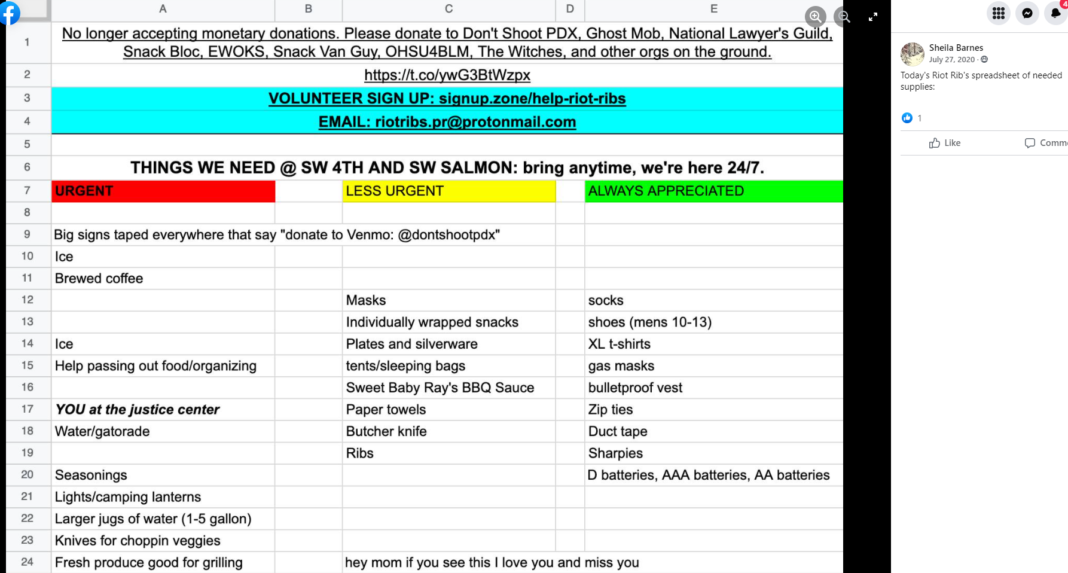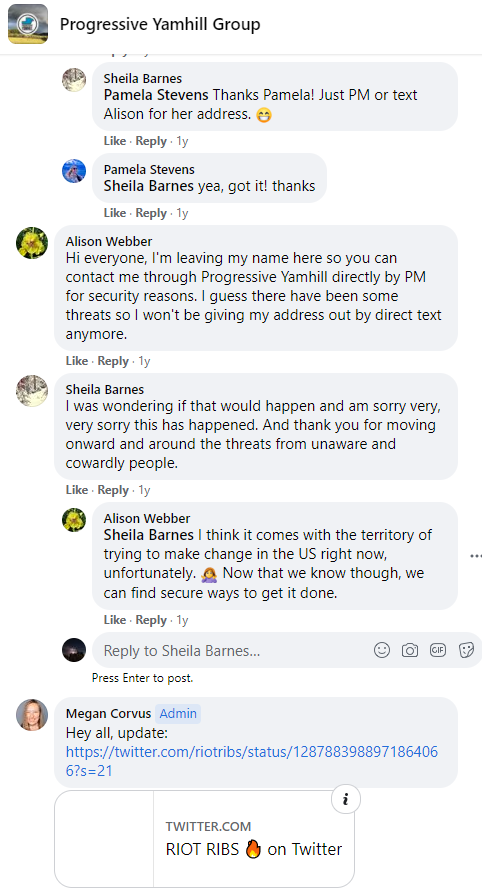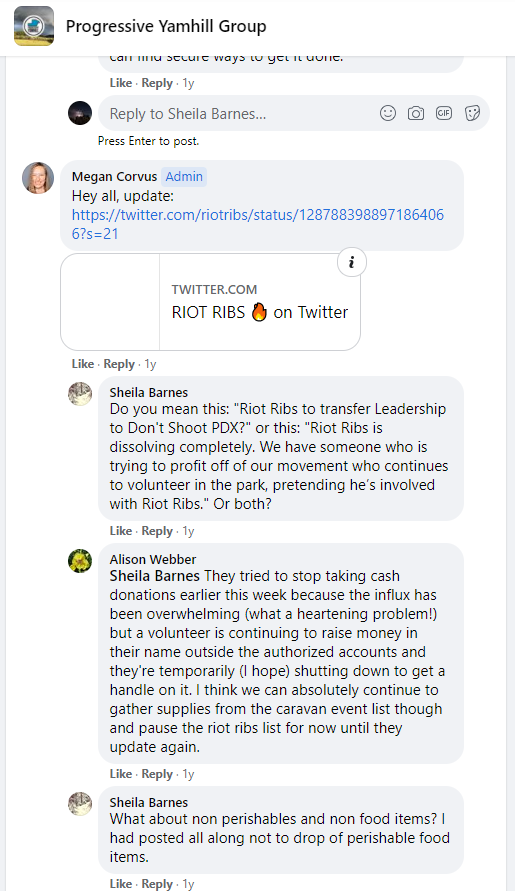 This thread does continue on, but you get the idea. During 2020 Progressive Yamhill organized supplies to assist the Antifa mob that attacked the federal courthouse in Portland as one of its "actions". I also have screenshots that show several Progressive Yamhill members admitting to having participated directly in the riots, as well as active participation in disrupting Immigrant and Customs Enforcement (ICE) officers from doing their jobs.
The point here is that Progressive Yamhill is a fringe extremist group that is part of a larger network of fringe extremist groups around not only the state but throughout the entire country. They use their positions of 'privilege', such as occupations, relationships and wealth, to push their radical agendas and deceive the general public about their true goals.
Whenever Progressive Yamhill members take elected offices, they use local governments to force their extremist policies down everyone else's throats and spend tax money toward their agendas. They even squander covid-19 relief funds, as I have reported the City of Newberg doing in my article, Newberg City Council Spends Covid-19 Recovery Funds On Progressive Yamhill Members' Private Businesses.
Doris Towery's Connections to Progressive Yamhill
As explained in my original article, Doris Towery has been a member of Progressive Yamhill since 2019, having been added to the group by one of its founding members, Megan Corvus on October 10, 2019.
(Megan Corvus herself is the Recording Secretary for the Yamhill County Democrat party, whose leadership consists entirely of Progressive Yamhill members.)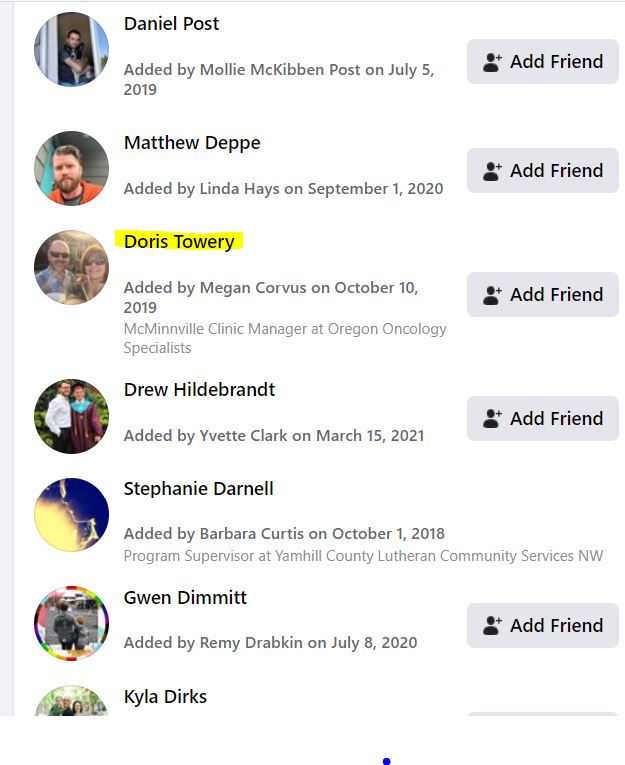 It is also worth mentioning that, based on my investigation, Progressive Yamhill is also responsible for the Yamhelas Westsider Trail project, including the efforts of Chehalem Parks and Recreation District to "save" the project after it was canceled.
As detailed in my original article about Doris Towery, prior work experience includes a stint as Vice President of Development at Planned Parenthood of Southwestern Oregon. She served in this role from February 2014 to March 2017.
According to the Oregon state website ORESTAR, Towery's political action committee (PAC) is Friends of Doris Towery, whose treasurer is none other than Jef Green, a political consultant for the Democratic Party of Oregon and who also served as treasurer in the recall PACs organized by Progressive Yamhill & Newberg Equity in Education against Newberg Public School Board Directors Dave Brown and Brian Shannon.

Doris Towery is also the wife of Jeff Towery, the McMinnville City Manager.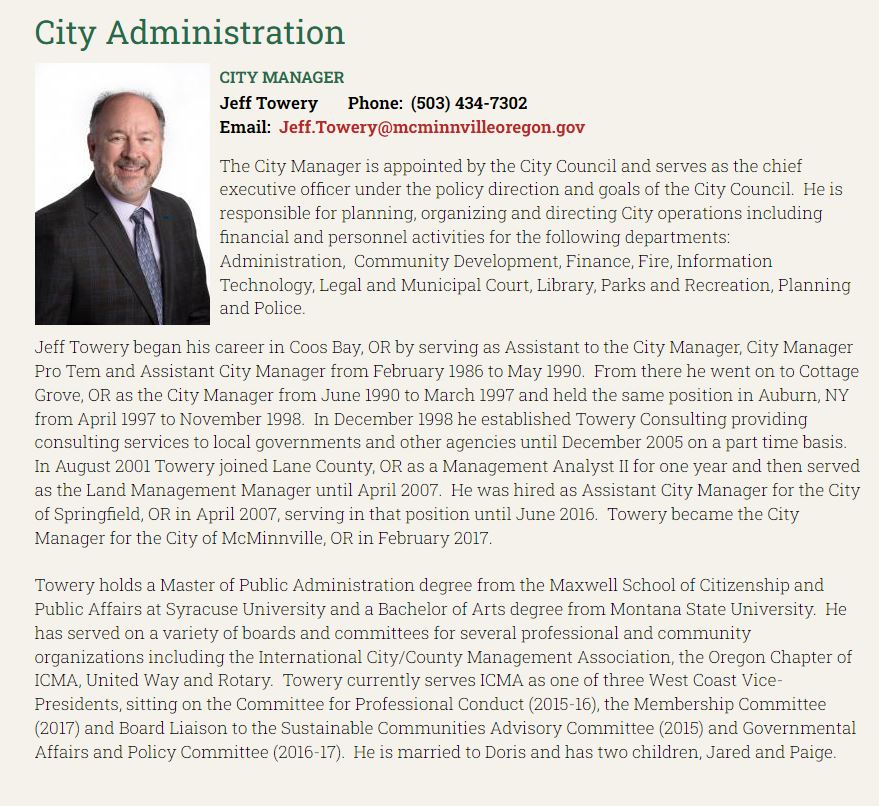 As previously reported by the Advocate in the exposé article. Meet Progressive Yamhill subsection List of Identified Elected Politicians and Other Key Political Activists, the following McMinnville City Council members are also members of this secretive Progressive Yamhill group,
(Sal Peralta, is also the secretary-general of the Oregon Independent Party, which also has strong ties to Indivisible. I will be reporting further about this party in an upcoming article but the short version is that the party seems to be a vehicle by which to fund "independent" and/or "unaffiliated" candidates who will appeal to moderates and conservatives, so they will vote for these candidates instead of Republican candidates, thereby helping Democrats win elections in Oregon, as these "independent" candidates have little chance of victory but do take votes away from Republican candidates.)
Towery's PAC for Commissioner, Friends of Doris Towery PAC, has received numerous donations from Progressive Yamhill members, including from its founding Lynette Shaw.
Interestingly, former New York Times columnist Nick Kristof's PAC from his failed run for Governor has also donated money to Towery's PAC. Kristof's PAC had received significant funding from Indivisible associated groups. Towery has also received funding from Voices of Newberg PAC, which was created by Progressive Yamhill members for recalling School board directors Dave Brown and Brian Shannon.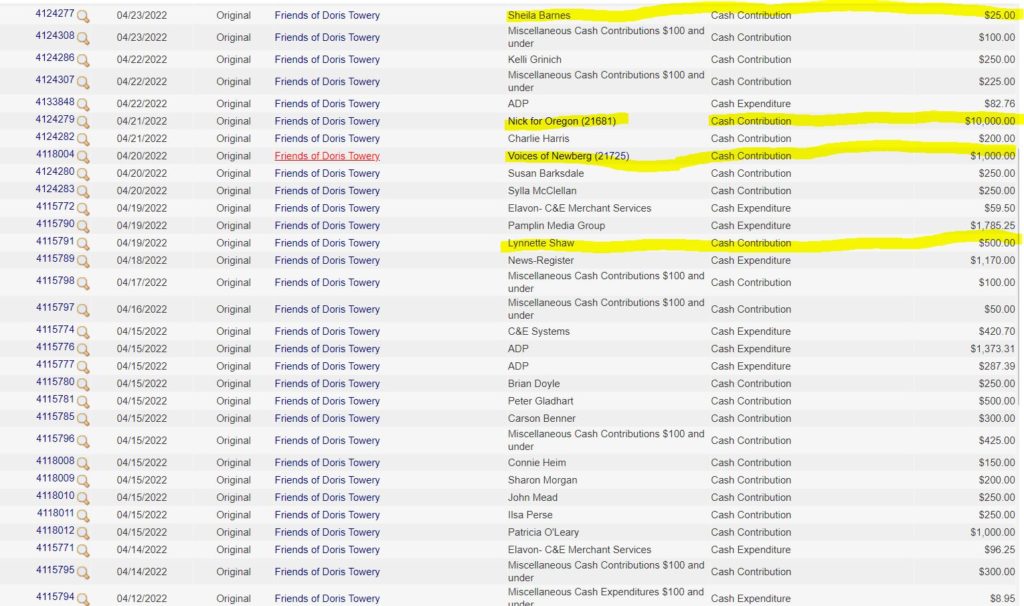 Voices of Newberg, Recall Dave Brown and Recall Brian Shannon PACs were all created and funded by Progressive Yamhill members, and unsurprisingly, all of these PACs have endorsed and supported Doris Towery as well as Beth Wytoski (including other Progressive Yamhill members Victoria Ernst, Elise Hollamon and Courtney Neron).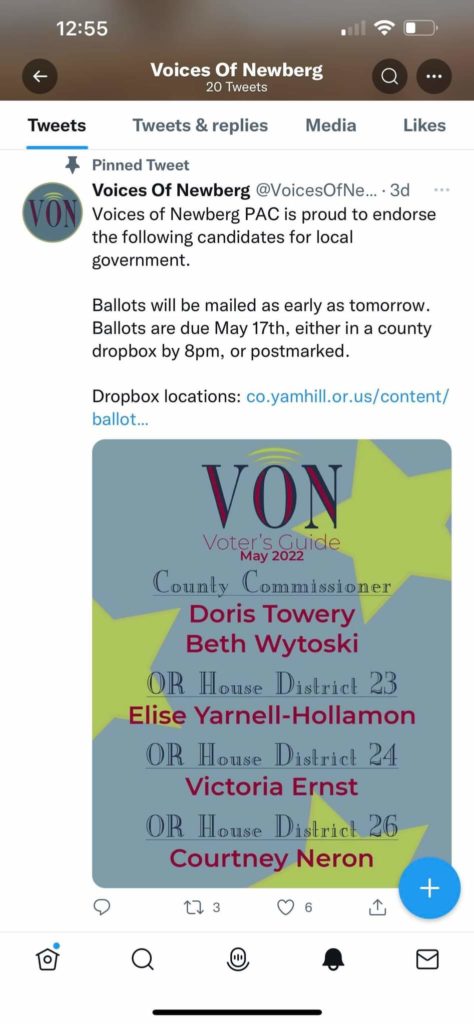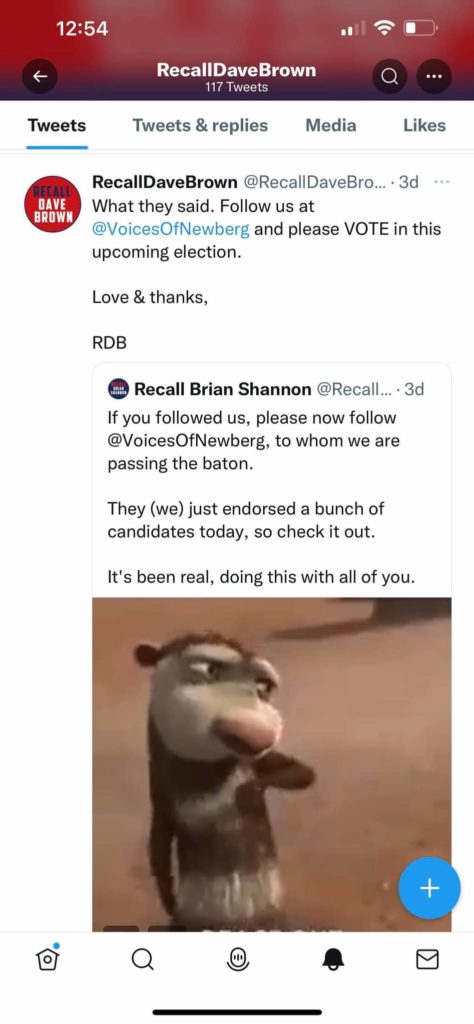 Beth Wytoski Connections to Progressive Yamhill
Beth Wytoski was not a member of the secret Facebook group for Progressive Yamhill at the time I infiltrated it and archived its social media history (August 2021 to September 2021).
However, as mentioned in the above section regarding Doris Towery, several Progressive Yamhill controlled PACs have endorsed her, which includes Voices of Newberg, Recall Brian Shannon and Recall Dave Brown. Having read the secret internal communications of Progressive Yamhill, it is my belief the group and its various astroturfing campaign bodies (PACs & non-profits) only endorse Progressive Yamhill members. I do not believe they would ever endorse a candidate who was not part of their group and who was not committed to their agenda.
Wytoski has also been endorsed by individual Progressive Yamhill members such as Elise Hollamon, who is a Newberg City Councilor whom Progressive Yamhill helped get elected,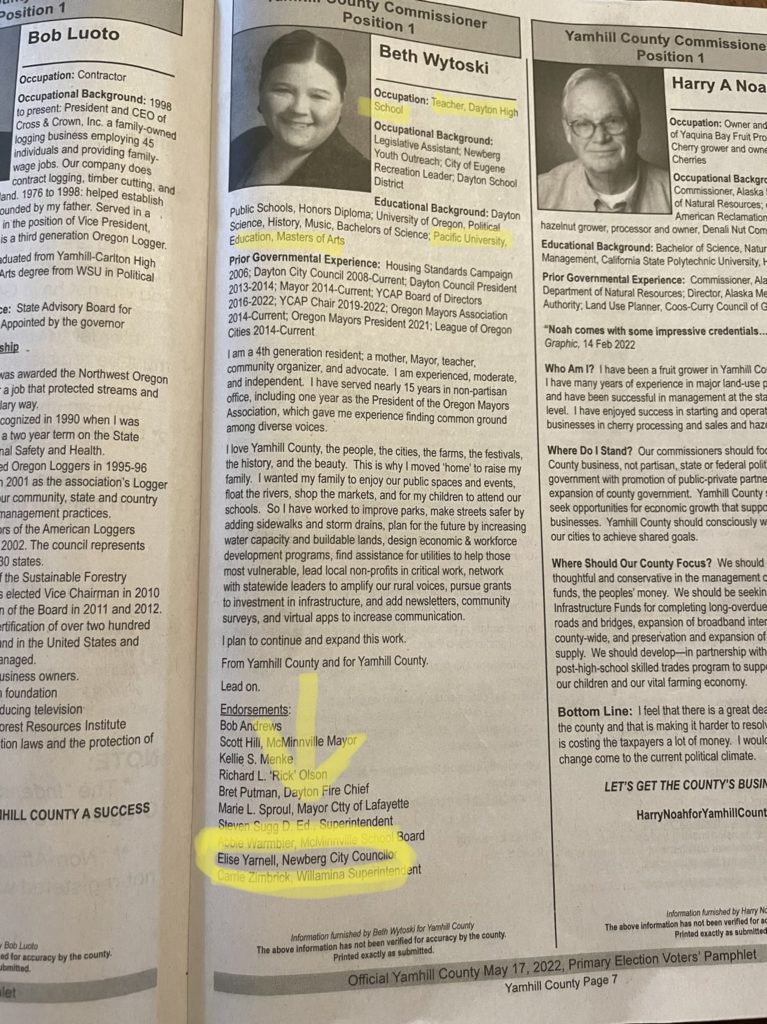 Beth Wytoski has also received funding from other important members of Progressive Yamhill, such as Phil Higgins (who was involved in the sale of one of Newberg's largest employers, the Newberg Paper Mill, to a scrapping company) and Kristen Stoller, whom I have written about at length in a prior article showing that she uses various groups and her dance studio to indoctrinate children into fringe sexual fetishes and identities.
In fact, the Stoller Family Estate winery also donated money to Beth Wytoski's PAC.

Yamhill County Voters Must Decide
The choice before the voters of Yamhill County, Oregon is clear to me; do you support the fringe extremist ideologies of Indivisible groups like Progressive Yamhill?
Do you endorse the defunding of police and want all prisons to shut down?
Do you want illegal immigrants to vote and have driver licenses?
Do you believe 'equity' means creating a racially segregated society where certain people have special benefits based solely on their ethnicity?
Do you want young children to be indoctrinated into fringe gender identity pseudo-sciences and learn about sexual fetishes in the public schools and libraries?
Do you support ultra-violent extremist groups like Antifa?
The social activist groups which Doris Towery and Beth Wytoski have aligned themselves with support all of the above things. This is what they spend their time and money championing for.
If you want all of the above things, by all means vote for these two women over the other candidates for the County Commissioner seats. Because those are the causes their supporters want them to use the Board of Commissioners to support. This is not my opinion; this is a stated fact. I have thousands of social media posts made by Progressive Yamhill members in their secret Facebook group that prove this is their agenda and goal, and that they work as a collective to get their members elected into seats of power so they can create government policies aligned with these agendas. I have published many of these posts already in my prior articles.
I would advise residents of the County to make a wise choice at the ballot box. This is an important election that will determine the future of Yamhill County.