In a recent National Review article, Oregon Democratic Gubernatorial Candidate's Ties to Sex Offender-Linked Ally Raise Further Questions about Her Record, it is reported that Ramiro "RJ" Navarro, who is running for House District 21, admitted he knowingly hired a convicted pedophile as a field director for his election campaign.
Before we go further I believe it is important to mention that RJ Navarro is a member of Progressive Yamhill, an extremist group the Yamhill Advocate has worked diligently to expose, but let's talk about the article first before we dive into that.
Per the article, Navarro admitted to hiring a field manager for his campaign who was previously convicted of sex crimes against a minor younger than 14 years of age when the abuse started,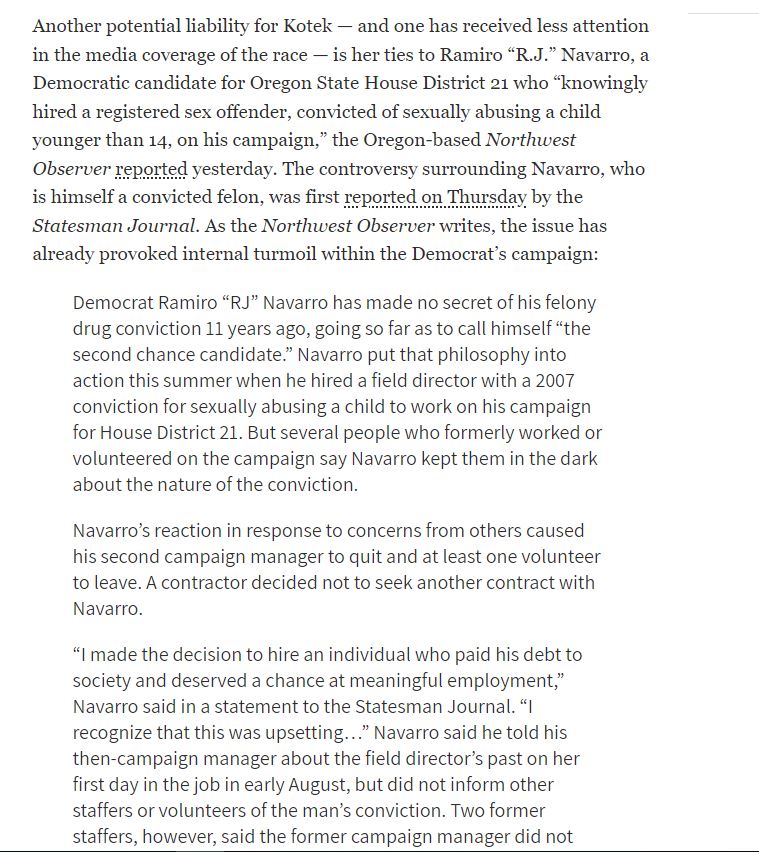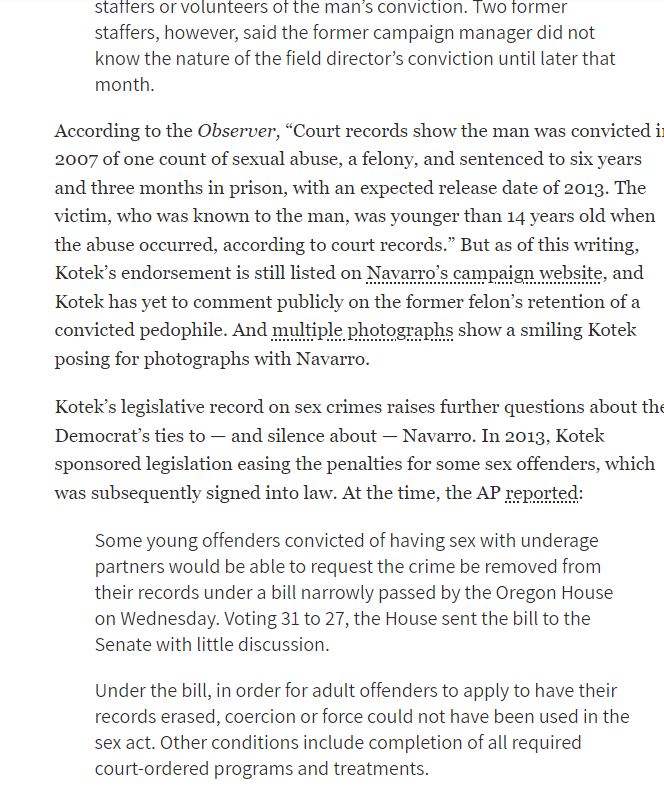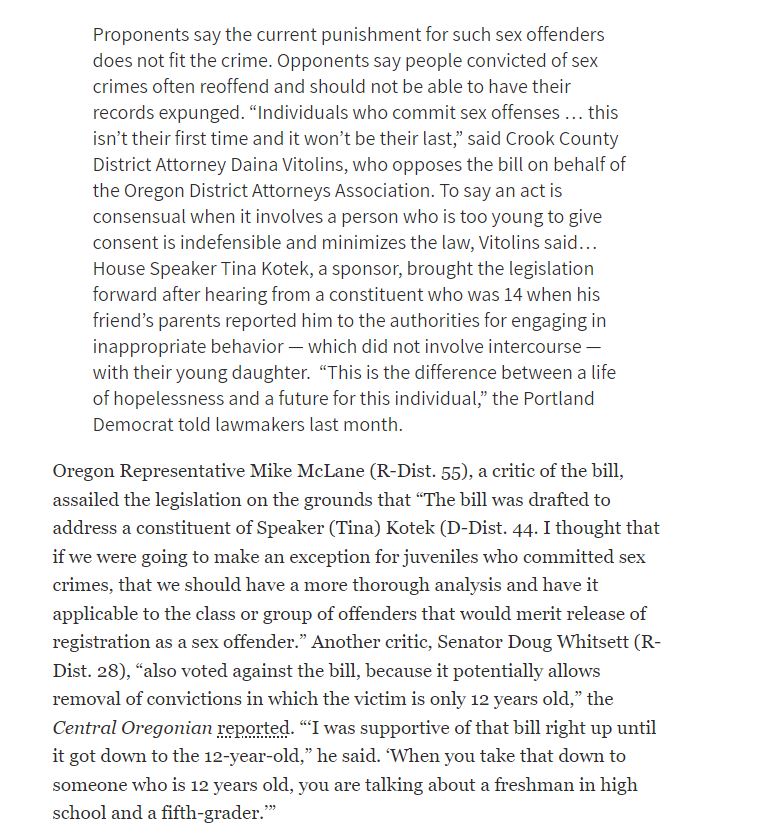 As mentioned by the article, as a source it cites the Northwest Observer article House Candidate Hires Sex Offender, which itself cites the Statesman Journal article published several days ago, RJ Navarro, candidate for House District 21, defends field director sex conviction.
On his Facebook campaign page Navarro touts all of the various groups that have endorsed him as a candidate, including the Oregon Education Association (the largest teacher / school employee union in the state).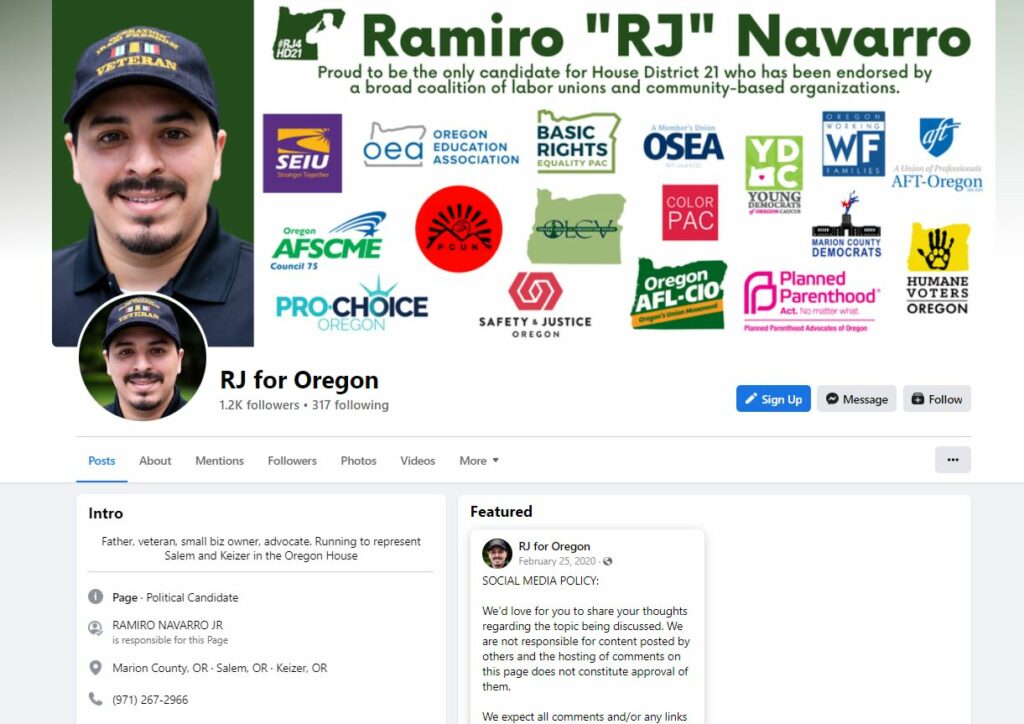 As mentioned at the start of this article, Navarro is a member of the extremist group Progressive Yamhill, whose activities the Advocate has exposed in over 100 articles I have been publishing over the past year. These activities include drag queen shows featuring high school student performers and other drag queen show events at the annually held Wine Country Pride festival, where children are encouraged to watch the drag queen show performances. In previous articles where I exposed this insane behavior, Progressive Yamhill members have defended it. Several large wineries in the area fund this festival, too, many of which are associated with Progressive Yamhill members or outright owned by them.
Past articles featured on the Advocate have provided overwhelming evidence that this social activist group Progressive Yamhill is a registered chapter of Indivisible.org, which is a nation wide extremist group with numerous chapters across America, with chapters in most large cities. Indivisible supports legalizing all forms of recreational drugs and radical restructuring of rural areas, using urban renewal committees to support the creation of high density housing; essentially, they are pro-welfare state and socialism, and generally opposed to capitalism (which I find to be ironic given the number of people in the group who have greatly profited through private enterprise). The goal of Indivisible groups is to transform rural areas into far left liberal aligned communities that will vote for Democrat candidates. Indivisible chapters also work in cooperation with violent Antifa cells, providing funding and resources to them, as I have shown evidence for in prior articles this is something Progressive Yamhill has done quite extensively.
I have also written articles that prove Progressive Yamhill is an extension of the Yamhill County Democrat Party and that they are the organizers of multiple lawsuits and recall campaigns directed against Newberg public schools board directors for passing new policies that were designed to stop teachers from indoctrinating students into fringe extremist ideologies, which included the pseudo-science of "gender identity". These activities include the creation of a private clinic, the Wellness Center, operating inside the Newberg High School that promotes "gender affirming care" to students having difficulties at school. More details about the Wellness Center can be read in a previously published article.
In my past articles I have provided sufficient evidence to prove that YCDP was organizing teachers to conduct political activity in the Newberg school district on its behalf via the Newberg Equity in Education (NEEd) subgroup, much of this activity involving the students. This organization included the the assistance of journalists aligned with their agenda who wrote numerous articles filled with misinformation about their activities to paint Progressive Yamhill members as heroic figures opposing "white supremacists" and "bigots" in an effort to raise funding and deceive local voters.
Here is the proof of Navarro's membership in Progressive Yamhill, screenshotted from the Master list of all members of the Progressive Yamhill Facebook group whose name contains an N.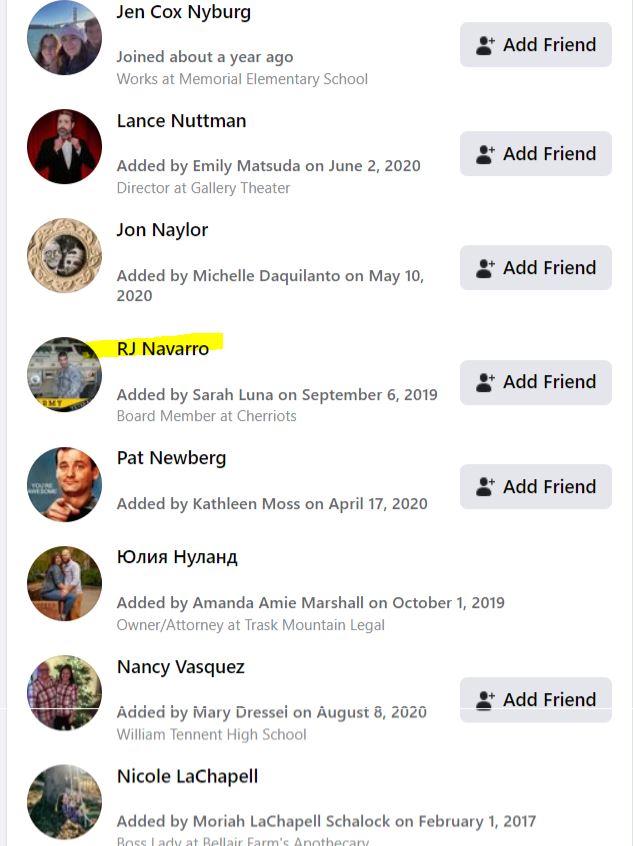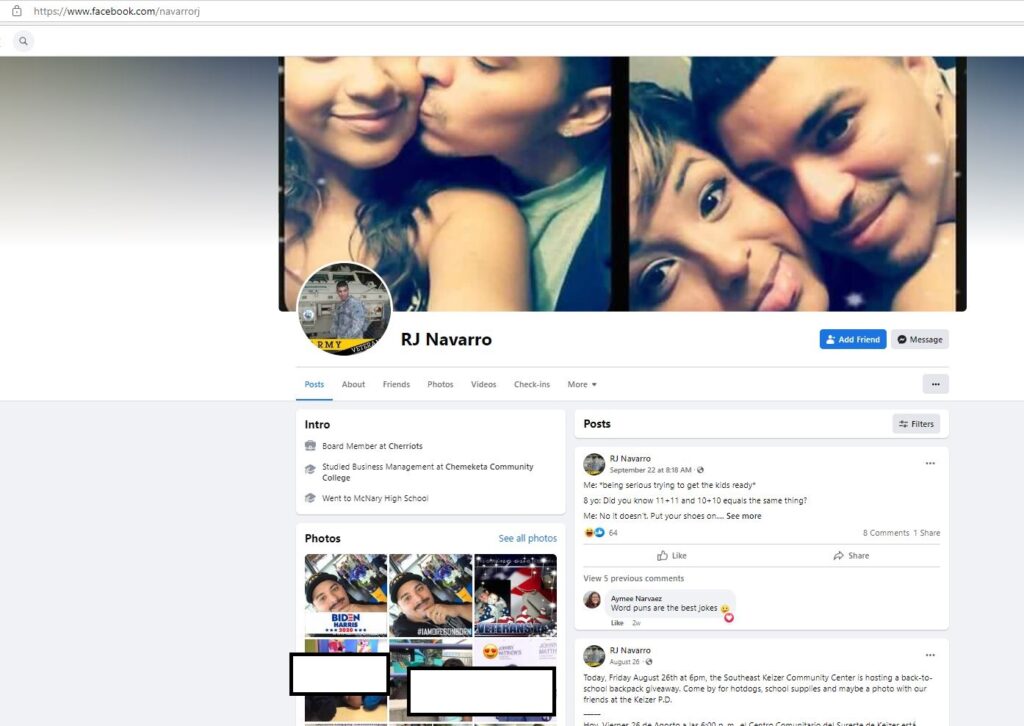 Most bizarrely, even after the Statesman article was published that showed he knowingly hired a child sex offender for his campaign, earlier today Navarro published a video to his Facebook campaign page featuring his children with the hashtag #ThatDadLife.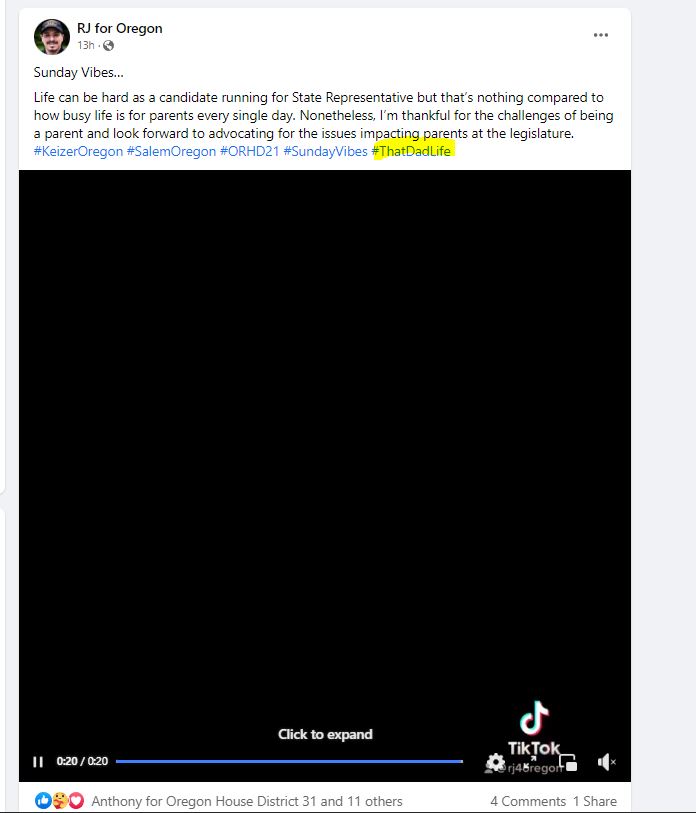 I think it is clear here that the ideology championed by Indivisible.org and groups such as Progressive Yamhill / Yamhill County Democrat Party is extremely dangerous, as it leads to the normalization of atrocious crimes to the point where it looks like its a good idea to hire convicted pedophiles to go door to door to voters on behalf of their associated candidates.
What we have here is a group of fringe activists who see no issue with introducing children to sex fetish workers like drag queens and promotes the psuedo-science of gender identity (which as I detailed in a previous article, was created by the fraud John Money who faked his research papers). As part of their conspiracy they help each other run for public offices and then use these positions to advance their agendas, forcing them onto others.
Progressive Yamhill, Newberg Equity in Education and others aligned with them are not protecting children. They do not have the best interests of children at heart. They do not care about children, and what they actually do is advance an agenda that only benefits the most evil people in our society to the point where their candidates for office like Navarro knowingly hire convicted pedophiles to be field directors for their election campaigns, and think it's totally A-Okay.
I think the choice before voters this election season is quite clear; get all of these scumbags and everyone associated with them out of public office. Stop giving these psychos power and influence in our communities.
Not everyone who is associated with Progressive Yamhill today was a member of the group when I infilitrated it a year ago. But if you pay attention to who is endorsing who, you will be able to identify those involved with them. For example, Beth Wytoski who is running for Yamhill County Commissioner has significant financial backing from Progressive Yamhill members, and she has also endorsed candidates for office elsewhere in Yamhill County who I believe share their ideologies.
Another member of Progressive Yamhill, Victoria Ernst, is running for House District 24. Courtney Neron is also a Progressive Yamhill member, running for re-election in House District 26. Several other members or those deeply associated to them are running for positions in cities throughout Yamhill County; as previously reported Rick Rogers, Stephanie Findley and Jefferson Mildenberger in Newberg, but there are many others. In McMinnville, Remy Drabkin, Sal Peralta and Zack Geary are members of Progressive Yamhill running for re-election. In Carlton, Linda Watkins and Shirley Ward Mullen are both Progressive Yamhill members running for re-election. Casey Kulla who is running for state Labor Commissioner is also a long time Progressive Yamhill member.
Personally speaking I don't trust anyone who has the backing of anyone from Progressive Yamhill. These people are desperate to maintain political power and the only way to cut the head off this monstrous organization is for them to lose all possible routes to exert influence through anyone associated with them. I believe they will never stop so long as they have members in positions of power, so they must they lose all power for their evil activities to cease.
If you'd like more information on Progressive Yamhill, I published a lengthy article exposing them last year, Part 2: Meet Progressive Yamhill, the Parent Group of the NEEd Mafia Seizing Control of the County.
Based on a tip, I looked into Navarro's arrest record. While more mainstream media have focused on his drug charge, that was not all Navarro was arrested for. According to the Northwest Observer article, Convicted Felon Vies for House Seat, on January 17, 2011 Navarro was charged with Unlawful Delivery of Marijuana for Consideration, Coercion, Child Neglect in the First Degree and Endangering the Welfare of a Minor.
The charges against him for Child Neglect and Endangering the Welfare of a Minor were dismissed by the judge, but Navarro was convicted of both Unlawful Delivery of Marijuana for Consideration and Coercion.
Unfortunately I do not have the trial transcripts at this time to see the full details of the case but you can read this brief summary of the trial by clicking here.